Reading time ( words)
This last month has been a challenge for yours truly. The hits keep coming in 2020. Living in Oregon is normally very beautiful. Sure, we have more than our fair share of rain, but it has been drier this year. Unfortunately, the Pacific Northwest September has been a nightmare lately. One would think COVID-19 would have been enough, but no, we have had the worst family of wildfires in our state's history.
I originally thought of discussing roadmaps and how they pertain to our industry and analyzing trends. However, it's difficult to work with the roadmap when you cannot find the road. For a time, our visibility was zero to one-fourth of a mile. For over a week, our area had the worst air quality index (AQI) in the world. Anything at 50 or below is considered normal. Where I live, we exceeded 500, and other places in the state reached values over 600. Mind you that the "hazardous" level tops out on the scale at 500.
For a brief time, the air quality and visibility were so bad in Portland that Alaska Airlines ceased all operations at the Portland Airport due to hazardous conditions. Local service providers modified delivery and pick up schedules due to the conditions and allowed employees in affected areas to take care of their homes and families.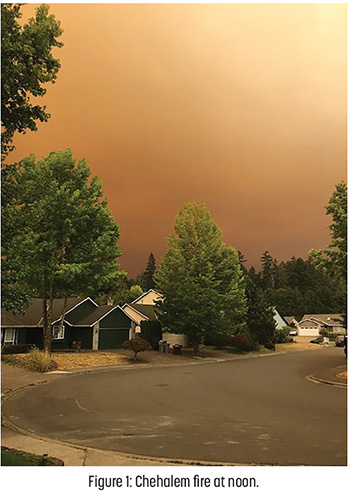 For context, we have a yearly fire season, and there are typically one or two fires that consume forest timber. It happens. However, this year, it started by a once-in-a-millennium windstorm from the east. High winds against trees full of foliage started a chain of events that set Oregon ablaze. Places in the Casde Mountains that I grew up visiting no longer exist as I knew them. Towns have been incinerated. There is nothing left in some places. In the county where I live, the Chehalem/Bald Peak fire was a mere six miles west of us. We were lucky. The winds were blowing away from us. It has since been contained. The picture of the Chehalem fire was taken by yours truly at midday, but it felt like it was dusk (Figure 1).
The picture in Molalla (Riverside fire) was during the evacuation (Figure 2). The town had been evacuated, and this was the view at 11:00 a.m. There was no sun showing—only the red sky. The list goes on. Another fire to our northwest was the Powerline fire, which was southwest of Forest Grove, Oregon. This was close to a major recreational area known as Hagg Lake. The area was closed, and the nearby town of Cherry Grove was evacuated. This fire has also been contained.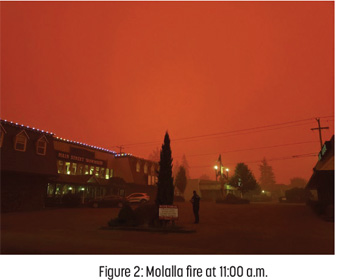 However, at this writing, the two major fires (Riverside and Beachie Creek) remain very active and continue to ravage. These two fires have consumed over 1 million acres and countless structures. Towns nestled on two different scenic highways into the Cascade Mountains are gone. The smoke from the West Coast fires has been felt all across the U.S. and even detected in Europe. If it were not for the heroic efforts of all the first responders, firefighters, and townspeople coming together, the devastation would be much worse. Town shopping center lots have become evacuee camps. Fairgrounds have been opened for livestock evacuation. Volunteer food courts have sprung up. Farmers have opened their gates for RVs, trailers, and tents. No one asked for anything; it was just neighbors helping neighbors, which was beautiful to see.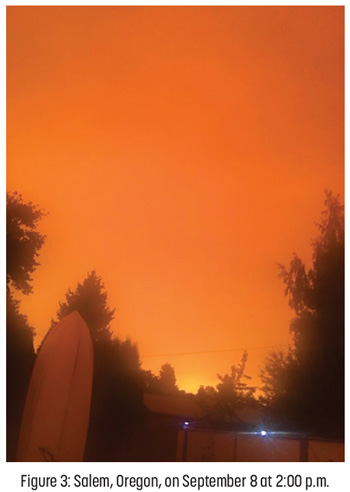 It has been only a few days since the winds have changed. We have seen some rain, and the local air quality has dropped again to roughly normal levels. In 2020, "normal" has become a word that is a moving target. We still wear our masks, ash and soot blanket the roadways, and vehicles and smoke can still be seen where the fires still burn. It will take time—and the fall rains and snow—to fully extinguish these major fires. Our heroes can only control and stop their spread.
It has been a challenge. My heart goes out to all those who have lost their livestock, homes, and the ultimate loss of family. Again, from Oregon and the West Coast, thank you to all the first responders, firefighters, and support personnel who have come from all over the U.S. and abroad to battle these catastrophic fires.
Todd Kolmodin is VP of quality for Gardien Services USA and an expert in electrical test and reliability issues. This column originally appeared in the October 2020 issue of PCB007 Magazine.
Share
Print
Suggested Items
11/30/2020 | Pete Starkey, I-Connect007
Pete Starkey details the November EIPC webinar program that combined knowledgeable market analysis and advanced manufacturing technology, including insights from Prismark's Dr. Shiuh-Kao Chiang, Averatek's Mike Vinson, and Atotech's Roland Herold.
11/18/2020 | Nolan Johnson, PCB007
Nolan Johnson interviewed Mike Coll, COO of Denkai America, about the copper foil and substrate market, the recent acquisition of the company by Nippon, and what they're doing to respond to very small feature sizes.
10/19/2020 | Pete Starkey, I-Connect007
Although current circumstances have forced the postponement of its live conferences, seminars, and workshops, EIPC continues to provide a platform for the exchange and dissemination of the latest knowledge and technical information to the European interconnection and packaging industry. Pete Starkey details how its current series of technical snapshots, delivered in a webinar format, address technology challenges facing the automotive, telecom, and high-speed sectors of the industry.