Reading time ( words)
The I-Connect007 team would like to wish you and your loved ones the happiest holiday season. It's been our pleasure bringing you the latest industry news and technical information, and we thank all of you for your support. We couldn't do this without you.
Continue to stay safe and healthy as we head into 2021. Happy Holidays!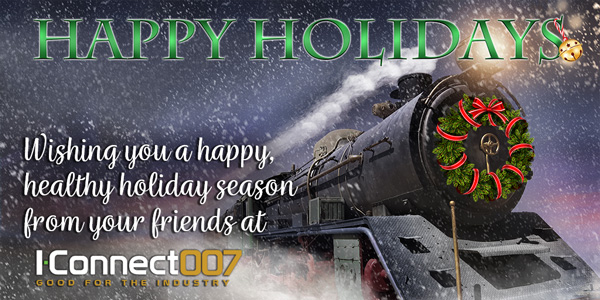 Share
Print
Suggested Items
02/23/2021 | Pete Starkey, I-Connect007
Pete Starkey speaks with Dr. Luca Gautero, product manager at SUSS MicroTec Netherlands B.V., about advances in inkjet printing, even outside the lab.
02/16/2021 | Bob MacRae, Taiyo America
Everyone wants a smooth-running solder mask process with high productivity and minimal rejects, but to achieve this you really need a firm understanding of what your current process is capable of, what its limitations are, and what you want to improve. Process capability benchmarking is a great way to identify and implement improvements within your process.
01/29/2021 | Dan Beaulieu, D.B. Management Group
It's only January, but this may be the timeliest book of the year, as well as the most important. Why? Because it deals with the issues that we are facing right here now. The "gap" that Kriska refers to is the one between black and white, men and women and as the title suggests "we and them."