Reading time ( words)
Ynvisible Interactive Inc. is pleased to announce the appointment of Michael Robinson as its new Chief Executive Officer (CEO). Jani-Mikael Kuusisto is appointed as Senior Vice President Ventures (Sr VP Ventures) and continues as Vice Chairman of the Board of Directors.  
With its latest successful round of financing, Ynvisible is now implementing its plans to focus on speed to market for customer products and sustainable financial growth through a "2023 Transformation & Growth Strategy" led by Robinson. Kuusisto will help reduce the risk and uncertainty of emerging technologies and provide a new growth arena for Ynvisible through a "2025 Venture Partnership Strategy".
"As COO, Michael brought the organizational tools and leadership style essential to transforming Ynvisible from a start-up to a growth stage company. As CEO, he now focuses our strong multi-disciplinary team on near term business opportunities with current technology and manufacturing capabilities. The aim is to accelerate time to revenue and profitability," commented Jani-Mikael Kuusisto, who was Ynvisible's CEO from its reverse take-over (RTO) in January 2018 and now takes on the role of Sr VP Ventures, responsible for strategic partnerships and future growth opportunities.   
"Our Ynvisible team has everything it needs to be successful through 2023 and beyond; I am honored to help lead the team, set the playing field for our growth, and to support our customers with exceptional electrochromic display products. Our continued success comes from our obsession with making it easy for our customers to develop, adopt, and plug-and-play our unique display technology to drive breakthrough product experiences for end-users," added Robinson.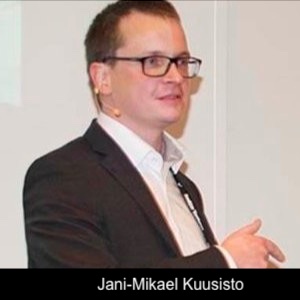 Kuusisto continued, "Ynvisible's vision is to bring everyday objects and surfaces to life, benefitting people in a smart and connected world. There are vast blue ocean opportunities for printed electrochromic displays and systems based on printed electronics. Michael leads our operations to ensure customer success in near term business opportunities and gears our business for sustainable growth. As Sr VP Ventures, I will engage with strategic partners and investors to chart the path into the future, to establish Ynvisible as a global leader in printed electronics."     
Robinson first engaged with Ynvisible as a client. He served the Company as an Independent Director from November 2019 to November 2020, and most recently as Ynvisible's COO, starting September 2020. Before joining Ynvisible Interactive Inc., Robinson worked for over fifteen years in fast-moving consumer goods and Luxury goods companies: Hasbro Toys, Bliss World LLC, Colgate-Palmolive, and most recently L'Oréal USA. As Operations Business Development and Open Innovation lead for L'Oréal USA, his role centered on breakthrough and transformational technology scouting & strategy, business development, and blending business, design, and technology to accelerate and launch new packaging, products, and experiences.   
Share
Print
Suggested Items
12/01/2020 | I-Connect007 Editorial Team
First, we asked you to send in your questions for Happy Holden, Joe Fjelstad, John Mitchell, and others in our "Just Ask" series. Now, it's Tara Dunn's turn! Tara is the vice president of marketing and business development for Averatek. Today's question: Do you think IC substrates (BGA, CSP, flip chip, etc.) will ever be produced in high volumes in the U.S.?
11/06/2020 | I-Connect007 Editorial Team
First, we asked you to send in your questions for Happy Holden, Joe Fjelstad, John Mitchell, and others in our "Just Ask" series. Now, it's Omni PCB President Tara Dunn's turn! A regular Flex007 columnist, Tara discusses flexible circuits, rigid-flex, and rigid PCBs, as well as RF/microwave technology, microelectronics, and additive processes. Tara is the co-founder of Geek-a-Palooza and a show manager for the SMTA Additive Electronics TechXchange event. She has over 20 years of experience in the PCB industry. We hope you enjoy "Just Ask Tara."
10/26/2020 | Andy Shaughnessy, Design007 Magazine
The SMTA Additive Electronics TechXchange took place virtually on October 14, with presentations from a wide variety of technologists involved in additive processes. Andy Shaughnessy describes how one of the highlights was a presentation titled "Flexible Electronics for Neural Interfaces" by Dr. Jonathan Viventi, assistant professor of biomedical engineering at Duke University.