Reading time ( words)
Dan Feinberg spoke with Valentin Storz, Nano Dimension's general manager of EMEA and director of marketing, about how the pandemic has affected their business this past year and what they have planned moving forward.
Dan Feinberg: Valentin, thank you for taking the time to speak with me and provide an update prior to what would be a normal CES show. This is now the beginning of the trade show season. But of course, these things are now virtual.
At CES a few years ago, I was looking at the advances in 3D printing, to see if it ever would be used for anything except making little toys. We came upon Nano Dimension, and we were impressed. I soon visited your facility in California. Where are you located now?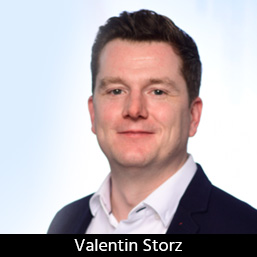 Valentin Storz: Well, I am currently in Germany but I hope to see you at our HQ in Florida soon.
Feinberg: Right now, we are looking at how things have changed with the COVID pandemic, particularly with trade shows now virtual or being canceled all together. Even IPC has now changed its IPC APEX EXPO from live to virtual this spring. Now we are starting to hear that some shows, starting in May, may be able to go live.
I'm wondering, what changes are you seeing in your marketing philosophy? What has changed for Nano Dimension due to the pandemic? How does this compare to, say, a year ago?
Storz: I would first mention that Nano Dimension probably has experienced 2020 very differently than the rest of the industry. We have seen significant financing from investors coming in, allowing us to now develop the product to the next level. Today we are offering the Dragonfly LDM system, where LDM stands for "lights of digital manufacturing." This is our current product version, and it allows for 24/7 operation of 3D printing of Hi-PEDs. We defined Hi-PEDs as high-performance electronic devices that could be very complex PCBs, or something more than just a complex multilayered circuit board. We can 3D print capacitors, antennas, and three-dimensional structures, we can build cavities to put in components allowing for, I would say, the next generation of electronics. Of course, our operational business has been affected because many of our customers are not in the office, so it is hard to communicate with them.
Feinberg: Yes, I think we are all seeing that to some degree.
Storz: There is an understanding that the future electronics supply chain will look different. For example, maybe you have a setup in the Far East with an optimized supply chain, at the lowest cost, and good quality. Then something like COVID happens, and you can't get the part they supply. Now, it doesn't matter that they are low cost; you will come back to a point where you want to have supply chain resilience, and where you keep critical resources for development processes, for products in house. A customer with a Dragonfly LDM system, even when the complete supply chain worldwide is locked down, can continue advancing with products in an office-like environment, because we do not need wet chemicals for our setup, and can therefore experiment on new designs for PCBs, or Hi-PEDs.
There is a future vision, which I would describe as digital inventory. Digital inventory is where our 3D printing electronics technology—additively manufacturing of electronics—short AME comes in as enabler. Imagine a future world where you do not ship physical boards around the world. Imagine, instead, a world where you only send the data files from one place to the other, and then the board, or the Hi-PED, is produced where it is needed. In the long-term, I think this will be the year everyone remembers as an ignition point for the AME industry. Many organizations are looking into this technology right now.
Feinberg: We, of course, follow all of the machines that you've sold over the past few years. Most of them seem to be of military interest, and aerospace, to some degree. Are you starting to see more commercial interest now?
Storz: If you look at the sales of about 60 machines globally, they are primarily in defense, aerospace research institutions. These research institutes and/or government research centers and leading DOD R&D and Product Development facilities. Then it's aerospace, aviation and defense, and anywhere something needs to be light, miniaturized or requires a solution to a problem that was not possible to solve before. Imagine cube satellites with a total weight of 1.4 kilograms, and every 100 grams you can reduce, significantly optimizes the whole business case. Or it's used for mini or micro drones. When it comes to the defense and high-tech industry, you can contain the information—even in one department, inside a bigger organization. Yes, we have seen more commercial applications coming in.
There's a lot of interest coming from the RF space like microwave systems, 5G, phased array, new 3D antenna structures, as well as from biochemical sensors. We have interest coming from commercial customers that understand there's future potential in structural three-dimensional electronics. We have one customer case from Germany, a plastics company. They established a department as "Electronics into Polymers," because they want to strategically increase the value-add of their products. They have commoditized plastic products, so why should they buy them in a high labor cost country, like Germany, instead of somewhere else?
Feinberg: Yes, I can see that.
Storz: However, if you can integrate in your plastics surfaces, electronics, make a table surface smart, then you can have a value-add that is a differentiation from the competition. Then you don't compete on price anymore. The main feature of the technology is you can make new shapes, new form factors lighter, smarter, more efficient.
Feinberg: Have you seen any changes to the need? For example, have customer needs changed in, let's say, the last year to year-and-a-half? Has the interest level in various segments of the industry changed? Are you seeing any additional interest in other segments of the industry that were not interested before? Or is it basically the same?
Storz: I think the weight is a bit different. Of course, there are some industries that are experiencing a bigger impact on revenues and cutting costs.
Feinberg: Sure, absolutely.
Storz: There are industries that experienced increases, or there are industries that are not affected. Let's take an example—biochemical sensors and the topic of microfluidics. We have been approached by prospects we didn't know about before, because they're not coming from the electronics industry. They are looking into whether you can use our system to 3D print tools for "semi-electronic processes," which combine some fluids and electrodes. We're seeing more people that are now looking into applications for DNA/RNA sequence testing.
But the other trends you described are very true. I don't know what is happening with the auto industry. Besides Tesla, the industry must cut costs. Maybe with our technology, they will be able to cut costs, because they will eliminate assembly steps and optimize designs. There's growing interest in everything that is light, small, and solves problems that couldn't be solved before. Some have learned that with our technology, they can do things that were not possible before.
Feinberg: Are you seeing any difference in changes to your supply chain? Obviously, you are a consumable supplier. Are you seeing that having any effect, especially in the last year?
Storz: Now, it is a package solution. You buy the DragonFly LDM system, and then you buy the consumables from us. To accommodate the current situation, we have introduced a Nano Dimension 3D Fabrication Service, or "NaNoS," where we offer a service that gives our customers the ability to source the printed parts. But it is not only a service for parts, but you can also work with our engineers in a cooperative project to develop the next generation of electronics. Customers can also prototype for low-value production. We have our design rules, which are recommendations for our customers who want to have high yields. But in our NaNoS 3D fabrication services, we go beyond our design rules. We embed components, print eight millimeters high, on Kapton tape, on FR-4, on silicon wafers, and more.
We are doing things nobody else has done before, and that is something that is exciting because that is a connection point for customers to come up with crazy ideas. Second, it is an additional source of building our business, based on a service business.
Feinberg: I understand. You make a good point that your sales of consumables are probably going up as a percentage, but not necessarily going up overall due to the fact that some of the fabricators are shutting down right now. Obviously, their consumable usage would be lower, so that does make sense.
Storz: Let me share from our investors' presentation, which is the latest update on company strategy and performance, and you will see how COVID is the elephant in the room that's affecting our business. We have raised significant amounts of cash, and we are investing this into product development. We're looking into mergers and acquisitions and looking to develop the advantage that we have in the market even further. While others are cutting back with investments, we are increasing ours. But we haven't fully scaled up marketing and sales activities, because at the moment, calling hundreds of customers that are not in the office, or only working part-time, is not going to really scale up the business. We will do that; however, our working assumption is that in Q3 2021, the world will somehow return to a new normal.
Feinberg: Anything else that you would like the industry to know or be aware of? Anything else you would like to emphasize?
Storz: Yes. We are improving the existing system, but we heavily invest in the development of materials that reach first industrial specifications. This is reflected in improved material properties that can be certified. Then start with a low volume and the mid-volume production system. We don't want to be the prototyping supplier. Instead, we will offer solutions for areas that define the electronics industry, PCB, and maybe backend semiconductors, where you have the high-end, high-mix, low-volume, special applications. Then, we go down the pyramid. We are coming in from the top, and our CEO likes to say, "Let's look at Tesla in the early days," as in Tesla with the Roadster.
Tesla Roadster was a car not made for everyone, but it was proving the concept. We are doing the same. We are coming in from the top, taking the high end of high-performance electronic devices, and then seeing how broad we can go. We offer a new, smarter, faster, and cleaner way for producing electronics, wherever you like in the United States, and without having to send the designs to Asia.
Feinberg: That is something that many people here are aiming toward. There is no doubt about it.
Storz: I think COVID is an accelerator. It accelerates disruption.
Feinberg: I agree. Appreciate it very much, thank you for your time.
Storz: Great, thanks so much, Dan.
Share
Suggested Items
03/24/2023 | Nolan Johnson, I-Connect007
It's almost as if upheaval is the new normal. We often describe slow-moving but unstoppable change as moving in "geologic time." But occasionally–like an earthquake–geology shifts suddenly. Here in my office, tracking the news of the industry, things are moving faster than geologic time, but more slowly than the jolt of an earthquake. The wave seems almost surfable, where before it seemed overwhelming. In this week's list, we bring news from five different, high-vibration areas in our industry. If you read nothing else this week, these five items will keep you informed.
03/17/2023 | Patty Goldman, I-Connect007
Sarah Czaplewski-Campbell, a materials/product development engineer at IBM, shares her experiences as a young professional who has benefited from the guidance of seasoned mentors alongside her own unflagging drive to expand her industry knowledge. She offers poignant advice for prospective professionals, urging them to assertively seek out advice and experiences that will help them progress in their careers.
03/02/2023 | Pete Starkey, I-Connect007
During an excellent packed-house luncheon on the Monday of IPC APEX EXPO 2023, IPC Chief Economist Shawn DuBravac gave a keynote address titled, "What's New in Tech: The Micro Trends Defining the Future of Electronics," with an introduction by IPC President and CEO John W. Mitchell.