Reading time ( words)
IPC APEX EXPO 2023 doesn't officially kick off until Tuesday, but there's plenty of action going on here at the San Diego Convention Center.
Booths are sprouting up on the show floor, and exhibitors are starting to arrive. Upstairs, committee meetings have been taking place all weekend; the IPC-J-STD-001 and IPC-A-610 Joint Task Group, and IPC-A-600 and IPC-6012 Joint Task Group meetings, were abuzz with activity.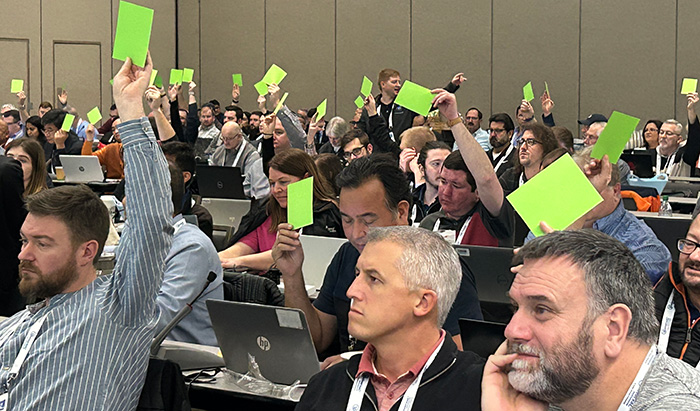 The members of the 001-610 group boasted 168 people, and they really seemed to enjoy what could have been a boring day looking at standards minutiae. The voting process was something to see, with members waving green cards of approval for changes. It was all very democratic. I heard far more laughter than I had expected. If you'd like to get involved with the standards development process, the committee chairs would welcome your help.
The Professional Development classes began on Sunday, covering everything from design through assembly processes, flex and rigid-flex, and technologies of the future. We interviewed some of the committee members and class attendees, including a few first-time attendees, and we'll have these interviews published soon.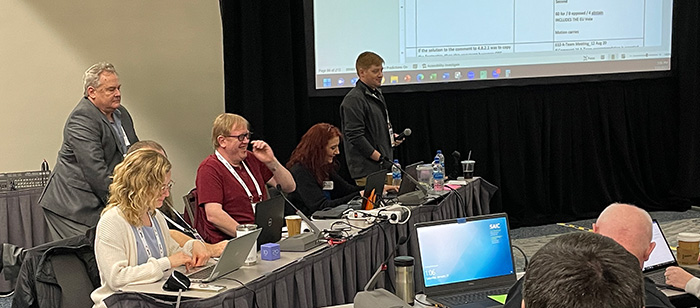 We're starting to see groups of engineers walking around the Gaslamp District with their show badges, but the real crowds won't be here until tomorrow. A few people I spoke with said they think this show marks the return to a pre-pandemic state of mind, and very few people are wearing masks here. With no rain in the forecast, the week is looking good.
Share
Suggested Items
03/21/2023 | Dan Beaulieu, D.B. Management Group
I have always felt that automation has the potential to make a big difference in our PCB industry, especially domestically, where labor is at premium. For the past year, I have been looking for the story of how automation can and will make a significant difference in established PCB shops. I was fortunate enough to find that story in Multicircuits, located in Oshkosh, Wisconsin. Only a few short years ago, this company was considered a "plain vanilla" PCB fabricator holding its own in our industry; now it has suddenly assumed a true leadership position in the industry in terms of capability, technology, operations, and profitability.
03/08/2023 | Nolan Johnson, I-Connect007
In this conversation with Schweitzer Engineering Laboratories, we spoke with John Hendrickson, engineering director; Frank Harrill, vice president of security; and Jessi Hall, senior director of vertical engineering. We wanted to learn more about the best practices they developed while specifying, selecting, and preparing to install an entire facility's worth of equipment all at the same time.
02/27/2023 | Pete Starkey, I-Connect007
The EIPC Winter Conference returned to the Metropolis of Lyon in eastern France this month. In 2018, the venue was Villeurbanne in the Auvergne-Rhône-Alpes region. Five years later the setting was the Groupama Stadium in Décines-Charpieu, and leaders of the European printed circuit community gathered in expectation of a spectacular programme of 16 presentations, a visit to a nuclear power station, and an invaluable networking opportunity. They weren't disappointed.