Reading time ( words)
"Customers do hate you."
That's the way this book starts—with the hard truth. Customers enter a relationship with you, the seller, with a huge chip on their shoulders; they are often expecting the worst.
Nicholas Webb writes that when they buy from you, customers assume that they are getting the second-best product or service. This is because the "ideal" product or service is something that exists only in their heads, and nothing can compare to that.
Webb's number one law of customer experience is this: Your customers are always settling for second best.
Are you intimidated yet? Read on.
The good news is that Webb has some ideas on how to handle this and how you can get your customers to love you, no matter what kind of top-tier product they've imagined. He starts by giving examples of the different kinds of customers and how to handle them:
The Driver: This is the goal-oriented decision maker who comes to your business armed with all the information they need and a deeply held belief that they already know what they want. "Driver" customers want their transaction to go as smoothly as possible.
The Analytical: This customer wants as much detailed information as they can possibly get. They need all the facts and figures, and they probably have a copy of Consumer Reports in their bag.
The Amiable: This person wants to be friends; they just want to hang out with you. "Amiable" customers want you to not only like them but understand them as well. They want to belong to your group.
The Collaborator: This customer needs to make decisions based on consensus. They bring their friends with them as if their friends are a kind of ad hoc purchasing group. These customers need the entire team to vote on what they are going to buy and, of course, they seldom buy on the first visit.
Webb then takes you through how to deal with each type of individual, but along the way, he also tells you exactly what will make them hate you even more than they already do.
For instance, the Driver will really hate you if you waste their time with idle chatter. You need to be as clear and as driven as they are; don't even think about trying to sell them something they don't want.
You can make the Driver love you by being forthright and confident about what you are selling. Be prompt and courteous and stick to the facts. Drivers are no-nonsense people, and they want a no-nonsense sale.
What people want most of all in this post-pandemic era is for things to be as easy as possible. They want no friction in their transaction. To make them love you, your job is to deliver this by making sure that things are as easy as they can possibly be. Customers want what they want, and they want it now. It is up to you to make sure they get what they want as easily and seamlessly as possible.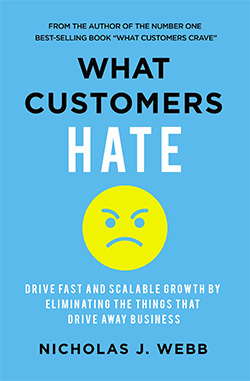 In the end is what this book is all about. Take some time to sit with this good and helpful book—you're in for a fun read.
What Customers Hate: Drive Fast and Scalable Growth by Eliminating the Things that Drive Away Business
Author: Nicholas J. Webb
Publisher: 2022, Harper Collins
Pages: 240
Price: $11.99
Dan Beaulieu is president of D.B. Management Group.
Share
Suggested Items
04/12/2023 | I-Connect007 Editorial Team
Like many circuit board shops, Sunstone found itself climbing out of the deep well created by shutdowns during the pandemic. But 2022 was a good year, and Vice President Matt Stevenson greets 2023 with optimism. What's on his mind? He's looking closely at automation, price adjustments, a plating line, and the ongoing struggles with staffing.
04/04/2023 | Barry Matties, I-Connect007
The I-Connect007 team paid a visit to American Standard Circuits in West Chicago, Illinois. While there, we talked at length with CEO Anaya Vardya about the issues on his mind as he pushes technology, expands his floor space, and considers the implications of the CHIPS Act, staffing issues, and what's happening in China.
01/25/2023 | Matt Bergeron, Integra
Integra is one of the largest and most experienced semiconductor die prep, assembly, test, and qualification facilities in the United States, with locations in both Wichita, Kansas, and Silicon Valley. At the recent IPC Advanced Packaging Symposium, Integra was invited to present information about how we meet our customers' specific needs.