Reading time ( words)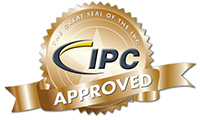 What if we could get the military, aerospace, medical, automotive, and a few other industry groups to agree to accept one site audit and one certification? In other words, one audit, once a year, which covers everything.
Already underway, IPC has ventured into the area of PCB fabricator and EMS provider audits based on IPC-1071 for fabricators and IPC J-STD-001 and IPC-A-610 for PCBA. Called IPC Validation Services, this effort is being driven by IPC's OEM members who want to replace for individual site audits with a single IPC audit as the standard for vendor acceptance.
What Does Compliance Cost?
Randy Cherry is leading this effort at IPC. It's a good first step but it doesn't go far enough IMHO (my kids taught me that). We have an opportunity to remove a huge source of pain and suffering for many companies on both sides of the transaction. These site audits are time-consuming and expensive. After querying, I found one medium-sized EMS company's costs of compliance, including audits, translated to about 0.5% of sales. I'm sure that with some economies of scale, that number would decrease, but it's still a significant number for most companies and another non-value-added expense to doing business. EMS industry wide, that starts to add up. At about $500 billion in sales, the EMS industry's cost of compliance is approximately $1 to 3 billion annually. If the same number holds for PCB fabs, then we're looking at another $100 to 300 million. The industry spends a ton of money on this! Get this down to a single audit and the OEM wins, EMS/PCB fabs win, and if IPC does the job, they win as well. Seems like a no-brainer. Here's a list of likely target certifications which could be addressed with this effort:
ISO 9001 (Quality)
ISO 14001 (Environmental)
ISO/TS 16949 (Automotive)
ISO 13485 (Medical)
AS 9100 (Aerospace)
ANSI/ASQ Q9001
ANSI/ASQ Q9003
DSCC (Defense Supply Center Columbus) / DLA (Defense Logistics Agency)
NADCAP (list specifications and/or audit type)
UL
ITAR (Registered #)
OHS18001 (Occupational Health & Safety)
IRIS (International Railway Industry System)
MIL PRF 55110
I'm sure there are more we could add to this list and some that shouldn't be on it. In any case, you get where I'm going with this.

Read the full column here.


Editor's Note: This column originally appeared in the November 2014 issue of SMT Magazine.
Share
Print
Suggested Items
07/31/2020 | Andy Shaughnessy, Design007 Magazine
Say what you will about 2020, but it certainly isn't boring. There's a lot going on in the PCB world, and there's something for everyone in this week's top five picks. And it's all positive, despite the lingering presence of COVID-19 and its aftereffects.
07/28/2020 | I-Connect007 Editorial Team
We asked for you to send in your questions for Happy Holden, and you took us up on it! The questions you've posed run the gamut by covering technology, the worldwide fab market, and everything in between. What would you change about the industry?
07/24/2020 | Nolan Johnson, PCB007
This week's top five is a smattering across the industry. There's an update on an established vendor and a press release from a startup. Then, we have two columns: one on M&A, and the other on supply chain disruptions. Finally, I highlight an interview from a U.S. food distributor sales manager, shedding light on the similarities of supply chain interruption in all industries. It's quite an assortment, but what they all have in common is that readers found these items compelling.