Reading time ( words)
I-Connect Technical Editor Pete Starkey sat down with Panasonic's Tony Senese and Tomoyuki Abe at IPC APEX EXPO 2015 in San Diego–high-speed digital materials, particularly those with very low-loss characteristics, was the focus of their discussion. Also noted were the positive responses from chemical process suppliers, and the realistic length of a product development cycle.
Pete Starkey: Panasonic Megtron 6 has become established as the industry standard, but I understand there is a new product coming out of development and in the early stages of production, Megtron 7, which is the lowest-loss material that is currently available from Panasonic. Can you gentlemen give me some details of the characteristics and performance of the material, and the sort of applications of the industry sectors where this material is going to be of substantial benefit?
Tony Senese: We have a technology development roadmap that we update on a regular basis at least a couple times a year, and we have several market segments that we track our products in.
Tomoyuki Abe: Right now, Megtron 6 is the standard of the high-end server router equipment material, but the market is requesting the more high-speed material. Megtron 6 is quite good, but the market needs higher-performance material.
Starkey: To clarify, when you talk about high-speed material, what sort of data rates are you aiming at?
Senese: In the high-speed digital area right now, products are operating in the 10 Gbps to 20 Gbps range enabled by Megtron 6. However, at 20 Gbps other things have to be done to the circuit boards to make them meet the loss budget. Megtron 6 enabled the major IT infrastructure suppliers to use very similar design techniques to what they were using at lower speeds—say, 6–10 Gbs. So now, that is kind of the standard rate in that high-speed digital arena.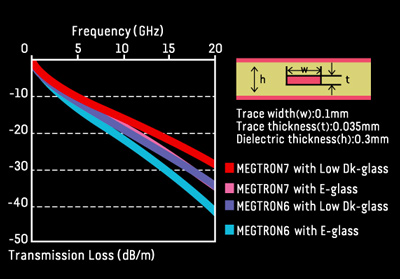 Starkey: So Megtron 7 effectively is an enabler that opens up the possibilities for them to develop into higher data rates?
Senese: That's right. Basically, at the 25 Gbps data range, which is actually already in place, Megtron 7 removes a few roadblocks that make the fabrication difficult. At the 25 Gbps data range, especially on the large format back planes, and some of the line cards, the loss budget is too close to the mark, even with Megtron 6. It is a goal of all of these infrastructure companies to increase the amount of data they can transmit because of things like streaming video that have started to become ubiquitous, so they need to have their core routers to be much faster.
So 25 Gbps is where they're designing right now, and there are people who are designing certain pieces of equipment at the 50 Gbps range. So that meansthat really Megtron 6 isn't enough to build those core routers, as is.
There are connectors being developed that are fast enough and can be used that are early in production, and the people that are building what I would call proof-of-concept hardware are really just too close to the edge. They can build it once, but they can't build it in high volume, or even in normal quantities. But when it comes to loss, there is quite the difference from Megtron 6.
Share
Print
Suggested Items
02/25/2021 | Andy Shaughnessy, Design007
Andy Shaughnessy chats with Lawrence Romine about Altium's new subscription model for their Altium 365 platform. They discuss what this means for existing and future Altium customers, and some of the drivers leading to this development, including evolving use patterns among customers during the pandemic.
02/01/2021 | Eric Bogatin, University of Colorado, Boulder
Rarely do we have the luxury of designing a board just for connectivity. When interconnects are not transparent, we must engineer them to reduce the noise they can generate. This is where design for signal integrity, power integrity and EMC—collectively high-speed digital engineering—are so important. Eric Bogatin offers seven tips for stackup design.
01/12/2021 | I-Connect007 Editorial Team
In this interview with the I-Connect007 Editorial Team, TTM's Julie Ellis and Richard Dang drill down into stackup design, detailing some of the common stackup challenges that their customers face when designing for both prototype and volume levels, and offering advice to designers or engineers who are struggling with stackup issues. They also discuss why having too many different prepregs in a stackup can be asking for trouble, and how proper stackup design can optimize both the fabrication and assembly processes.