Reading time ( words)
I-Connect Technical Editor Pete Starkey sat down with Panasonic's Tony Senese and Tomoyuki Abe at IPC APEX EXPO 2015 in San Diego–high-speed digital materials, particularly those with very low-loss characteristics, was the focus of their discussion. Also noted were the positive responses from chemical process suppliers, and the realistic length of a product development cycle.
Pete Starkey: Panasonic Megtron 6 has become established as the industry standard, but I understand there is a new product coming out of development and in the early stages of production, Megtron 7, which is the lowest-loss material that is currently available from Panasonic. Can you gentlemen give me some details of the characteristics and performance of the material, and the sort of applications of the industry sectors where this material is going to be of substantial benefit?
Tony Senese: We have a technology development roadmap that we update on a regular basis at least a couple times a year, and we have several market segments that we track our products in.
Tomoyuki Abe: Right now, Megtron 6 is the standard of the high-end server router equipment material, but the market is requesting the more high-speed material. Megtron 6 is quite good, but the market needs higher-performance material.
Starkey: To clarify, when you talk about high-speed material, what sort of data rates are you aiming at?
Senese: In the high-speed digital area right now, products are operating in the 10 Gbps to 20 Gbps range enabled by Megtron 6. However, at 20 Gbps other things have to be done to the circuit boards to make them meet the loss budget. Megtron 6 enabled the major IT infrastructure suppliers to use very similar design techniques to what they were using at lower speeds—say, 6–10 Gbs. So now, that is kind of the standard rate in that high-speed digital arena.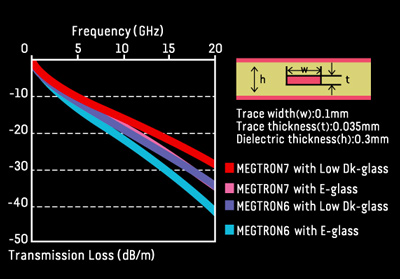 Starkey: So Megtron 7 effectively is an enabler that opens up the possibilities for them to develop into higher data rates?
Senese: That's right. Basically, at the 25 Gbps data range, which is actually already in place, Megtron 7 removes a few roadblocks that make the fabrication difficult. At the 25 Gbps data range, especially on the large format back planes, and some of the line cards, the loss budget is too close to the mark, even with Megtron 6. It is a goal of all of these infrastructure companies to increase the amount of data they can transmit because of things like streaming video that have started to become ubiquitous, so they need to have their core routers to be much faster.
So 25 Gbps is where they're designing right now, and there are people who are designing certain pieces of equipment at the 50 Gbps range. So that meansthat really Megtron 6 isn't enough to build those core routers, as is.
There are connectors being developed that are fast enough and can be used that are early in production, and the people that are building what I would call proof-of-concept hardware are really just too close to the edge. They can build it once, but they can't build it in high volume, or even in normal quantities. But when it comes to loss, there is quite the difference from Megtron 6.
Share
Suggested Items
01/26/2023 | Kris Moyer, IPC
In today's ever-shrinking world of electronics designs, the use of BGA parts with very fine pitch features is becoming more prevalent. As these fine-pitch BGAs continue to increase in complexity and user I/O (number of balls), the difficulty of finding escape routes and fan-out patterns increases. Additionally, with the shrinking of silicon geometry leading to both smaller channel length and increased signal integrity issues, some of the traditional BGA escape routing techniques will require a revisit and/or adjustment to allow for not only successful fan-out, but also successful functioning of the circuitry of the BGA design.
01/25/2023 | Nolan Johnson, I-Connect007
Nolan Johnson recently met with Alun Morgan, technology ambassador at Ventec, and Ventec COO Mark Goodwin to discusses the industry's determination to cling to outdated processes and standards, and some potential consequences. To maintain efficiency and keep pace with the market's newest entries in Asia, Alun and Mark believe that legacy companies in the West must be open to challenging conversations that will require questioning old practices and revising those practices toward sustainability.
01/12/2023 | Patrick Crawford, IPC
Last year, IPC held its first-ever design competition at IPC APEX EXPO in San Diego. PCB designers from around the world competed in a series of heats during the months before the show, culminating in a showdown on the show floor between the top three finalists. Rafal Przeslawski, now with AMD, took home the top prize last year. This year, the competition is back for its sophomore year. I asked Patrick Crawford, manager of design standards and related programs for IPC, to "layout" the details on the design contest, including lessons learned in 2022 and what's new for the 2023 competition.