Reading time ( words)
Stretchable circuits are an evolving branch of electronics interconnection technology and the subject of growing interest to product developers seeking to provide novel wearable electronic solutions for consumer and medical markets. Such circuits are designed and manufactured using resilient materials which allow them to expand and contract with the movements of the user or to conform to nonplanar surfaces making possible a wide range of innovative and fanciful electronic interconnection devices. Obviously, the material used is a key element in making a stretchable circuit.
There are a range of different types of thermoplastic polymers available in film form that can be effectively stretched; however, once stretched beyond their elastic limit the material deforms to a new length greater than that which was designed.
There are as well elastomeric materials, such as urethanes, which have seen use in the manufacture of circuits which can be stretched and return to their original length. These materials tend to be opaque, which limits the scope of possibility for their use. A new transparent, high-performance thermal setting stretchable material could open doors to a range of new and innovative products.
New stretchable material characteristics
The new material is capable of stretching to 150% of the original length without hysteresis. (Figure 1 provides a comparison of stress-strain plots of the new material compared with thermoplastic PEN.)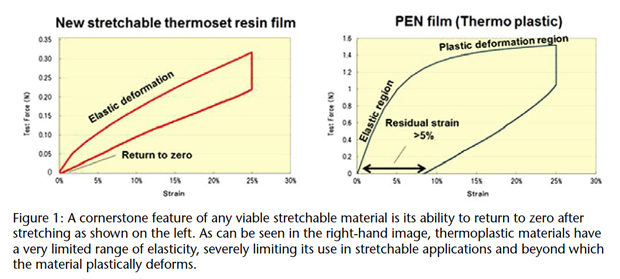 Another key attribute of the material is its ability to reliably return to the original length even when stretched numerous times, as will likely be required in numerous future applications. The new material excels in this regard.
The mechanical and thermal properties of the new material are superior in many important areas including total elongation and adhesion both to copper foil and FR-4 laminate. It is also unique in that is has no melt point making it amenable to soldering with higher temperature lead free solders.
Editor's Note: This article originally appeared in the June 2015 issue of The PCBMagazine.
Share
Suggested Items
01/11/2023 | Nolan Johnson, I-Connect007
Nolan Johnson checks in with Taiyo America's Technical Manager, Jesse Session, about the new and exciting developments cooking in Taiyo's R&D department. The company's groundbreaking inkjet solder mask product line is expanding to meet the needs of customers looking for updated color options that retain the same quality standards and reliability that have come to define Taiyo's offerings.
01/04/2023 | Britta Schafsteller, Atotech
Immersion tin is well accepted as a high-reliability final finish in the industry. Due to its excellent corrosion resistance, it exhibits major market shares, particularly in the automotive industry. During the soldering process, an intermetallic compound (IMC) is formed between copper and tin. One remaining concern in the industry is the potential impact of the IMC on the solderability of the final finish. In this article, typical failure modes in soldering immersion tin are described and correlated to potential root causes for the defects.
12/19/2022 | Nolan Johnson, I-Connect007
Nolan Johnson and Stuart Down discuss Taiyo's partnership with Ventec and how both companies are leveraging their expertise to blaze a trail into the European PCB market. Stuart shares his outlook on the market and the unique challenges posed by global political instability and supply chain constraints, as well as how Europe's evolving chemical regulations have impacted solder mask formulation. With their sights set on ramping up manufacturing capabilities, Taiyo sees a secure path forward to establishing a sizeable market presence in this promising region.