Reading time ( words)
Stretchable circuits are an evolving branch of electronics interconnection technology and the subject of growing interest to product developers seeking to provide novel wearable electronic solutions for consumer and medical markets. Such circuits are designed and manufactured using resilient materials which allow them to expand and contract with the movements of the user or to conform to nonplanar surfaces making possible a wide range of innovative and fanciful electronic interconnection devices. Obviously, the material used is a key element in making a stretchable circuit.
There are a range of different types of thermoplastic polymers available in film form that can be effectively stretched; however, once stretched beyond their elastic limit the material deforms to a new length greater than that which was designed.
There are as well elastomeric materials, such as urethanes, which have seen use in the manufacture of circuits which can be stretched and return to their original length. These materials tend to be opaque, which limits the scope of possibility for their use. A new transparent, high-performance thermal setting stretchable material could open doors to a range of new and innovative products.
New stretchable material characteristics
The new material is capable of stretching to 150% of the original length without hysteresis. (Figure 1 provides a comparison of stress-strain plots of the new material compared with thermoplastic PEN.)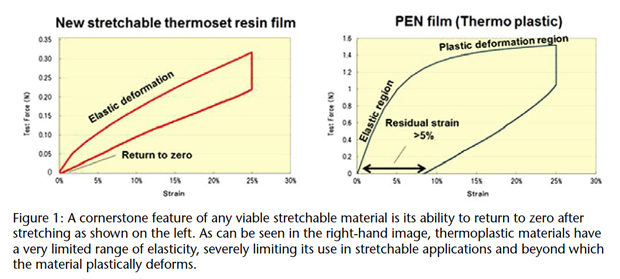 Another key attribute of the material is its ability to reliably return to the original length even when stretched numerous times, as will likely be required in numerous future applications. The new material excels in this regard.
The mechanical and thermal properties of the new material are superior in many important areas including total elongation and adhesion both to copper foil and FR-4 laminate. It is also unique in that is has no melt point making it amenable to soldering with higher temperature lead free solders.
Editor's Note: This article originally appeared in the June 2015 issue of The PCBMagazine.
Share
Print
Suggested Items
07/04/2019 | Nikolaus Schubkegel
When you compare direct imaging of solder mask with contact exposure of solder mask, the positive aspects and the advantages are clear. Without a doubt, direct imaging shortens the throughput time and eliminates artwork production. It also eliminates the costly measurement of the panels and manufacturing of artwork with different scaling factors.
06/19/2019 | Barry Matties and Edy Yu, I-Connect007
On a recent visit to Microtek Laboratories' Changzhou facility, Barry Matties, publisher, and Edy Yu from the I-Connect007 China team spoke with chairman and CTO Bob Neves about the changes he has seen living and doing business in China over the past 15 years, and the increased importance of standards and testing as China moves into manufacturing more high-reliability products.
06/12/2019 | Pete Starkey, I-Connect007
The Institute of Circuit Technology (ICT) held its 45th annual symposium on June 4, 2019 in Dudley at the Black Country Museum—a symbol of the spirit of innovation in engineering technology and the entrepreneurial and manufacturing skills that had established that region's supremacy in leading the original Industrial Revolution. Here's a recap of the events and presentations at the symposium.