Reading time ( words)
Stretchable circuits are an evolving branch of electronics interconnection technology and the subject of growing interest to product developers seeking to provide novel wearable electronic solutions for consumer and medical markets. Such circuits are designed and manufactured using resilient materials which allow them to expand and contract with the movements of the user or to conform to nonplanar surfaces making possible a wide range of innovative and fanciful electronic interconnection devices. Obviously, the material used is a key element in making a stretchable circuit.
There are a range of different types of thermoplastic polymers available in film form that can be effectively stretched; however, once stretched beyond their elastic limit the material deforms to a new length greater than that which was designed.
There are as well elastomeric materials, such as urethanes, which have seen use in the manufacture of circuits which can be stretched and return to their original length. These materials tend to be opaque, which limits the scope of possibility for their use. A new transparent, high-performance thermal setting stretchable material could open doors to a range of new and innovative products.
New stretchable material characteristics
The new material is capable of stretching to 150% of the original length without hysteresis. (Figure 1 provides a comparison of stress-strain plots of the new material compared with thermoplastic PEN.)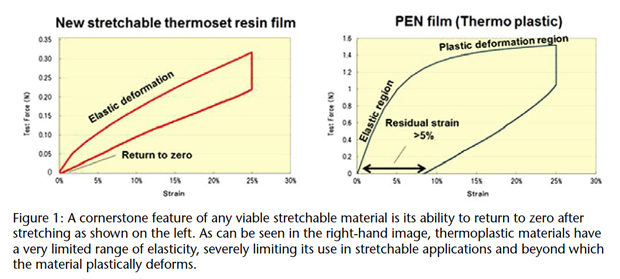 Another key attribute of the material is its ability to reliably return to the original length even when stretched numerous times, as will likely be required in numerous future applications. The new material excels in this regard.
The mechanical and thermal properties of the new material are superior in many important areas including total elongation and adhesion both to copper foil and FR-4 laminate. It is also unique in that is has no melt point making it amenable to soldering with higher temperature lead free solders.
Editor's Note: This article originally appeared in the June 2015 issue of The PCBMagazine.
Share
Suggested Items
05/12/2022 | Pete Starkey, I-Connect007
EIPC's 17th Technical Snapshot webinar on May 4 focused on developments in automotive electronics, particularly on advances in the technologies required to support the evolution of autonomous driving. The team brought together two expert speakers to present their detailed views on topics encompassed within "CASE," the acronym that appears to be taking over the automotive industry.
05/06/2022 | Andy Shaughnessy, I-Connect007
This week, we have some M&A news from Summit Interconnect, and a variety of columns. Chris Bonsell discusses the lack of preventive maintenance planning in PCB manufacturing, and Kelly Dack lays out some solder mask guidelines for PCB designers. Duane Benson helps make sense of the quoting process in a time of 50-week lead times, and Dan Beaulieu has a great review of a book about how shareholder policies have caused many of the problems we see in corporations today.
03/10/2022 | Pete Starkey, I-Connect007
A two-year project funded by an Innovate UK SMART Grant aims to reduce the impact of e-waste using naturally derived, biodegradable and nontoxic products. Those attending the webinar for the Institute of Circuit Technology's annual meeting on March 2 learned more about the project, as well as statutory paperwork obligations of the UK REACH regulations. Following the formal business, ICT Chair Emma Hudson introduced and moderated this technical webinar.