Reading time ( words)
No matter if you are part of a small team focusing on just one aspect of the PCB design flow or you are "THAT designer" who can do it all – PADS has the right solution at the right price for you!
At $5000USD Including Support: PADS Standard delivers a full-flow solution for PCB development, including schematic, component management, layout, routing, and manufacturing prep. Easy-to-use schematic and layout translators help import libraries and designs from your current toolset, whether it's Allegro®, Altium® Designer, CADSTAR®, OrCAD®, P-CAD®, or Protel®.
But if you are "THAT designer" who requires a design flow with integrated advanced board-level analog simulation analysis and verification capabilities, PADS Standard Plus is equipped with all the analysis and verification functionality you need to produce quality PCBs faster.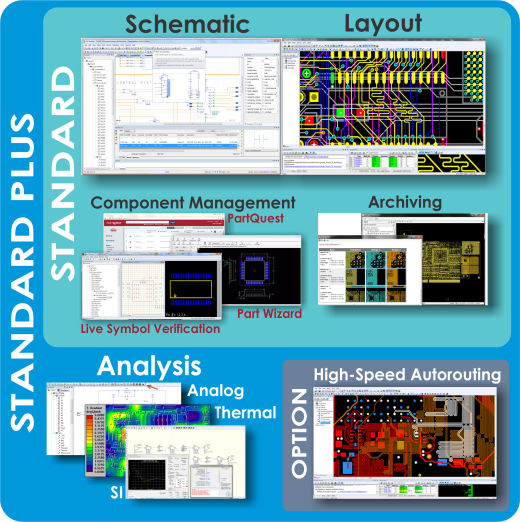 PADS Standard Plus includes all the features of PADS Standard plus signal integrity analysis powered by HyperLynx® technology enabling you to determine routing constraints and verify your routed PCB as well as identify and address potential "hot spots" through thermal analysis that takes into account conduction, convection, and radiation cooling effects.
What? – You're "THAT designer" that does even EVEN MORE?
Then PADS Standard Plus can deliver EVEN MORE capabilities by offering tools for DFT, DFMA, MCAD Collaboration and even Advanced Packaging if desired.
But lets say you're "THE designer" – The one that HAS TO DO IT ALL? – And on the most complex PCB Designs.
If you need a tool with all the horsepower and features of an Enterprise solution that fits all your design needs and your budget – look no further than PADS Professional! PADS Professional utilizes Xpedition® technology that handles the most demanding and complex designs, where other solutions fail. Get all the features and functionality of PADS Standard Plus including high-speed routing and access to the most advanced features like advanced FPGA synthesis, FPGA I/O optimization, unified constraint management, electrical sign-off based on full board DRC screening and signal/power integrity analysis, just for starters. Add to that a best-in-class layout PCB environment featuring concurrent 2D and 3D physical design and a correct-by-construction approach to placement, plane design and routing.
PADS Professional also delivers the industry's most powerful interactive routing environment for large busses, single ended and differential pair nets AND includes our new ground-breaking sketch routing technology! Whats that?, you need even more advanced fabrication design features including HDI, RF, flex circuitry and embedded components? – Done! Check out PADS Professional today!
See how PADS has set the standard in PCB design solutions for yourself! Click here and compare these 3 PADS solutions today!
Share
Print
Suggested Items
10/26/2020 | Andy Shaughnessy, Design007 Magazine
Andy Shaughnessy speaks with Brad Griffin, product marketing director for Cadence Design Systems, about their new Clarity 3D Transient Solver, which is designed for system-level EMI simulation. Brad explains how the new solver, based on the company's matrix technology, can yield results 10 times faster than existing solvers when simulating IC packages, PCBs, and SoIC designs.
10/23/2020 | Andy Shaughnessy, Design007 Magazine
After a crazy year like this, we shouldn't be surprised that this trade show season is unlike any other. Here's one of the many "silver linings" of 2020: We actually dodged a bullet earlier this year when COVID-19 hit after most of our industry's big events had taken place. In this week's top five, we have an assortment of trade show and conference news items, plus a few examples of technological trends and innovation.
10/22/2020 | Pete Starkey, I-Connect007
Good morning, Europe!" Altium VP of Marketing Lawrence Romine said as he introduced the European edition of Altium's PCB design conference—established as an annual must-attend event, but for 2020 presented in a virtual format. Pete Starkey brings you the details from AltiumLive Europe's opening keynote on 21st-century tools and what's coming in 2021.