Reading time ( words)
No matter if you are part of a small team focusing on just one aspect of the PCB design flow or you are "THAT designer" who can do it all – PADS has the right solution at the right price for you!
At $5000USD Including Support: PADS Standard delivers a full-flow solution for PCB development, including schematic, component management, layout, routing, and manufacturing prep. Easy-to-use schematic and layout translators help import libraries and designs from your current toolset, whether it's Allegro®, Altium® Designer, CADSTAR®, OrCAD®, P-CAD®, or Protel®.
But if you are "THAT designer" who requires a design flow with integrated advanced board-level analog simulation analysis and verification capabilities, PADS Standard Plus is equipped with all the analysis and verification functionality you need to produce quality PCBs faster.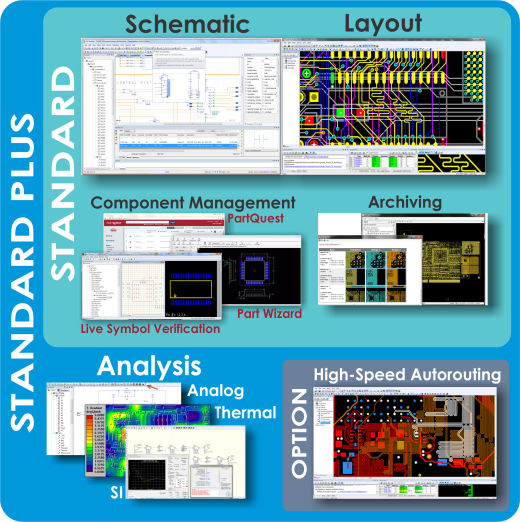 PADS Standard Plus includes all the features of PADS Standard plus signal integrity analysis powered by HyperLynx® technology enabling you to determine routing constraints and verify your routed PCB as well as identify and address potential "hot spots" through thermal analysis that takes into account conduction, convection, and radiation cooling effects.
What? – You're "THAT designer" that does even EVEN MORE?
Then PADS Standard Plus can deliver EVEN MORE capabilities by offering tools for DFT, DFMA, MCAD Collaboration and even Advanced Packaging if desired.
But lets say you're "THE designer" – The one that HAS TO DO IT ALL? – And on the most complex PCB Designs.
If you need a tool with all the horsepower and features of an Enterprise solution that fits all your design needs and your budget – look no further than PADS Professional! PADS Professional utilizes Xpedition® technology that handles the most demanding and complex designs, where other solutions fail. Get all the features and functionality of PADS Standard Plus including high-speed routing and access to the most advanced features like advanced FPGA synthesis, FPGA I/O optimization, unified constraint management, electrical sign-off based on full board DRC screening and signal/power integrity analysis, just for starters. Add to that a best-in-class layout PCB environment featuring concurrent 2D and 3D physical design and a correct-by-construction approach to placement, plane design and routing.
PADS Professional also delivers the industry's most powerful interactive routing environment for large busses, single ended and differential pair nets AND includes our new ground-breaking sketch routing technology! Whats that?, you need even more advanced fabrication design features including HDI, RF, flex circuitry and embedded components? – Done! Check out PADS Professional today!
See how PADS has set the standard in PCB design solutions for yourself! Click here and compare these 3 PADS solutions today!
Share
Print
Suggested Items
04/09/2021 | Barry Olney, In-Circuit Design Pty Ltd
The I-Connect007 editorial team recently spoke with Barry Olney of iCD about simulation. Barry, a columnist for Design007 Magazine, explains why simulation tools can have such a steep learning curve, and why many design engineers are still not using simulation on complex high-speed designs.
03/26/2021 | Nick Barbin, Optimum Design Associates
The proverbial saying "garbage in, garbage out" holds true in the electronic product development world. PCB designers stand squarely in the middle of a busy information intersection flowing with inputs and outputs. Missing or bad information at the beginning of a design project will undoubtedly lead to board re-spins, increased costs, and most importantly, a delayed product release. The same can be said about the PCB designer who doesn't provide a fully checked and comprehensive data package to the downstream manufacturers, i.e., "throwing it over the fence."
03/23/2021 | Tamara Jovanovic, Happiest Baby
In the PCB design cycle, it is so easy to unintentionally introduce "garbage" into your system. Unless you have time to extensively check everything you bring in from an external source, it is very likely that something will not match up with your design data. In the end, this means you'll have to put more work into your design and basically reverse-engineer a part that was supposed to save you time and effort.