Reading time ( words)
Is it true that the bigger the company you work for – the less aspects of the PCB design flow you're involved with? Maybe….
I've had the privileged in my career to design PCB's for a couple of cutting edge networking start-up companies and some well known public companies that includes the (as defined by wiki) worldwide leader in networking equipment for the internet. I've also been "that designer" that does it all including the ECAD and MCAD physical design. I've also been the guy on the other side of the wall responsible for PCB layout only.
BIG companies with large PCB design teams depend on an enterprise tool solutions that takes every design discipline into account to ensure quality and resource efficiency. Today, more than ever, there are more and more individuals, small start-up companies, design bureaus, even Makers and DIY'ers that are developing complex designs that require PCB design tools with the power of an enterprise solution at a proper scale and an affordable price to complete their designs.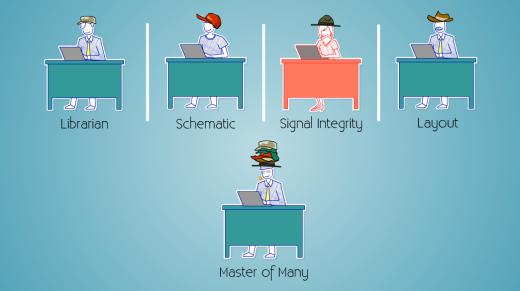 The Many Hats of Today's PCB Designer
A one-size PCB design tool solution does not fit all. It is important to have the right PCB design tool at the right time and at the right price. No one wants to pay extra for advanced features that they don't require – BUT, when the "right time" does come and advancements in technology and competition push your design requirements to the next level, you'll want to ensure you can seamlessly access advanced capabilities from your design tool.
Now, PADS is delivering a range of affordable and proportionally featured products with options that support PCB designs of any complexity. Starting at only$5000USD* (*including support), PADS Standard provides a complete full-featured PCB design tool for basic PCB design and in many cases may provide all the functionality you'll ever need. That is, schematic, component management, layout, routing, and manufacturing prep.
But what if you are that small start-up company, Maker, or DIY'er that is developing a new high-tech product, perhaps you're Kickstarter or Indiegogo campaign funded over 100% overnight! And the next generation of your product will require advanced functionality from your PCB design tool including features like integrated constraint management, signal integrity analysis and thermal and analog simulation. Simple, get or upgrade to PADS Standard Plus!
In the black? Earlier I mentioned being part of a couple of start-up companies one of which was a cutting edge networking company and I was "that designer" in the illustration above that wore "most" of those hats. We were lean, efficient and worked hard to achieve our goals to become profitable and eventually either launch an IPO or accept an acquisition offer that we couldn't refuse. I needed all the technology and horsepower of an enterprise solution that could handle the demanding and complex designs for just myself without the infrastructure and at a scale and price that a start-up company like ours could justify. PADS Professionalwould have been the perfect fit!
PADS Professional, starting at only $18,000USD is that high-end enterprise solution for the independent, multi-discipline hardware engineer that can handle the design complexity without the unnecessary overhead and the associated challenges of usability and COO (cost of ownership). Built on the same Xpedition technology used to design the world's most complex PCBs. Hardware engineers who do it all — operating independently or in small workgroups — will find PADS Professional to be the perfect solution that can do it all!
To learn more about or try any of these PADS solutions visit www.pads.com today!
Share
Print
Suggested Items
04/09/2021 | Barry Olney, In-Circuit Design Pty Ltd
The I-Connect007 editorial team recently spoke with Barry Olney of iCD about simulation. Barry, a columnist for Design007 Magazine, explains why simulation tools can have such a steep learning curve, and why many design engineers are still not using simulation on complex high-speed designs.
03/26/2021 | Nick Barbin, Optimum Design Associates
The proverbial saying "garbage in, garbage out" holds true in the electronic product development world. PCB designers stand squarely in the middle of a busy information intersection flowing with inputs and outputs. Missing or bad information at the beginning of a design project will undoubtedly lead to board re-spins, increased costs, and most importantly, a delayed product release. The same can be said about the PCB designer who doesn't provide a fully checked and comprehensive data package to the downstream manufacturers, i.e., "throwing it over the fence."
03/23/2021 | Tamara Jovanovic, Happiest Baby
In the PCB design cycle, it is so easy to unintentionally introduce "garbage" into your system. Unless you have time to extensively check everything you bring in from an external source, it is very likely that something will not match up with your design data. In the end, this means you'll have to put more work into your design and basically reverse-engineer a part that was supposed to save you time and effort.