Reading time ( words)
High density interconnect (HDI) is the process of leveraging manufacturing capabilities and materials to create very small interconnect solutions. Small interconnects are required for some of the new applications and dense components on the market. It is the next generation of etched circuitry.
Benefits of HDI
Higher density and smaller size

Use of advanced component packaging
More design options and flexibility
Improved electrical performance and signal integrity
Improved thermal performance and reliability
HDI Applications
Wearable technology is one of the new applications we are seeing where dense packaging is required. Imagine wearing a sensor device that can monitor all of your vitals and connect to the internet via Bluetooth so your doctor can monitor you remotely. The solution has to be bendable, stretchable, and dense. We will talk more about this in upcoming columns, but this is the type of application that drives density.
Equipment
Gone are the days of plants with rooms full of noisy drilling equipment. HDI requires smaller holes and blind and buried vias that are best done with laser technology. Lasers provide a faster, more cost effective solution over drilling (after you get over the sticker shock cost of the equipment).

Materials
Very thin copper materials are essential to creating high density solutions. Nine-micron copper is what is used in many cases to create HDI solutions. Thinner materials are on the horizon. New higher speed materials—coverlays and adhesives—are being qualified on a daily basis to meet the challenges of higher speeds and impedance requirements.
HDI Lines, Spaces and Hole Sizes
Smaller lines and spaces are required for HDI. Today, 50-micron (2-mil) lines and spaces in production and 37.5 microns (1.75 mils) line and spaces are being provided in prototypes. The laser drill enables smaller hole diameter (50-micron hole diameters) and enables blind and buried vias for even denser packaging.
Resources
HDI requirements and equipment push flex vendors to invest in better educated human resources. The complexity of the circuits and the software for the equipment to make the circuits is driving circuit vendors towards a better educated work force.
HDI Assembly
Many industry flex circuit gurus discuss HDI with regard to the density of the package—the circuit itself. However, in addition to the package, an HDI flex requires HDI assembly—the need to place 1005 components and 12-mil pitch BGAs.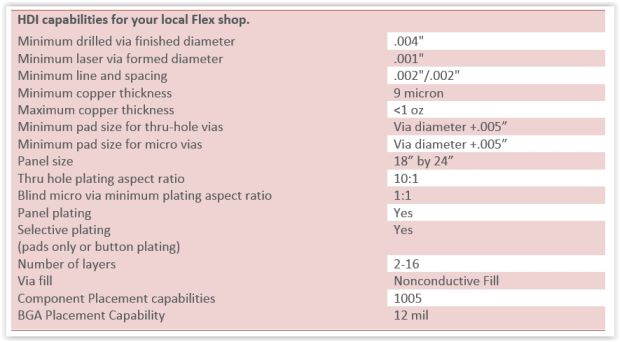 The flex circuit industry in North America is moving rather quickly. The packaging densities are moving to smaller and the electrical requirements much faster. In order to keep pace with the industry requirements of HDI, North American flex vendors need to invest in equipment, resources and R&D.
Mike Morando is VP of sales and marketing for PFC Flexible Circuits LTD.
Share
Suggested Items
01/04/2023 | Britta Schafsteller, Atotech
Immersion tin is well accepted as a high-reliability final finish in the industry. Due to its excellent corrosion resistance, it exhibits major market shares, particularly in the automotive industry. During the soldering process, an intermetallic compound (IMC) is formed between copper and tin. One remaining concern in the industry is the potential impact of the IMC on the solderability of the final finish. In this article, typical failure modes in soldering immersion tin are described and correlated to potential root causes for the defects.
12/21/2022 | Nolan Johnson, I-Connect007
Candor Industries is a PCB fabricator investing in UHDI fabrication capabilities in Canada. To support advanced packaging, as well as the current pace of IC process shrinks, PCB fabrication capabilities must shrink to keep up. Sunny Patel, Candor's technical sales manager, brings us up to speed on what Candor has learned in their journey to add UHDI. What we gain from this interview is that, while certainly not insignificant, the stretch to add UHDI may be not as far as one might think.
12/20/2022 | Nolan Johnson, I-Connect007
During a recent tour of the MKS facility in Beaverton, Oregon, I met with Todd Templeton, Chris Ryder, Kyle Baker, and Martin Orrick. As a reminder, MKS acquired ESI in 2019 and has retained the ESI brand. In this interview, they explain their approach to HDI and ultra HDI, the current state of base materials, and what the future looks like on the cutting edge of technology.