Reading time ( words)
High density interconnect (HDI) is the process of leveraging manufacturing capabilities and materials to create very small interconnect solutions. Small interconnects are required for some of the new applications and dense components on the market. It is the next generation of etched circuitry.
Benefits of HDI
Higher density and smaller size

Use of advanced component packaging
More design options and flexibility
Improved electrical performance and signal integrity
Improved thermal performance and reliability
HDI Applications
Wearable technology is one of the new applications we are seeing where dense packaging is required. Imagine wearing a sensor device that can monitor all of your vitals and connect to the internet via Bluetooth so your doctor can monitor you remotely. The solution has to be bendable, stretchable, and dense. We will talk more about this in upcoming columns, but this is the type of application that drives density.
Equipment
Gone are the days of plants with rooms full of noisy drilling equipment. HDI requires smaller holes and blind and buried vias that are best done with laser technology. Lasers provide a faster, more cost effective solution over drilling (after you get over the sticker shock cost of the equipment).

Materials
Very thin copper materials are essential to creating high density solutions. Nine-micron copper is what is used in many cases to create HDI solutions. Thinner materials are on the horizon. New higher speed materials—coverlays and adhesives—are being qualified on a daily basis to meet the challenges of higher speeds and impedance requirements.
HDI Lines, Spaces and Hole Sizes
Smaller lines and spaces are required for HDI. Today, 50-micron (2-mil) lines and spaces in production and 37.5 microns (1.75 mils) line and spaces are being provided in prototypes. The laser drill enables smaller hole diameter (50-micron hole diameters) and enables blind and buried vias for even denser packaging.
Resources
HDI requirements and equipment push flex vendors to invest in better educated human resources. The complexity of the circuits and the software for the equipment to make the circuits is driving circuit vendors towards a better educated work force.
HDI Assembly
Many industry flex circuit gurus discuss HDI with regard to the density of the package—the circuit itself. However, in addition to the package, an HDI flex requires HDI assembly—the need to place 1005 components and 12-mil pitch BGAs.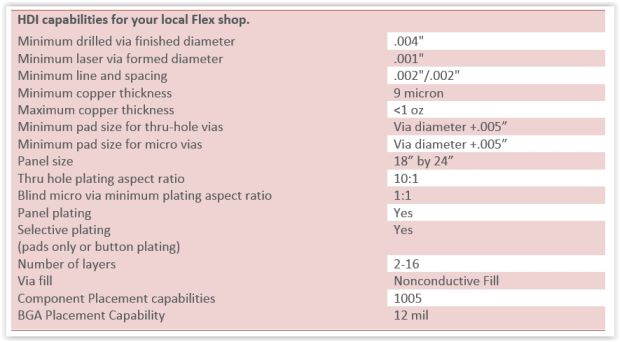 The flex circuit industry in North America is moving rather quickly. The packaging densities are moving to smaller and the electrical requirements much faster. In order to keep pace with the industry requirements of HDI, North American flex vendors need to invest in equipment, resources and R&D.
Mike Morando is VP of sales and marketing for PFC Flexible Circuits LTD.
Share
Print
Suggested Items
06/17/2019 | Barry Matties, I-Connect007
Pulsed-laser equipment manufacturer Photonics Systems looks to expand its capabilities to the PCB industry. Barry Matties sat down with Antonio Schmidt and Kurt Weber to talk about the company's transition and the challenges they've faced thus far as they continue to build and extend their brand into a new market segment.
02/25/2019 | Pete Starkey, I-Connect007
At IPC APEX EXPO 2019, Pete Starkey spoke with Joost Valeton, product manager for PiXDRO inkjet printing equipment with Meyer Burger, about their newly configured inkjet printer for PCB applications, and bringing awareness to opportunities using selective solder mask deposition.
01/08/2019 | Marc Carter, Independent Contributor
There has been a considerable amount of (electronic) ink and words shared in our industry bemoaning the graying-out of our industry and the growing shortage of skilled people at all levels. (See the May 2017 PCB007 Magazine column "Help Wanted—and How!" for just one example). As is usually the case, though, when all is said and done, more has been said than done.