Reading time ( words)
There is probably no more important feature than the plated through-hole (also called via or via hole) with regard to the reliability and integrity of a flexible circuit. The through-hole provides electrical connection between insulated layers and enables electrical functionality on double-sided and multilayer flexible circuits.
There are a number of methods that a flex circuit manufacturer may use when generating a via hole. For example, one can create through-holes on a panel with no circuit patterns defined, or one can insert the through-holes after the circuit traces have been imaged and etched. There are advantages and disadvantages for both situations, but the basics of creating a through-hole are the same.
The first step in via formation is to create a hole through the laminate. The hole can be created by mechanical drilling, laser drilling or punching. Once the hole has been drilled, an adhesive-based laminate will look similar to the diagram below: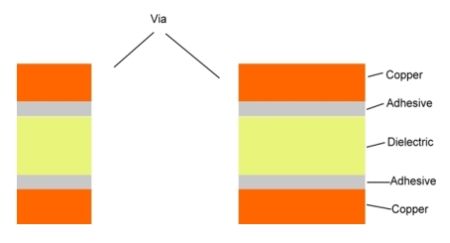 Figure 1: Through-hole, side view.
Figure 1 depicts the case where a laminate consisting of copper foil, adhesive, dielectric, adhesive and copper foil are used. Adhesiveless laminates are also very popular and are produced with a variety of technologies that bond copper to dielectrics sans adhesive.
Electroplating is a process where metal ions are bonded to a metal surface. The process requires a voltage potential between a copper source (anode) and the plating target (copper circuit). Both the anode and copper circuit are immersed in a copper sulphate solution with an applied voltage potential. This promotes ion flow from the anode to the cathode (the circuit). Areas of a circuit panel with a voltage potential will get plated, so any part of a copper circuit that is electrically isolated will not get plated. Since copper layers are separated by dielectric materials, and there is no electrical charge going through the through-hole, electroplating between layers is not possible. In order to allow electroplating, a conductive "bridge" must be coated over the insulating layer.
The two most common methods for creating that conductive bridge are:
Electroless copper plating
Shadow plating
Share
Print
Suggested Items
12/02/2019 | Nolan Johnson, PCB007
Nolan Johnson talks with Brian Hess of Calumet Electronics and Mike Vinson of Averatek about the new, insertable additive processes that the companies are working on together to help factories running primarily subtractive processes to quickly convert to very high-density interconnect (HDI) features, including trace and space from 2.5-mil line and space to 1-mil line and space and below.
11/22/2019 | Kelsey Smith, All Flex
Many of the issues that arise when using a flex circuit come from a lack of knowledge about how to properly design one, especially when the circuit is required to bend. Many novices will design a circuit that calls for bending the flex in too tight of a bend radius, which can cause damage to the circuit and lower the reliability of the end product. This series of articles will focus on the seven key aspects to consider when designing for maximum durability and maximum "flexibility".
11/21/2019 | Andy Shaughnessy, Design007 Magazine
This month, I interviewed Nick Koop—director of flex technology at TTM Technologies, a veteran "flex guy" and instructor, and a leader of several IPC flex standards committees. Nick provides an update for the committees he's involved with and discusses some of the challenges that he sees as more designers enter the world of flex.