Reading time ( words)
There is probably no more important feature than the plated through-hole (also called via or via hole) with regard to the reliability and integrity of a flexible circuit. The through-hole provides electrical connection between insulated layers and enables electrical functionality on double-sided and multilayer flexible circuits.
There are a number of methods that a flex circuit manufacturer may use when generating a via hole. For example, one can create through-holes on a panel with no circuit patterns defined, or one can insert the through-holes after the circuit traces have been imaged and etched. There are advantages and disadvantages for both situations, but the basics of creating a through-hole are the same.
The first step in via formation is to create a hole through the laminate. The hole can be created by mechanical drilling, laser drilling or punching. Once the hole has been drilled, an adhesive-based laminate will look similar to the diagram below: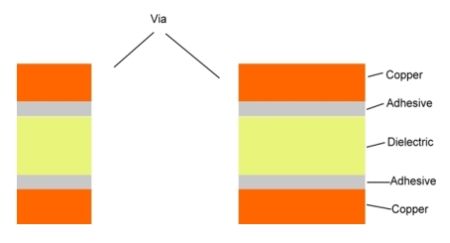 Figure 1: Through-hole, side view.
Figure 1 depicts the case where a laminate consisting of copper foil, adhesive, dielectric, adhesive and copper foil are used. Adhesiveless laminates are also very popular and are produced with a variety of technologies that bond copper to dielectrics sans adhesive.
Electroplating is a process where metal ions are bonded to a metal surface. The process requires a voltage potential between a copper source (anode) and the plating target (copper circuit). Both the anode and copper circuit are immersed in a copper sulphate solution with an applied voltage potential. This promotes ion flow from the anode to the cathode (the circuit). Areas of a circuit panel with a voltage potential will get plated, so any part of a copper circuit that is electrically isolated will not get plated. Since copper layers are separated by dielectric materials, and there is no electrical charge going through the through-hole, electroplating between layers is not possible. In order to allow electroplating, a conductive "bridge" must be coated over the insulating layer.
The two most common methods for creating that conductive bridge are:
Electroless copper plating
Shadow plating
Share
Suggested Items
03/23/2023 | Pete Starkey, I-Connect007
On the Wednesday of IPC APEX EXPO week, IPC President and CEO Dr. John W. Mitchell stylishly delivered his keynote address, "Fire Your Hiring Habits!" to a packed ballroom full of round tables all immaculately laid for a sit-down lunch. Announced by IPC Hall-of-Famer Joe O'Neil with a Rolling Stones track in the background, Mitchell's presentation, subtitled "Finding and keeping the best talent is fundamental to building electronics better," offered relevant and valuable guidance on understanding human nature and how this knowledge can help you find and keep the right individuals for your organisation.
03/22/2023 | John W. Mitchell, IPC
What goes down must also come up. This is not the idiom we're used to hearing, but I'd like to apply it to IPC APEX EXPO 2023. After a few years of lower attendance numbers due to the COVID pandemic, 2023 ushered in a re-invigorated group of attendees, exhibitors, speakers, event contractors, and staff to the show floor and meeting rooms. IPC APEX EXPO 2023 was fueled by the possibilities of new advances in electronics manufacturing.
03/21/2023 | Christopher Bonsell, Chemcut
This year, I had the great opportunity to come to IPC APEX EXPO in San Diego as a contributing member in Chemcut's booth. Being an exhibitor is always interesting because you never know what you will learn or who you will meet. Truly, it seems that every IPC APEX EXPO is an eye-opening experience. This was the second show I attended, and last year I was amazed to see how in-depth and interconnected the electronics industry is. Seeing how many different companies contribute to manufacturing today's core technology never fails to impress me.