Reading time ( words)
There is probably no more important feature than the plated through-hole (also called via or via hole) with regard to the reliability and integrity of a flexible circuit. The through-hole provides electrical connection between insulated layers and enables electrical functionality on double-sided and multilayer flexible circuits.
There are a number of methods that a flex circuit manufacturer may use when generating a via hole. For example, one can create through-holes on a panel with no circuit patterns defined, or one can insert the through-holes after the circuit traces have been imaged and etched. There are advantages and disadvantages for both situations, but the basics of creating a through-hole are the same.
The first step in via formation is to create a hole through the laminate. The hole can be created by mechanical drilling, laser drilling or punching. Once the hole has been drilled, an adhesive-based laminate will look similar to the diagram below: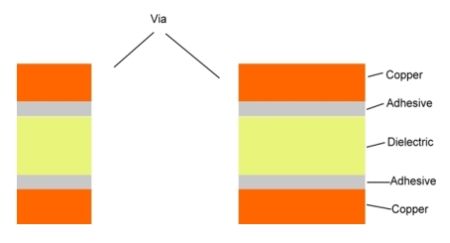 Figure 1: Through-hole, side view.
Figure 1 depicts the case where a laminate consisting of copper foil, adhesive, dielectric, adhesive and copper foil are used. Adhesiveless laminates are also very popular and are produced with a variety of technologies that bond copper to dielectrics sans adhesive.
Electroplating is a process where metal ions are bonded to a metal surface. The process requires a voltage potential between a copper source (anode) and the plating target (copper circuit). Both the anode and copper circuit are immersed in a copper sulphate solution with an applied voltage potential. This promotes ion flow from the anode to the cathode (the circuit). Areas of a circuit panel with a voltage potential will get plated, so any part of a copper circuit that is electrically isolated will not get plated. Since copper layers are separated by dielectric materials, and there is no electrical charge going through the through-hole, electroplating between layers is not possible. In order to allow electroplating, a conductive "bridge" must be coated over the insulating layer.
The two most common methods for creating that conductive bridge are:
Electroless copper plating
Shadow plating
Share
Print
Suggested Items
10/26/2020 | Pete Starkey, I-Connect007
Designers attending the AltiumLive Europe 2020 Virtual Summit had the opportunity to see at first-hand how circuit boards were made to help them make informed design-for-manufacturing decisions. Pete Starkey details how Würth Electronik welcomed AltiumLive to its Niedernhall factory to take a virtual tour.
10/16/2020 | Nolan Johnson, I-Connect007
Trade shows and technical conferences haven't died; they've just moved online. The trade show season continues in virtual full force this week, and event coverage dominates the top five this week. Surprisingly, I don't see events as this week's theme. No, this week's theme is "pundits." We have Walt Custer's industry outlook, seven experts on additive electronics, a designers conference keynote, and the IPC's government relations expert. Don't get me wrong: These folks are asked to speak to the industry for a good reason. They know their subject matter, and they present it skillfully. This week's top five picks are worth reading.
10/05/2020 | I-Connect007 Editorial Team
We asked for you to send in your questions for IPC President and CEO John Mitchell, and you took us up on it! We know you all enjoyed reading these questions and answers, so we've compiled all of them into one article for easy reference. We hope you enjoy having another bite at the apple. And if you'd like to hear more from John Mitchell, view his column series "One World, One Industry."