Reading time ( words)
There is probably no more important feature than the plated through-hole (also called via or via hole) with regard to the reliability and integrity of a flexible circuit. The through-hole provides electrical connection between insulated layers and enables electrical functionality on double-sided and multilayer flexible circuits.
There are a number of methods that a flex circuit manufacturer may use when generating a via hole. For example, one can create through-holes on a panel with no circuit patterns defined, or one can insert the through-holes after the circuit traces have been imaged and etched. There are advantages and disadvantages for both situations, but the basics of creating a through-hole are the same.
The first step in via formation is to create a hole through the laminate. The hole can be created by mechanical drilling, laser drilling or punching. Once the hole has been drilled, an adhesive-based laminate will look similar to the diagram below: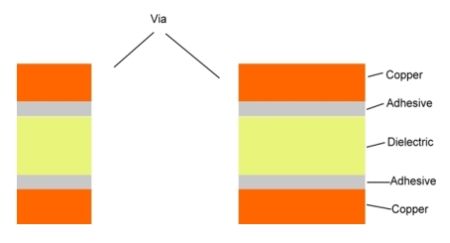 Figure 1: Through-hole, side view.
Figure 1 depicts the case where a laminate consisting of copper foil, adhesive, dielectric, adhesive and copper foil are used. Adhesiveless laminates are also very popular and are produced with a variety of technologies that bond copper to dielectrics sans adhesive.
Electroplating is a process where metal ions are bonded to a metal surface. The process requires a voltage potential between a copper source (anode) and the plating target (copper circuit). Both the anode and copper circuit are immersed in a copper sulphate solution with an applied voltage potential. This promotes ion flow from the anode to the cathode (the circuit). Areas of a circuit panel with a voltage potential will get plated, so any part of a copper circuit that is electrically isolated will not get plated. Since copper layers are separated by dielectric materials, and there is no electrical charge going through the through-hole, electroplating between layers is not possible. In order to allow electroplating, a conductive "bridge" must be coated over the insulating layer.
The two most common methods for creating that conductive bridge are:
Electroless copper plating
Shadow plating
Share
Print
Suggested Items
08/14/2019 | I-Connect007
Chris Mitchell is vice president for global government affairs at IPC—Association Connecting Electronics Industries—where he is responsible for development and implementation of the organization's global advocacy efforts and public policy agenda with a focus on electronics industry business improvement, environment, health and safety, and defense initiatives.
07/31/2019 | Andy Shaughnessy, I-Connect007
Foresite CEO Terry Munson recently spoke with Andy Shaughnessy during the IPC High-Reliability Forum and Microvia Summit in Baltimore about his presentation on the causes of conductive anodic filament (CAF), the dangers of resin starvation, and what advice he'd give to PCB designers to avoid those types of failures.
07/26/2019 | Andy Shaughnessy, I-Connect007
At the recent IPC High-Reliability Forum and Microvia Summit, Customer Applications Scientist Elizabeth Kidd and Sales Engineer Alex Bien, both of BTG Labs, discuss with Andy Shaughnessy their presentation on the challenges of working with highly sensitive surfaces, such as the risk of contamination. They also talked about the various surface characterization techniques that BTG Labs uses to identify such contaminants.