Reading time ( words)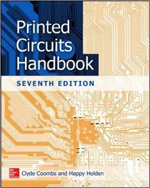 Clyde Coombs discusses the latest edition of the Printed Circuits Handbook, which was published this week. The seventh edition, co-edited with Happy Holden, includes new sections on supply chain management and PCB design, with a chapter on EDA tools by PCBDesign007 Editor Andy Shaughnessy.
To watch this video, click here.
Click here to Buy it on Amazon!
Share
Suggested Items
03/23/2023 | Kelly Dack, CID+
Filbert Arzola of Raytheon Intelligence & Space taught a Professional Development course at IPC APEX EXPO on general design practices. During a break, Filbert spoke with Kelly Dack about some of today's design strategies and how designers are reacting to them. What matters most?
03/23/2023 | I-Connect007 Editorial Team
We've heard a lot lately about the need to identify tribal knowledge within our organizations. How do you know whether an "expert" is sharing documented knowledge or it's just something they learned at their first job during the Carter administration? We asked IPC design instructor Kris Moyer to explain his process for separating the wheat from the chaff, so to speak, in design knowledge. As he points out, a true expert will not be afraid to cite the sources and data sets behind their arguments.
03/07/2023 | I-Connect007 Editorial Team
In this interview, Saline Lectronics (an Emerald EMS company) President Jason Sciberras talks about PCB designers offering packaging options in the bill of materials. As Jason explains, mil/aero manufacturers like Saline can't make many changes to a design without getting recertified, so including approved packaging options in the BOM from the start is a great way to go. Are you offering options in your BOM?