Reading time ( words)
The seventh edition of the Printed Circuits Handbook is now available, with a new chapter by Andy Shaughnessy, managing editor of The PCB Design Magazine and PCBDesign007.
Edited by Clyde F. Coombs and Happy Holden, this marks the most comprehensive edition of the book to date. Previous editions have focused primarily on processes, but the new edition boasts first-ever sections on supply chain management and PCB design. Shaughnessy contributed the chapter on PCB design and analysis software tools.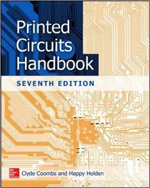 "With the publication of the seventh edition, the Printed Circuits Handbook reaches out from its traditional emphasis on manufacturing and materials to address issues of engineering, design, reliability, and printed circuit supply chain management," said Coombs. "Anchored by a chapter on electronic design automation and printed circuit design tools by Andy Shaughnessy, this edition provides material not available anywhere else."
Coombs published the first edition of the Printed Circuits Handbook in 1967, and it is widely considered to be the Bible of the PCB industry. To order your copy, click here. watch Clyde Coombs' interview at IPC APEX EXPO, click here.
Shaughnessy has been covering PCB design and EDA since 1999, and he has been with I-Connect007 since 2007.
Share
Print
Suggested Items
11/14/2019 | Andy Shaughnessy, Design007 Magazine
This month, I interviewed Nick Koop—director of flex technology at TTM Technologies, a veteran "flex guy" and instructor, and a leader of several IPC flex standards committees. Nick provides an update for the committees he's involved with and discusses some of the challenges that he sees as more designers enter the world of flex.
11/07/2019 | Andy Shaughnessy, Design007 Magazine
In a recent survey, we asked the following question: What advice would you give an OEM systems designer? Here are a few of the answers, edited slightly for clarity.
11/07/2019 | Karel Tavernier, Ucamco
Every so often, I hear technologists ask why so many PCB designers still use Gerber. That is a fair question. Ucamco has over 35 years of experience in developing and supporting cutting-edge software and hardware solutions for the global PCB industry. Our customers—small, medium, and large PCB fabricators—include the electronics industry's leading companies, and many of them have been with us for over 30 years. We are dedicated to our industry and excellence in everything we do, which includes our custodianship of the Gerber format.