Reading time ( words)
The seventh edition of the Printed Circuits Handbook is now available, with a new chapter by Andy Shaughnessy, managing editor of The PCB Design Magazine and PCBDesign007.
Edited by Clyde F. Coombs and Happy Holden, this marks the most comprehensive edition of the book to date. Previous editions have focused primarily on processes, but the new edition boasts first-ever sections on supply chain management and PCB design. Shaughnessy contributed the chapter on PCB design and analysis software tools.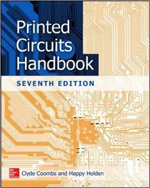 "With the publication of the seventh edition, the Printed Circuits Handbook reaches out from its traditional emphasis on manufacturing and materials to address issues of engineering, design, reliability, and printed circuit supply chain management," said Coombs. "Anchored by a chapter on electronic design automation and printed circuit design tools by Andy Shaughnessy, this edition provides material not available anywhere else."
Coombs published the first edition of the Printed Circuits Handbook in 1967, and it is widely considered to be the Bible of the PCB industry. To order your copy, click here. watch Clyde Coombs' interview at IPC APEX EXPO, click here.
Shaughnessy has been covering PCB design and EDA since 1999, and he has been with I-Connect007 since 2007.
Share
Print
Suggested Items
02/20/2020 | Andy Shaughnessy, Design007 Magazine
I spoke with Max Seeley of 3M about a design class he presented at AltiumLive in Frankfurt, Germany. We also discussed autorouting and the continuing advances in EDA tools, as well as the schism between users who embrace new technology and those who still prefer to layout their boards the old-fashioned way. Which camp do you belong to?
02/20/2020 | Kelly Dack, CID+, EPTAC
Joe Clark, co-founder of DownStream Technologies, gives Kelly Dack an overview of the company and their innovative product line, which serves to smooth the bumps that can occur between source design output and manufacturing line input. As Joe explains, 2019 was a great year for the company, and he expects that trend to hold through 2020.
02/11/2020 | Andy Shaughnessy, Design007 Magazine
Yes, you read that right. The IPC Designers Council is now known as IPC Design. Many of you have heard secondhand stories about what this change will entail, so I asked IPC to shed some light on this subject. I recently spoke with IPC's Teresa Rowe and Patrick Crawford about what's changing, what's not, and IPC's plans to provide improved infrastructure for PCB design content and curriculum.