Reading time ( words)
For over 30 years, Taylor Guitars has been building some of the best acoustic guitars around. From their entry-level models through their high-end custom models that will set you back five figures, one thing is certain: These are fine musical instruments.
Taylor, based on El Cajon, California, knows that their customers want to protect their investment. So they developed TaylorSense, a device that fits inside your guitar and signals an app on your phone when the guitar is too hot or cold, or too dry.
Trenton Blizzard is an electrical engineer on the team that developed TaylorSense. During the NAMM Show, Trenton spoke with me, along with Editors Dick Crowe and Dan Feinberg, about this new device, and what it's like being an electrical engineer for a "woodworking shop."

Andy Shaughnessy: I'm speaking with Trenton Blizzard from Taylor Guitars. Trenton, I understand that you are the electrical engineer who helped design the new TaylorSense.
Trenton Blizzard: Yes, I am part of the team who is developing the TaylorSense battery box.
Shaughnessy: Tell us about the TaylorSense and the process behind designing that.
Blizzard: TaylorSense will allow Taylor owners to monitor the temperature, relative humidity, battery life and impacts of their guitars. What's really cool is the device records this data, and then uploads it to your phone once you connect to it using the Taylor APP. The Taylor APP sends you alerts if your guitars conditions are undesirable. Let's say you forgot your guitar in your car and it's hot outside and super dry, as long as you are within Bluetooth LE range you will get an alert that lets you know your guitar is at risk of getting too hot and drying out.
TaylorSense is a very cool tool that not only helps protect guitars, but also helps educate guitar players regarding the environmental conditions surrounding their instruments. This is not only important for acoustic guitars, but for all "hygroscopic" (water absorbing) investments such as pianos, acoustic basses, violins, wood flooring, as well solid wood furniture.
It's fairly common to see a guitar set-up misdiagnosed as a "bad neck angle" when in reality the guitar is either too dry or too wet. Again, the value of the environmental information that TaylorSense can present to a player can't be understated.
One of the biggest challenges in bringing all of this technical information to guitar players is keeping it practical in everyday use. Early on we defined a few guidelines before getting started. First, the device must be simple to use. Second, it must communicate data clearly. Third, the information must be applicable to real world conditions. Fourth, the design must not degrade the quality of the guitars amplified tone.
Shaughnessy: How did you get started on this? How did you settle on the design?
Blizzard: Since I'm involved in all electronic development projects at Taylor, I've been involved since the beginning of development. As far as "settle" goes, we looked at the most common problems of acoustic guitar care: Temperature, humidity and damage due to impacts and drops. There are many other features we could have included in TaylorSense, but in our goal to keep it simple we decided to only add a battery life indicator.
Shaughnessy: What's your background?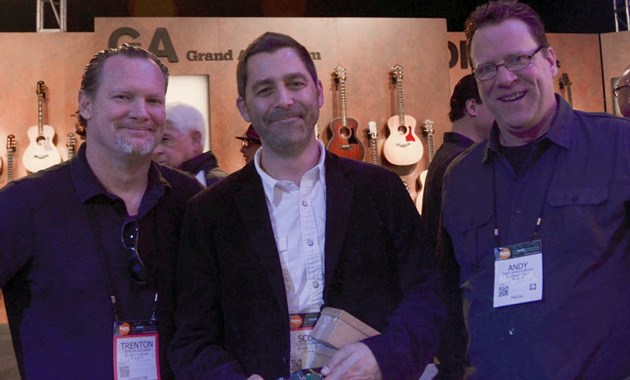 Blizzard: My background is in analog and mixed signal design. I've been designing all of the electronics at Taylor since 2003. The TaylorSense design is almost all 100% digital. One of my responsibilities is to help ensure the digital circuits don't corrupt our analog signal lines. My secondary responsibilities are to ensure that contract manufacturing operates smoothly.
Dick Crowe: Where is Bluestream located?
Blizzard: Bluestream is located in Boston. Robert Bean, Michael Audi, and Michael Gordon are the three that are heading up the hardware and framework side of the design.
Shaughnessy: So this is like a multi-pronged team: You've got to develop the app, develop the hardware, the circuit board and so on.
Blizzard: We're always pushing ourselves beyond our comfort zones. We play guitars, we build guitars, we love wood, and everybody at the factory is very comfortable with that. But, now all of a sudden we say, "We need an app developer." Sonoma Wire Works is doing the app work for us. The Taylor team is headed up by Tim O'Brien, Scott Reinhardt, Patrick Healy and I.
Shaughnessy: You're a woodworking company at heart, but now you're dealing with RF issues.
Blizzard: Thankfully I'm no stranger to dealing with radio frequency interference issues. Many of our designs use switching power supplies so I have spent plenty of hours at local RF test labs. However, for this design, Bluestream is handling the FCC certification and Bluetooth SIG compliance.
Dan Feinberg: Is the output on this digital or analog?
Blizzard: The guitar's preamplifier output signal is 100% analog. Only the data is digital, via Bluetooth LE.
Feinberg: In the cases where some people prefer analog, can you do that?
Blizzard: Preserving the analog signal path was one of our original requirements. The guitar signal is purely analog.
Feinberg: So, do you have a digital/analog converter?
Blizzard: Absolutely not. It's very important to us that we preserve the amplified sound of the guitars. With TaylorSense your guitar tone is 100% analog. No audio is processed digitally.
Feinberg: And everybody buys that? I mean, I believe you [laughs].
Blizzard: TaylorSense users can rest easy knowing their guitar tone is 100% analog. I verified it myself.
Feinberg: Because analog is a religion to some people. It isn't to me, but it is to some people.
Blizzard: Yes, we believe that as well. The analog preamplifier signals are not being digitized in any way.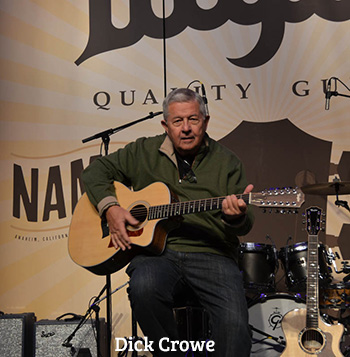 Crowe: I would be proud of it; it's such a nice tool.
Shaughnessy: Is there anything else you want to add, Trenton?
Blizzard: This whole design has been a huge learning curve for us, but like all things at Taylor, we're not afraid to take on new challenges or ideas. Doing this type of work you get beat down a lot, but it's what you end up with in the end that makes it worth the effort. It's also nice working with such a great team. I encourage you to visit Taylorsense.com to find out more.
Shaughnessy: Thanks, Trenton, I appreciate it.
Blizzard: Thanks, guys.
Share
Print
Suggested Items
02/02/2021 | Andy Shaughnessy, Design007 Magazine
I recently spoke with Al Neves, founder and CTO of Wild River Technology, about the release of their new ISI-56 loss modeling platform. Al explains why it was so critical that this tool meets the stringent requirements of the IEEE P370 specification (which he helped develop), and why he believes this is currently the best tool for SerDes testing and characterization.
02/01/2021 | Eric Bogatin, University of Colorado, Boulder
Rarely do we have the luxury of designing a board just for connectivity. When interconnects are not transparent, we must engineer them to reduce the noise they can generate. This is where design for signal integrity, power integrity and EMC—collectively high-speed digital engineering—are so important. Eric Bogatin offers seven tips for stackup design.
12/28/2020 | I-Connect007 Editorial Team
First, we asked you to send in your questions for Happy Holden, Joe Fjelstad, Eric Camden, John Mitchell, and Tara Dunn in our "Just Ask" series. Now, it's Heidi Barnes's turn! eidi has been awarded five patents and a NASA Silver Snoopy award (each Silver Snoopy pin flies on a space mission first), and she was named DesignCon's 2017 Engineer of the Year. We hope you enjoy "Just Ask Heidi."