Written by Happy Holden, I-Connect007 consulting technical editor with over 47 years of industry experience, this book provides an in-depth look at automation, computer-integrated and computer-aided manufacturing, mechanization, and chemical monitoring and control. Happy provides examples and descriptions of numerous devices, processes, and systems that can be easily implemented into the supply chain.
ISBN: 978-0-9998648-9-0
Print ISBN: 978-0-9980402-0-2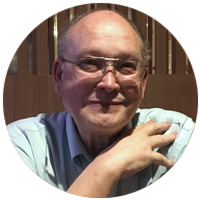 Happy Holden is the retired director of electronics and Innovations for Gentex Corporation. He is the former chief technical officer for the world's largest PCB fabricator, Hon Hai Precision Industries (Foxconn). Prior to that, Happy was the senior PCB technologist for Mentor Graphics and the advanced technology manager at Nan Ya/Westwood Associates and Merix. He previously worked at Hewlett-Packard for over 28 years as director of PCB R&D, CIM product marketing and PCB manufacturing engineering manager. He has been involved in advanced PCB technologies for over 51 years and is currently contributing to I-Connect007 as a technical editor.
Happy is the author of a significant body of work, including The HDI Handbook, Automation and Advanced Procedures in PCB Fabrication, Zero Effluents and Water/Chemical Recycling, plus over 70 columns and 137 technical articles.
Chapter Summaries
Chapter 1

CIM and Automation Strategy

---

Chapter 1 discusses computer-integrated manufacturing, systemization levels, mechanization classes, and six automation principles.

Chapter 2

Computer-Aided Manufacturing

---

Chapter 2 provides an explanation of the functionality of various areas in modern data-driven electronics manufacturing.

Chapter 3

Mechanization in PCB Fabrication

---

Chapter 3 presents a variety of process mechanization options, such as conveyors, hoists, and transporters.

Chapter 4

Chemical Monitoring and Control

---

Chapter 4 offers various automated devices and processes to assist chemical monitoring control.
Print-on-demand paperbacks are available for this title. Click below to order from our distributor.
What Our Readers Are Saying