Reading time ( words)
Editor's Note: This new column, Standard of Excellence, represents a cooperative writing effort by a team of experts at American Standard Circuits (ASC). Each month, one team member will contribute a column that focuses on his specific area of expertise. In future months, Dave Lackey, VP Business Development, will discuss flex and rigid-flex PCBs; John Bushie, Application Engineering Manager, will examine RF and metal-backed PCBs; and Dave Olson, VP Operations, will discuss various aspects of operations. This month, we begin with CEO Anaya Vardya, who focuses on R&D.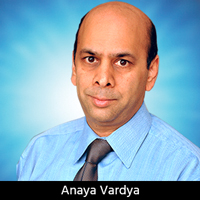 It used to be that most of the R&D in our industry was handled by OEMs. If you think back to all of the large companies, from IBM to Raytheon, and from Rockwell to GE, you will recall that everyone had their own board shops and invested in their own R&D, which took care of most of the new technology innovations. Today, with all of those companies having jettisoned their shops, it is up to board shops like American Standard Circuits to take up the slack and provide this service for our customers.
As we look at future trends for electronics, at the core we see things like miniaturization, thermal management, signal integrity, and requirements for higher frequency/lower losses. Additionally, there are increasing electronics content in the automotive, medical and Internet of Things arenas.
So if you are an OEM or a CEM, and particularly if you are involved in building products for the future— products that will need some new and innovative technologies—you will need a PCB fabricator who can help you, and someone you can trust with developing the technology to build the boards you will need in the future. It is also important to remember that sometimes new and innovative might only be new and innovative to you. We have seen a number of customers who design relatively simpler technologies now, while looking at flex and rigid-flex PCBs as a solution for future products. While these technologies have been around for a while, it can be a scary concept to embark on them without having any history with this technology. The right PCB supplier can help you with this.
The following are suggestions for what you should look for in a good R&D PCB fabrication vendor partner:
A company that has the technical capabilities to handle your needs today and in the future
A company that has the right team of players to meet your needs, is easy to work with, is and willing to generously share knowledge
A company you can trust with your products and most importantly, has the ability to keep projects in confidence
A company with a history of investing in people, technology and equipment. A diverse product mix is also helpful, as solutions sometimes come from combining ideas (e.g., combining RF/microwave and flex materials)
A company that has a good relationship with its suppliers; remember, R&D is a team sport and requires not only the PCB fabricator but their supplier partners
A company that you can see yourself happily entering the future with
As a PCB company, look for the following characteristics in an R&D customer partner:
A company that will appreciate the value you bring to the project
A company that will be willing to pay the right price for your time, effort and technology
A company you can count on being with you for the long haul and will not pass your technology on to a lower priced competitor
A company that is easy to work with
Finally, a few things that a good R&D PCB fabricator should be expected to do for you:
Understand your goals and have the ability to develop and design boards that will get you there
Go beyond specs to focus on functionality
Develop a process to build your product
Take a risk and go "further than they have ever gone before" to develop a technology that will produce the boards you need, especially with new and innovating technology
Work side by side with you on the project
Act as your own personal inside board shop
As we look into the future, we will see that electronic content is growing. At the heart of this is a PCB. Some form of R&D will be the key to your success. Personally, I view R&D in two different ways—it could mean something brand new that really hasn't been tried before or it could mean something that is new to you that can be a challenge in a number of different ways, including selling the concept to your management team, design tools, etc. A good PCB R&D partner can help you to reach your standard of excellence.
Anaya Vardya is CEO of American Standard Circuits, Inc.
Share
Print
Suggested Items
08/04/2020 | Fane Friberg, CEPHAS
In this series, CEPHAS principal Fane Friberg highlights the interdependent elements of an effective S&OP process for leaders of supply chain management. While some companies tend to fall back on the status quo, Freiberg highlights why it's critical to actually increase the frequency of the S&OP rather than decrease the operations. He has reviewed the importance of staying committed, strategic imperatives, and participation. Today, he discusses technology.
08/03/2020 | Dan Beaulieu, D.B. Management Group
It's always fun to talk with a company that can do something different—in this case, ultra-heavy copper PCBs, meaning over 20-ounce copper. Wanting to know more, Dan Beaulieu talked to Aurora Circuits Director of Business Development Thad Bartosz.
07/14/2020 | I-Connect007 Editorial Team
We asked for you to send in your questions for Happy Holden, and you took us up on it! The questions you've posed run the gamut, covering technology, the worldwide fab market, and everything in between. What do you think about electroless copper vs. direct metallization? Enjoy.