Reading time ( words)
I am just back from the first major CES 2017 event, CES Unveiled. This event literally draws a few thousand members of the press. The exhibitors range from well-known companies such as: Lenovo, showing their latest high-end (and very impressive) notebooks, tablets and all in one computers; Ampad, with their new series of very capable fast and long range routers; and Thrustmaster, showcasing their virtual reality-ready gaming peripherals. Additionally, there are many previously almost unknown companies exhibiting many IoT items.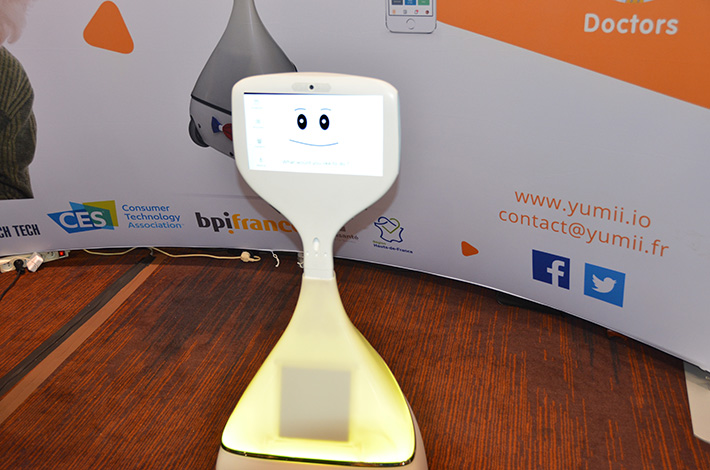 First, there were robots—lots of robots—some of them just toys as in previous years but more and more of them truly useful. For example, the Ymmii Cutii is a somewhat toy-like device when first seen, but is a true robotic home care platform for the elderly or disabled. This friendly-looking robot allows a caretaker who is not in the residence to communicate face to face with and provide services and share activities to a loved one or friend. The screen goes from a smiling face to the caregiver as it follows and communicates. Other robots being shown do similar things.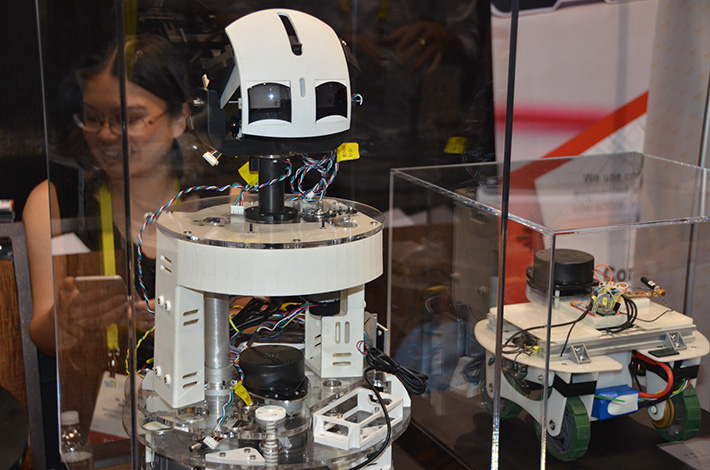 Is the day of the true robot companion dawning? I think so, as we have gone from remote controlled toys to capable devices providing honest companionship and valuable services. Let's see what other advances in robotics will be shown when the show opens on Thursday. One thing for sure, if the advances in robots continue at the same pace we could be on the threshold of seeing a truly disruptive technology becoming mainstream.
Let me talk about a few of the more interesting IoT offerings. The IoT is not a network of computers, it is the connection and networking of physical devices, including vehicles and smart devices, buildings, houses, toys, control items such as thermostats, light switches and other items—embedded with electronics, software, sensors, actuators, all with network connectivity that enable these objects to collect and exchange data and control and be controlled by both people and other devices.
IoT devices can be as simple as a coffee maker being told to brew by a command sent by a smart phone app, to something as powerful as IBM's amazing Watson taking control or a legal proceeding by searching for legal precedents. Some IoT items are silly, for example, the smart trash can that send you a message to empty it but other rather simple ones provide potentially high value.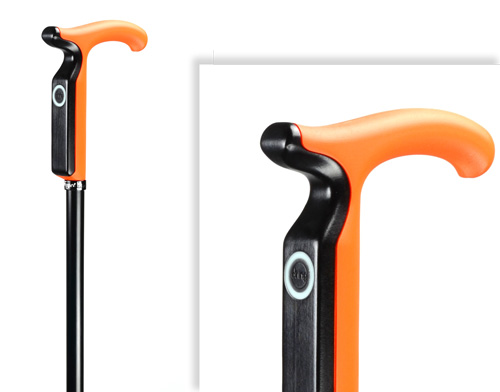 For example, there is the Smart Cane joining the IoT. It is offered by Fayetin France and uses technology by Dring. Thanks to its Dring technology, Nov'in, a French start-up, has developed the first smart connected walking stick. This innovation, which is of interest to seniors, people with reduced mobility, and their caregivers, has been awarded the "CES 2017 Innovation Award."
The Dring alert system offers the latest in high tech and includes several types of motion sensors (accelerometer, gyroscope), a microprocessor, a rechargeable battery, and GPS/GPRS and GSM technologies. Its small size and low weight allow it to be built in other types of objects (safety shoes for example). Data collected by the Dring system sensors are directly transmitted to a server. Artificial intelligence algorithms process the data to memorize the habits of each user and to better detect unusual situations (fall, reduced activity, late awakening, etc.). Data exchanges are carried out in a totally secure and confidential way. If need be, caregivers will automatically receive a text message, an email or a phone call to alert them. With the GPS, the user can be located. The system is programmed to keep getting in touch with caregivers until confirmation has been sent. The user himself can call for help by pressing a fitted-in button on the cane.
As I try to choose the areas I will visit in the next few days, it becomes obvious that one person, no matter how motivated, cannot see even half of CES; but no matter which area I visit there will be robots for every type of task and every type of wanted companionship.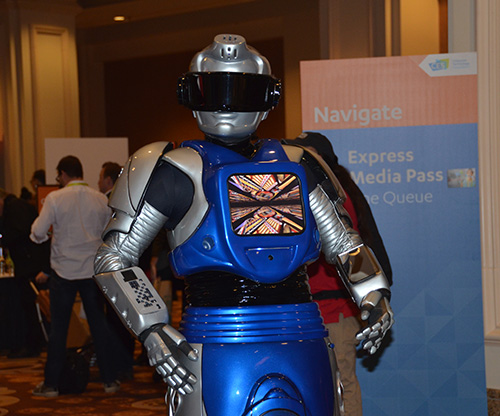 A few thoughts:
1. Drones and autonomous mobile robots will soon transform home delivery and even emergency medical response. Sometime in the next year or two, most of us will experience a robot knocking on our door or just dropping off a package and ringing the bell.
2. Robots are smarter than they were even a year ago, but major improvements are still needed to allow humans to seamlessly interact with them. AI, deep learning, and other technologies are helping robots be more involved in everyday life in virtually every way.
3. Robots are no longer relegated to science fiction. Robots have arrived and are working alongside humans and impacting our world. This is just the beginning.
As I see examples of major advances in robots this week I will add descriptions and pictures to that day's column. One thing for sure, this is just the beginning of what is a very disruptive technology. One must wonder if Isaac Asimov's three laws or robotics will be considered a key part of this rapidly advancing disruptive technology or will things truly get disruptive in the future.
Share
Suggested Items
01/13/2022 | Dan Feinberg, I-Connect007
Another CES has wrapped up, and while not fully back to its glittery self, the show still managed to create quite a buzz in the electronics world. Attendance was about half of its typical 150,000 as hundreds of companies still touted their wares and I'm excited to share with you what I discovered. I reported on the show from the safety of my home office, which was a bit of a letdown because I really enjoy walking the aisles of the show, visiting the exhibits of both large and small companies.
01/16/2020 | Dan Feinberg, Technology Editor, I-Connect007
Every year at CES, ShowStoppers and a similar event, Pepcom, demonstrate many new devices and technologies. Again, some will become devices we can't live without, and some you will never hear about again. Seeing all of these new ideas is one of the highlights of attending CES. Enjoy this look at a potpourri of new, innovative high-tech products.
01/07/2020 | Dan Feinberg, Technology Editor, I-Connect007
Dan Feinberg shares highlights from probably the largest and most fascinating technology event globally—CES—which he has been attending and writing about CES for over 20 years. The progress that has taken place is immense, and the rate of change has also accelerated.