Reading time ( words)
I am always impressed with the amount of new equipment, solutions, and technologies being showcased at IPC APEX EXPO. It is just my third year of attending the show, but it has grown year after year since I attended it for the first time in Las Vegas. That was in 2016—the same year my colleague Patty Goldman was honored with the IPC Raymond E. Pritchard Hall of Fame Award.
In that year's show, one of my takeaways was the increasing automation on the factory floor. I remember interviewing Rethink Robotics' Carl Palme about their collaborative robot, Sawyer, and why it can be a flexible solution for high-mix, low-volume operations.
Last year, my takeaway was the trend towards smarter manufacturing or Industry 4.0, and how the Internet of Things (IoT) and data/analytics was enabling these trends. In fact, I interviewed Cogiscan's Francois Monette, and we talked about how the industry can meet the challenge of connecting different machines, software, and enterprise systems to enable Industry 4.0 for the electronics assembly industry.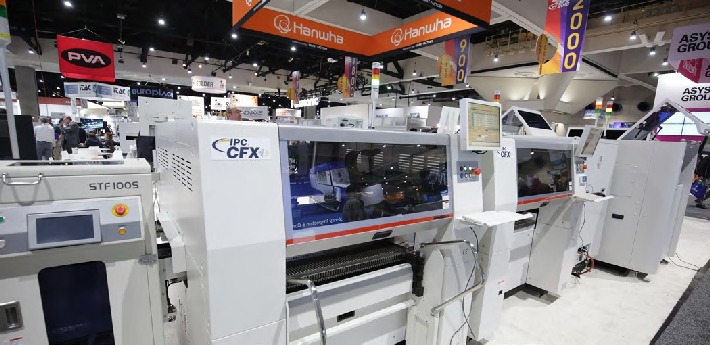 This year, my takeaway is the fruition of all these efforts toward the goal of a connected factory. In particular, the IPC Connected Factory Exchange (CFX) live demo highlighted how the CFX standard will enable manufacturers to track their efficiencies better, prevent issues even before they happen, and make adjustments wherever needed, to name a few.
Although there are still many issues to iron out with the CFX standard, its implementation is quick and easy—once an equipment manufacturer really commits to it. In fact, according to David Fenton of Europlacer Americas, one of the participating companies at the demo, they were not aware of CFX until about four weeks before the show. Once the company committed to it, it only took them 48 hours to implement the standard in their systems and connect through the cloud to start providing real-time machine data, which—in the demo—may be accessed through a mobile phone.
What's really interesting here is that machine vendors from across the whole industry that normally compete against one another have joined together to demonstrate support for the CFX standard.
At this year's IPC APEX EXPO, I was also able to attend the EMS Management Council Meeting where key executives in the EMS industry met to talk about the state of the industry and key issues that are greatly impacting their business. Here are my 2018 takeaways.
The industry as a whole is expected to continue its strong growth achieved last year. In his presentation, Walt Custer of Custer Consulting said most sectors have expanded in 2017, driven by the automotive and IoT trends. He expects "tremendous growth" this year, but a possible dip next year. He sees 5G as the next "boom" for the industry.
IPC's Sharon Starr's presentation, focused on the EMS sector, projected sustained growth in the electronics assembly industry from 2016 to 2022, but at a slowing rate, and ODM growth outpacing EMS growth.
Presenting on counterfeit devices, Tom Sharpe of SMT Corporation notes that "clones" are now becoming more sophisticated. Counterfeiters' reverse engineering of logic devices and functional die emulation of analog-to-digital converters, despite noticeable differences, are becoming near accurate, with some designs showing improvements in semiconductor real estate. Clones now have electrical data almost similar to the specs of authentic devices, and even come with counterfeit OCM (original component manufacturer) documents. According to Sharpe, while good exterior visual inspection performed by a well-trained inspector will catch a very high percentage of refurbished/ reworked or physically altered counterfeit components, this is not the case with the better clone devices that they are now analyzing.
Aegis Software's Michael Ford talked about transforming the electronics manufacturing industry from Industry 3.0—processes that include manual CAD and BOM, manual splitting of data, visual process control, ERP driven material kits, and ad-hoc data recording—to Industry 4.0, which is based on digitalization and IoT. According to Ford, Industry 4.0 will feature digitalized processes: from product model to process engineering and control, to supply chain and build record—enabling decision making in seconds, NPI in minutes, automated active quality, and continuous optimization.
Finally, whether we like it or not, the smart manufacturing revolution is happening. Jay Gorajia of Mentor, a Siemens Business, presented on data analytics and the connected supply chain, and how a common digital thread applied across the entire value chain will help manufacturers compress the innovation lifecycle and enable continuous business transformation.
Overall, it is such an interesting time to be in this industry. Industry 4.0 is all about accurate data and how this can help improve and optimize the electronics manufacturing process. This year's IPC APEX EXPO highlighted that. With the successful conclusion of the CFX demo, I am sure equipment manufacturers will now rethink their strategies and consider how they can be a part of this digital transformation happening in the supply chain.
This article was initially published from I-Connect007's inaugural Show & Tell Magazine.
Share
Print
Suggested Items
05/21/2020 | Barry Matties, I-Connect007
On May 19, Barry Matties spoke with Shawn Dubravac, chief economist for IPC. While discussing other topics, Matties asked for Dubravac's perspective on shifts in the market, who observed that the recessionary trend might be behind us; the markets are already showing recovery. Still, it could take a year or so to fully recover.
04/29/2020 | Happy Holden, I-Connect007
The smart factory concept is built upon data interchange as the foundation. There has been much development in the area of industrial and manufacturing data protocols over the years, stretching back into the 1960s. This article by Happy Holden surveys what are considered the most common protocols in use in the electronics manufacturing industry today, including IPC-CFX/ Hermes, OML, SECS/GEM, and MAPS.
04/23/2020 | Edy Yu, I-Connect007
The PCB007 China team paid a visit to the ASKEY plant in Wujiang, Jiangsu, to learn more about their QML process. In this interview with Qixian Zhang, vice GM of ASKEY's Electronics Product Quality Assurance Department, he discusses what QML means to ASKEY and the electronics industry as a whole.