Reading time ( words)
Demand for super large TV panels in 60 inches and larger is burgeoning and their annual shipments will nearly quadruple in 10 years after first topping 10 million units back in 2016, according to IHS Markit.
Annual shipments of 60-inch and larger TV panels, including liquid crystal display (LCD) and organic light-emitting diode (OLED), are forecast to exceed 20 million units in 2018 and to reach 54 million units in 2025, accounting for 19% of the entire TV panel demand. Their combined share by shipment area is projected to almost triple to 33% in 2025 from 12% in 2016.
"Growth in the super-large TV panel market will be mainly driven by increasing investment in Gen 10.5 fabs, which is capable of producing super-large TV panels with economy of scale," said Ricky Park, director of display research at IHS Markit. "This will, in result, cut production costs and supply prices that will be translated into a drop in TV prices."
BOE embarked on the mass production of panels at the Gen 10.5 fab in the second quarter of 2018 for the first time in the world. Once the yield rate of super-large TV panels at the fab stabilizes following production optimization, production costs at the fab are expected to fall below that of the Gen 8.5 fab.
To catch up BOE, CSOT and Sharp are speeding up investment in their Gen 10.5 fabs with an aim to mass produce super-large TV panels in 2019, a move that would rapidly increase panel supply of the size. The rise in capacity will intensify competition in the market, which will further drop TV set prices that would help boost ultra-large TV set demand.
Such high demand for ultra-large TV sets is also expected to lead panel makers to jump in another round of race to further improve picture quality with the adoption of ultra-high definition (UHD) and 8K technologies. It will also contribute to the advancement in broadcasting system and the content business that would further spur consumers' demand for super-large TVs.
"The ultra-large TV set market's expansion will eventually help the panel industry digest fast-rising capacity and play a vital role in offsetting the fall in panel prices that could eat away overall revenue in the entire panel market," Park said.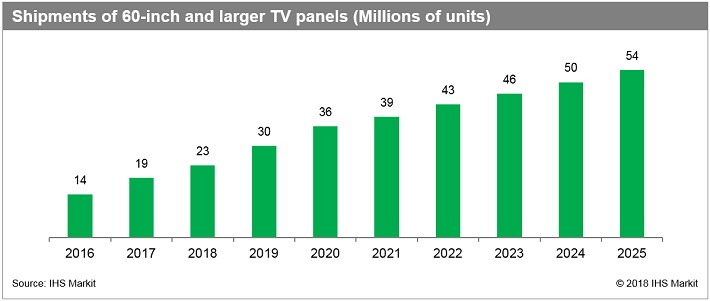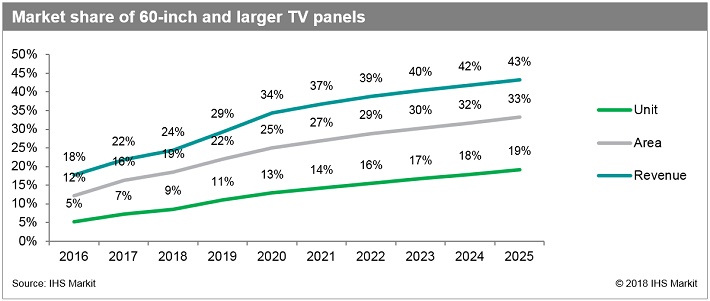 About IHS Markit
IHS Markit is a world leader in critical information, analytics and solutions for the major industries and markets that drive economies worldwide. The company delivers next-generation information, analytics and solutions to customers in business, finance and government, improving their operational efficiency and providing deep insights that lead to well-informed, confident decisions. IHS Markit has more than 50,000 business and government customers, including 80 percent of the Fortune Global 500 and the world's leading financial institutions.
Share
Print
Suggested Items
07/19/2016 | University of Texas at Austin
Three researchers in the Cockrell School of Engineering at The University of Texas at Austin have been selected by the Department of Defense to lead Multidisciplinary University Research Initiative (MURI) projects, receiving grants totaling $22.8 million to help advance innovative technologies in energy, computing and nanoelectronics.
02/19/2016 | NASA
Satellites aren't small or cheap. The Solar Dynamics Observatory launched by NASA in 2010 weighs about 6,800 pounds and cost $850 million to build and put into orbit. Even the satellites built under NASA's Discovery Program, aimed at encouraging development of low-cost spacecraft, still have price tags beyond the reach of smaller companies or research organizations.