Reading time ( words)
Collaboration filled the air at the Hyatt Regency in Monterey, California, as the 18th annual Flex/MEMS&Sensors technical conference brought flex technology and sensor experts and 550+ attendees together to network and share ideas from February 18–21, 2019. Known officially as the Flexible Electronics Conference and Expo and the MEMS & Sensors Technical Conference, respectively, these two events shared event space for the second time. SEMI, the industry association representing the electronics supply chain, hosted this conference.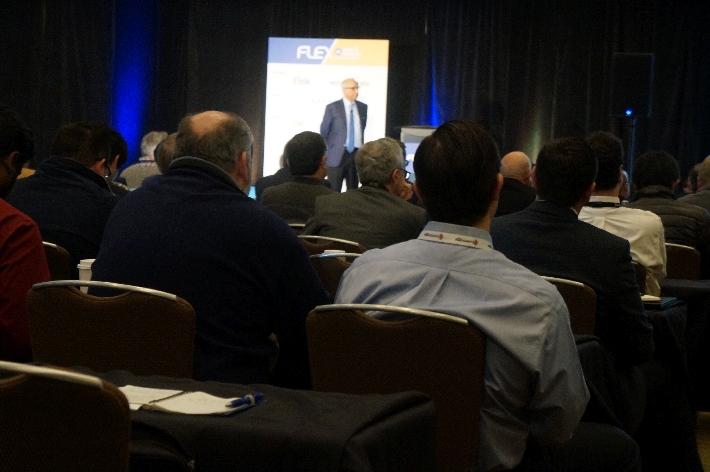 Keynote speakers included Dragos Maciuca from Ford Motor Company, Jason Jelinek from John Deere Electronics Solutions, John A. Rogers from Rogers Research Group, Peter Hartwell from TDK InvenSense, Nancy Ranxing Li from Verizon, and Kristofer Pister from UC Berkley.
"The more than 550 FLEX and MSTC 2019 attendees saw the future of flexible printed and hybrid electronics and the MEMS and sensor technologies that are helping us reinvent a wide range of biomedical, transportation and IoT applications," said Dave Anderson, president of SEMI Americas. He continued, "Small, flexible skin-worn devices that can monitor an infant's vital signs, agricultural sensing platforms capable of improving food production, and autonomous vehicles that are both safe and affordable were just a few innovations highlighted at the event. Globally recognized industry innovators showed us how these technologies will transform our lives."
SEMI President and CEO Ajit Manocha took the opportunity during his opening remarks to launch SEMI's young professionals outreach campaign with this video.
In the expo hall, 60 exhibitor companies were on hand to discuss their latest products and projects. The center of the hall featured a TechTALKS pavilion, which hosted 17 fast-paced presentations, including product demos and discussions of best practices. Also, with 123 papers and presentations overall—36 related to MSTC and 87 sessions related to flex technology—the technical presentations on the conference side of the event were vibrant and full of energy.
The SEMI staff brought a lot of educational outreach to the Flex/MSTC conference. University student work was showcased in the lobby with 11 student teams discussing their research in sensors and flex manufacturing techniques. Look for additional coverage of SEMI's educational programs coming soon.
Share
Print
Suggested Items
06/04/2020 | Pete Starkey, I-Connect007
The emerging trend for "electronics on everything, everything with electronics" was the theme of iNEMI's webinar presentation of the highlights of its recently published Flexible Hybrid Electronics Roadmap Chapter, delivered by Girish Wable, senior engineering services manager with Jabil. Pete Starkey provides an overview.
05/01/2020 | Pete Starkey, I-Connect007
In an informative and enlightening webinar, iNEMI Project Manager Steve Payne was joined by Isola Group CTO Ed Kelley to explain, review, and discuss the details of the recently published "iNEMI 2019 Roadmap for Organic PCBs." Pete Starkey provides an overview.
03/05/2020 | Flexible Circuit Technologies
Flexible circuit designs share many of the same challenges of rigid PCB designs, but there are also many differences and additional challenges. The very nature of a flex circuit being able to bend and flex make it as much a mechanical device as an electrical one. This creates a special set of requirements unique to flexible circuitry. Understanding how these requirements interact will allow the PCB designer to create a flex circuit that balances the electrical and mechanical features into a reliable, cost-effective interconnect solution.