Reading time ( words)
According to the latest 2019 Chinese LED Chip and Package Industry Market by LEDinside, a division of TrendForce, growth in the global LED lighting market has slowed down noticeably due to the global economic recession and the US-China trade dispute. Revenues for lighting LED packages were affected as a result. In 2018, China's LED packaging market scale for general lighting applications stood at $5.2 billion, with a visible slowdown glanced from a CAGR of only 3% throughout the forecast period, 2018-2023.
"Due to the limited decline experienced by LED chip prices of top-tier brands, as well as the already-narrow profit potential in LED packaging, we see many packaging suppliers unable to shrink costs, unwilling to gain market share by pricing below the competition , and simultaneously reducing operation ratio to ease inventory pressure. Thus price fluctuations in China's packaging market overall were small in June, but prices for some high- and mid-power LED package products dropped slightly. The average price decline for high-power products in June was 1%. As for mid-power products, price changes were mainly seen in 5630 LEDs, with the 0.5W and 0.2W models dropping by 0.5% and 2.4%, respectively," says TrendForce Analyst Terri Wang.Lighting LED Packaging Hardly Profitable; Suppliers Actively Turning to the Mini LED Display Market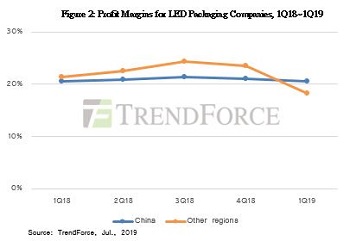 Looking at profitability, we see suppliers' profit margins dropping noticeably in the LED chip industry since 3Q18 until now. If subsidies from the Chinese government are deducted, most LED chip companies are already in the red and hence unwilling to lower prices any further.
Profitability of global LED packaging suppliers are on the decline, although the extent of that decline isn't as disastrous as that of chip suppliers, yet profit potential is narrowing all the same. From the latest financial data revealed by China's packaging companies, the average profit margin lies between 20% and 25%, with profit margins in lighting LED packaging long being stuck at a lower 10-15% range, which shows that profit potential of lighting LED market is lower than that of the industry's average.
Therefore for most packaging suppliers, lighting LED is no longer a main contributor to profits, and since the market scale isn't growing as fast as it used to, low pricing strategies aren't that effective at bringing in orders anymore, as competitors will also follow suit to keep their share of the market. Most suppliers are instead more willing to start new areas of business. The mini LED display market, for example, is already seeing opportunistic entrants such as Hongli Zhihui and Shenzhen MTC.
About TrendForce
TrendForce is a global provider of the latest development, insight, and analysis of the technology industry. Having served businesses for over a decade, the company has built up a strong membership base of 435,000 subscribers. TrendForce has established a reputation as an organization that offers insightful and accurate analysis of the technology industry through five major research divisions: DRAMeXchange, WitsView, LEDinside, EnergyTrend and Topology. Founded in Taipei, Taiwan in 2000, TrendForce has extended its presence in China since 2004 with offices in Shenzhen and Beijing.
Share
Print
Suggested Items
04/12/2016 | Marc Carter
Historians, with their 20/20 hindsight, often write about the inevitable decline and fall of kingdoms, empires, religions, organizations, governments, and all the other permanent structures we humans build.
02/11/2015 | Reed Exhibitions
Wearable tech was a major sensation in 2014. The wearable tech industry generated extensive interest among media, investors, start-ups, wearable tech enthusiasts, technology leaders and trade fairs. Many events were held around wearable products and industry last year. The trend for early 2015 has seen the industry fall back into a healthy developmental pace. Investors are keen to see a return on their capital injections and former start-ups are now reaching maturity.