Reading time ( words)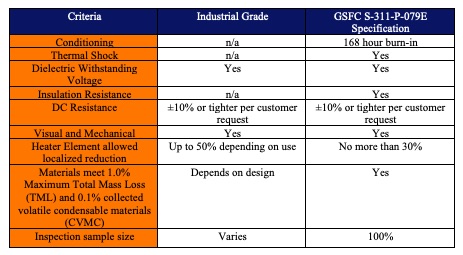 All Flex has recently been added to NASA's Goddard Space Flight Center's Qualified Parts List (QPL) for Thermofoil Heaters built in accordance with GSFC S311-P-079E specifications. All Flex can design custom heaters to meet these stringent guidelines or to a customer's specific need to include space rated thermistors, wire harnesses, and connectors. The complete QPL can be found here: https://nepp.nasa.gov/index.cfm/12832
Customers may decide to qualify their design by similarity to All Flex 20067 or 20068 part numbers; these parts were approved by GSFC. When a customer chooses to "qualify by similarity" they avoid the cost and time associated with the Qualification Inspection Table I group I-IV of the GSFC S-311-P-079E and all heaters delivered will receive Table II Quality of Conformation Inspection. See the GSFC S-311-P-079E specification for more details about Table I and Table II inspections at https://nepp.nasa.gov/files/22932/S-311-P-079E.pdf
All Flex also makes industrial grade heaters for aviation, medical, scientific and military in addition to Kapton heaters for space flight applications. The differences between an industrial grade heater and a heater built to GSFC S-311-P-079E zreceiving Table II testing is outlined below.
Both types of Kapton heaters can be supplied with:
Space Rated Thermistors
Wire Harnesses
Connectors
About All Flex
All Flex is a privately held company that manufactures quick-turn to high volume production runs of flexible circuits and flexible heaters with component assembly. All Flex products are commonly used in the medical, military, aerospace, automotive, instrumentation, and various industrial markets. All Flex is headquartered with two buildings in Northfield, MN and a third manufacturing facility 35 miles north in Bloomington, MN. The company is: AS9100C\ISO 9001 Certified, UL Recognized, ITAR/JCP Registered, MIL-PRF-31032/3 & MIL-PRF-31032/4 Qualified, and is an active IPC Member.
To learn more about All Flex visit:
www.allflexinc.com
www.allflexheaters.com
Share
Print
Suggested Items
06/11/2020 | Pete Starkey, I-Connect007
In normal circumstances, it would have been the time of year for the EIPC Summer Conference, and Walt Custer would have opened the proceedings with his business outlook for the global electronics industry. However, circumstances were far from normal. Pete Starkey discusses some of the takeaways from Custer's global business outlook webinar, organized by EIPC.
04/22/2020 | Pete Starkey, I-Connect007
Against a background of COVID-19 uncertainty and unprecedented challenges, but recognizing the vital importance of continuing to educate engineers and share the knowledge and skills required to manufacture boards and assemblies of the highest yields and reliability, the IPC Europe team hosted a technical webinar for the European electronics industry, featuring the expertise of two of I-Connect007's regular columnists: Mike Carano and Jan Pedersen. Pete Starkey provides an overview.
03/16/2020 | Patty Goldman, I-Connect007
Patty Goldman speaks with Dr. Bhanu Sood of NASA, Dieter Bergman IPC Fellowship Award recipient, about his extensive involvement with IPC on many committees developing standards to his work teaching professional development courses and mentoring young engineers.