Reading time ( words)
I've said this many times, and it is true: the Taiwanese PCB industry is a great barometer for the electronics industry. Taiwan is the global manufacturing center for consumer electronics, and Taiwanese PCB manufacturers have accurate procurement plans from their end customers and EMS companies. The sharp decline during the last quarter of 2018 is a good example of the barometer predicting an outcome.
PCB monthly shipments for the first three quarters show some positive growth compared to the same periods of the previous year. However, growth was stagnant during October and November and declined significantly in December. Clearly, things were slowing down, and the global electronics industry feared a recession. Figure 1 shows a decline shortly after December for the industry, and related industries that include components and materials posted similar declines.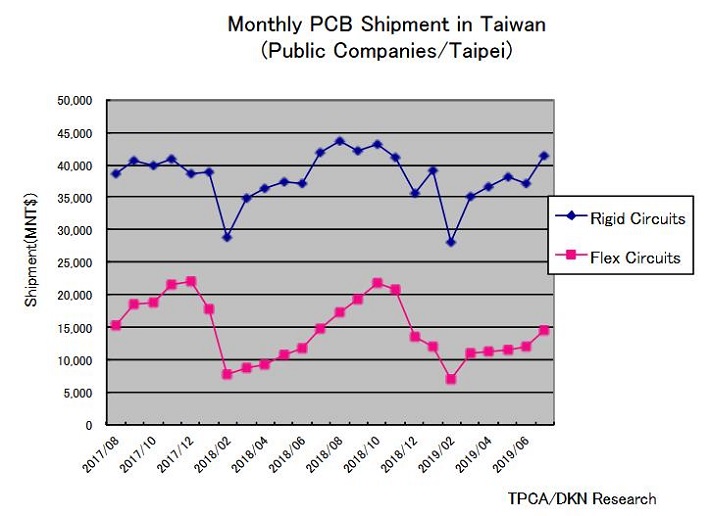 Figure 1: Monthly PCB shipments in Taiwan.
Market data for the first half of the year shows that shipments are flat, and several market analysts are predicting that the industry is at the bottom (Figure 2). They further go on to say there could be a rebound for the second half of the year.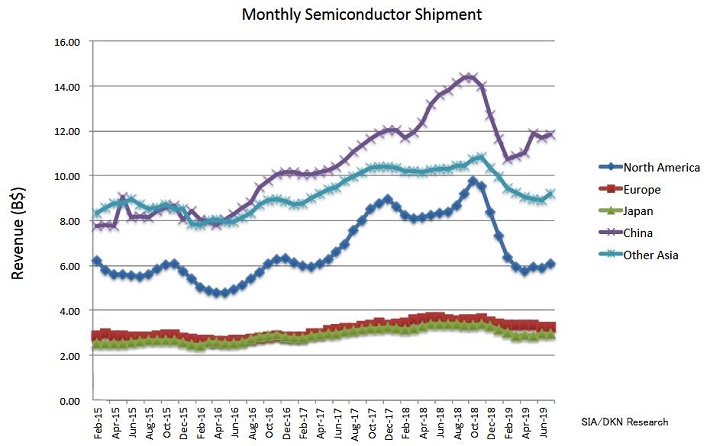 Figure 2: Monthly global semiconductor shipments (B$).
I am not as optimistic. The latest monthly PCB shipments in Taiwan are negative compared to the same time last year. I surveyed a few manufacturing buyers about the current state of their business, and they claim that shipments of PCB materials are slowing and are less than the same time last year. Many PCB manufacturers now have a conservative stance when making additional investments earmarked for business expansions.
Will global markets follow what is happening in Taiwan? There are a lot of pokers in the fire, stirring up uneasiness in the industry, including trade wars, political agendas, Brexit, the Turkish Financial crisis—pick one! There are some many things that can affect the buying habits of consumers. I have faith that management teams for many electronics companies have seen this before and are considering plans to hedge any downturn in business. The bottom line is that everything has a cycle, and you just have to know where you are in the cycle. Headlines
1. Murata (Device supplier in Japan) 8/4
Invested 4.7 billion yen for the manufacturing expansion of MLCC, including new facilities in Shimane Prefecture.

2. Toshiba (Electric and electronics company in Japan) 9/4
Developed a new film-based organic light sensor with high sensitivity that is also a capable beta ray sensor.

3. Mitsubishi Electric (Electric and electronics company in Japan) 9/3
Developed a new GaN-HEMT with multi-cell construction using diamond base package that makes heat radiation rate much higher.

4. Murata (Device supplier in Japan) 8/28
Plans to make battery manufacturing a core business after buying battery business from Sony in 2017.

5. LG Display (Display supplier in Korea) 9/5
Has an aggressive expansion plan in China for manufacturing organic EL panels to keep the leading position in the global market.

6. Acer (Electronics company in Taiwan) 9/5
Unveiled a series of new products for 14" laptop PCs, mobile workstations, and gaming devices.

7. ASUSTek (Electronics company in Taiwan) 9/5
Debuted a new gaming smartphone with "ROG" brand name as the milestone product for the 30-year anniversary.

8. TDK (Device manufacturer in Japan) 9/5
Rolled out a new inductor "SPM-VT Series" with a small package, introducing a newly developed metallic magnetic material for automobile applications.

9. Sharp (Electronics company in Japan) 9/5
Released a new high-end smartphone for the European market with 8K+5G and artificial internet of things (AIoT).

10. Mitsubishi Electric (Electric and electronics company in Japan) 9/6
Developed a new corrosion sensor of metallic parts available for surface mounting on PCBs (size: 1.6 x 0.8 mm).

11. Tokyo University (Japan) 9/6
Successfully produced a nano-disc structure of InGaAs/GaAs with low defects, combining bio-templates and neutral particle beam etching.

12. Toshiba (Electric and electronics company in Japan) 9/9
Developed a new radio wave imaging system as the detector of hazard subjects.
Dominique K. Numakura is the managing director of DKN Research LLC. Contact haverhill@dknreseach.com for further information and news.
Share
Print
Suggested Items
07/14/2020 | Nolan Johnson, PCB007
This issue is an exploration of the rethinking currently underway across the industry. Our conversations on rethinking manufacturing include re-imagining wet processes, additive, and subtractive processes. We also explore rethinking the tools available to your incoming CAM department in the form of best practices for landing pads, the advantages of the new VeCS technology, and more information on Elsyca's sophisticated CAM analysis software. This issue provides some insight into the Chinese industry's recovery within the global marketplace (as reported by Prismark) and takes you through a real-world example of how ransomware can be a serious threat to your business.
07/09/2020 | Nolan Johnson, PCB007
On July 8, Nolan Johnson spoke with Shaun Tibbals, sales and marketing director for Electra Polymers. Shaun discusses the Electra Polymer's business outlook responses to the ongoing COVID-19 outbreak.
07/09/2020 | Globe Newswire
Nano Dimension Ltd., a leading Additively Manufactured Electronics (AME)/PE (Printed Electronics) provider, has signed an agreement with LM Instruments, which will represent Nano Dimension in the Mid-Atlantic States by marketing its 3D-Fabrication Machines for High-Performance Electronic Devices (Hi-PEDs).