Reading time ( words)
In the last 24 hours, we surveyed our readers regarding the coronavirus (COVID-19) outbreak and its effect on our industry. After reviewing the first 100 survey responses primarily from North America and Europe, we see that one-third of the respondents reported that the outbreak was having at least a small effect on their orders. Two-thirds of our readers have yet to see any effect on their orders. One respondent from Italy reports that their business halted by 95% due to "everything being currently stopped and/or delayed."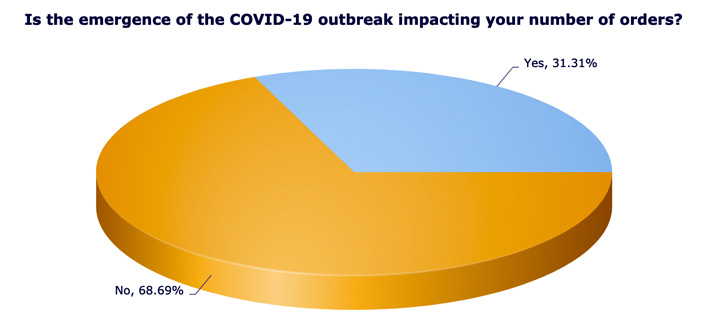 Here is a sample of some of the responses:
So far, we have only been hit with slowdowns of our equipment made in Germany, Singapore, or South Korea. We fully expect there to be more impacts.
Orders already done are waiting for goods to arrive, stopped mostly in China. New orders are not programmed. Expedition to customers slowed down.
Increased orders for certain product lines that have European manufacturing.
Everything is currently stopped and/or delayed.
It seems to be causing pull-ins, though.
A lack of raw materials imported from China.
PCB fabrication orders have shifted away from affected Asia to North American facilities.
Our survey results continue to come in, and we will be following this ongoing situation.
If you'd like to take part in this survey, click here.
Share
Print
Suggested Items
06/10/2020 | Dan Beaulieu, D.B. Management Group
Dan Beaulieu, president of D.B. Management and an I-Connect007 columnist, spoke with Nolan Johnson on the importance of continuing to generate leads and new customers. Beaulieu addressed concerns about market uncertainty, shared some real-world examples of mistakes, and made a strong case that sales and marketing is a process that must be constantly ongoing to keep a full funnel of customers and business.
05/28/2020 | I-Connect007 Editorial Team
The I-Connect007 editorial team spoke with Roger Tushingham of Rogers Corporation about the company's current priorities with everything that's been changing recently, including his perspective on the distributing and manufacturing trends he sees as a global supplier.
05/08/2020 | Dan Beaulieu, D.B. Management Group
In this series, Dan Beaulieu will share 14 "business as usual" tips for selling without visiting customers during the COVID-19 outbreak.