Reading time ( words)
"Elevate the Excellence of Electronics" was the theme for this year's IPC APEX EXPO. As expected, the show set the bar high with technical sessions, professional development sessions, committee meetings, numerous networking opportunities, and an exhibitor list that included all aspects of the electronics supply chain. I repeatedly found myself interested in multiple sessions being hosted at the same time, and had to pick and choose where to be!
Among all this great technical content, I had the opportunity to attend two events, hosting their inaugural session. IPC APEX EXPO can be overwhelming, even to an industry veteran that has attended many years. Realizing that this can be a bit intimidating, Brook Sandy-Smith hosted The Fundamentals Program on Monday, which brought together expert speakers providing a broad view of the industry, important terminology, and background to help those new to the industry or new to IPC APEX EXPO get an overview of the industry before jumping into the fray of the conference.
The concept resonated with attendees, as all seats were taken, and there was lively discussion throughout the session. The discussion was so engaging that rather than having the scheduled break for lunch, attendees came back to their seats while eating for continued discussion and content.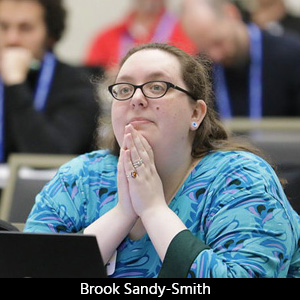 Brook Sandy-Smith, IPC's technical conference program manager, said, "What I found most surprising about the first Fundamentals Program at IPC APEX EXPO 2020 was how diverse the backgrounds of the attendees were. There were people from many engineering disciplines at different stages of their careers, representing varied specialties in the industry. It will be exciting to continue offering this program and seeing it grow."
I was also involved with the community of interest meetings discussing semi-additive PCB processes. This session was by invitation and included a cross-section from all areas of the electronics supply chain: OEMs, designers, fabricators, EMS companies, and materials suppliers. This semi-additive PCB process is enabling PCB fabricators to provide previously unattainable line width and space of 25 microns and below, effectively resetting the technology curve. And, as with any new emerging technology, this has impacts and opportunities throughout the supply chain.
To read this entire article, which appeared in Show & Tell Magazine, click here.
Share
Print
Suggested Items
11/04/2020 | Michelle Te, I-Connect007
The I-Connect007 research team invited readers to share their thoughts on what's happening with staffing and retention to help prepare for an upcoming issue on this important topic. Here, we delve into the first question, "Are you currently hiring?"
10/30/2020 | Nolan Johnson, I-Connect007
Welcome to the Halloween issue of the I-Connect007 Top Five Editor's Picks! This year's Halloween lands on a doozy of a day. Astronomers among us will, undoubtedly, already have noticed that not only does the spooky holiday fall on a Saturday night, but it also falls exactly on a full moon—and a Blue Moon, at that! The last time a Halloween Blue Moon occurred in all time zones was in 1941. As if there weren't enough "ghoulishness" already, 2020 delivers yet another rare occurrence.
10/19/2020 | Pete Starkey, I-Connect007
Although current circumstances have forced the postponement of its live conferences, seminars, and workshops, EIPC continues to provide a platform for the exchange and dissemination of the latest knowledge and technical information to the European interconnection and packaging industry. Pete Starkey details how its current series of technical snapshots, delivered in a webinar format, address technology challenges facing the automotive, telecom, and high-speed sectors of the industry.