Reading time ( words)
"Elevate the Excellence of Electronics" was the theme for this year's IPC APEX EXPO. As expected, the show set the bar high with technical sessions, professional development sessions, committee meetings, numerous networking opportunities, and an exhibitor list that included all aspects of the electronics supply chain. I repeatedly found myself interested in multiple sessions being hosted at the same time, and had to pick and choose where to be!
Among all this great technical content, I had the opportunity to attend two events, hosting their inaugural session. IPC APEX EXPO can be overwhelming, even to an industry veteran that has attended many years. Realizing that this can be a bit intimidating, Brook Sandy-Smith hosted The Fundamentals Program on Monday, which brought together expert speakers providing a broad view of the industry, important terminology, and background to help those new to the industry or new to IPC APEX EXPO get an overview of the industry before jumping into the fray of the conference.
The concept resonated with attendees, as all seats were taken, and there was lively discussion throughout the session. The discussion was so engaging that rather than having the scheduled break for lunch, attendees came back to their seats while eating for continued discussion and content.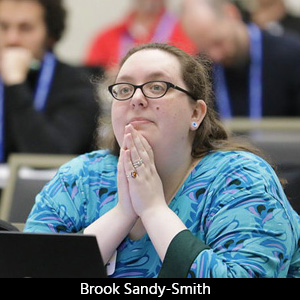 Brook Sandy-Smith, IPC's technical conference program manager, said, "What I found most surprising about the first Fundamentals Program at IPC APEX EXPO 2020 was how diverse the backgrounds of the attendees were. There were people from many engineering disciplines at different stages of their careers, representing varied specialties in the industry. It will be exciting to continue offering this program and seeing it grow."
I was also involved with the community of interest meetings discussing semi-additive PCB processes. This session was by invitation and included a cross-section from all areas of the electronics supply chain: OEMs, designers, fabricators, EMS companies, and materials suppliers. This semi-additive PCB process is enabling PCB fabricators to provide previously unattainable line width and space of 25 microns and below, effectively resetting the technology curve. And, as with any new emerging technology, this has impacts and opportunities throughout the supply chain.
To read this entire article, which appeared in Show & Tell Magazine, click here.
Share
Print
Suggested Items
04/30/2021 | Nolan Johnson, I-Connect007
This week's biggest news came in the form of industry briefings—there were a lot of them and the news was universally positive. The news you need to read for this week includes three reports from IPC detailing: the strength and risks in the global economic recovery; a strong EMS book-to-bill ratio; and strong North American PCB sales. Zeroing in on a single company, Apple reported a significant jump in revenue.
04/26/2021 | Nolan Johnson, I-Connect007
Nolan Johnson speaks with Michael Gay of Isola and Chris Hunrath of Insulectro about the release of their new halogen-free, high-thermal reliability material, which they hope fills the gap in the market between epoxies and polyimides.
04/23/2021 | Andy Shaughnessy, I-Connect007
This week, we bring you a wide swath of news, columns, and articles from the past week. Altium announced a new cloud platform that connects design stakeholders with users of its Altium 365 environment. Cadence Design Systems has acquired a company that develops computational fluid dynamics technology to help expand its system analysis offerings.