Reading time ( words)
Barry Matties sat down with Bob Neves, one of the first recipients of the Dieter Bergman IPC Fellowship award, to talk about the tribute held for Dieter on Wednesday night of IPC APEX EXPO 2015, and some of the reasons behind the newly created award.
Barry Matties: Bob, Tell me about the new Dieter Berman IPC Fellowship award that you and several others received.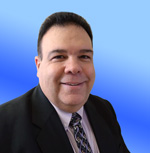 Bob Neves: Well, Dieter's an icon, and pretty much everyone associated Dieter Bergman with IPC. He was a tireless worker, and so after he passed away, they decided to create a Dieter Bergman Memorial Fellowship award for people who were outstanding in their lifetime in standardization, because that's what Dieter was all about. There were eight inaugural awards members who received the honor last night, and I was lucky enough to be chosen as one of them. Dieter was a mentor to me. When I first got into the industry, he inspired me to get involved with the organization, take on leadership roles, and he somehow convinced me to get involved with international standardization, which was one of his passions.
I spent 15 years traveling around the world with Dieter to IEC meetings, and got to know him very well. He was both my mentor and friend, and it was difficult to come to an IPC meeting and not have him here.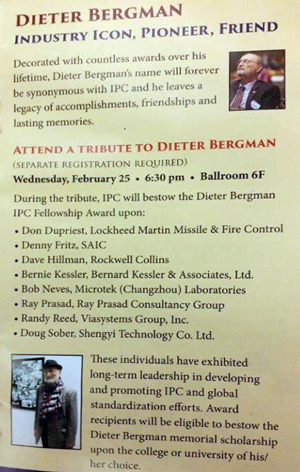 Matties: Seeing the poster of Dieter in the entrance of APEX was certainly a clear reminder that he's no longer with us.
Neves: Yes, and the memorial was nice. We all told a Dieter story, because everybody has them; he was such a dynamic guy and was a friend to everyone. He knew what he wanted and he'd work 12 hours a day, seven days a week to accomplish it.
Matties: What does this new award mean?
Neves: Education and standards were Dieter's life. In order to keep his memory alive, IPC wanted to do a couple of things. To reward members who show that same trend within IPC and also leave a scholarship. Each of the winners may choose a college of their choice to leave a small scholarship to, which will help keep Dieter's memory alive. IPC is looking at our committee sessions with a long term view, and we're all getting a little gray. We haven't done a really good job of motivating the young people to get involved. One of the goals we have is to spend more time with the universities, the engineering schools, and try and push what the organization is doing down at that level.
When these new kids get into their first job, they run into a problem with a situation, or a design issue, or fabrication issue, they'll think, "Oh yeah. IPC, that's the organization that can help. Maybe I should get involved." That's a long term effort, but it's definitely something that we need to put in place to assure that 10 years from now we've got this new generation of people coming onto the committees and making a difference.
Matties: That's great, Bob. Congratulations.
Neves: Thank you.
Share
Print
Suggested Items
07/15/2019 | I-Connect007 Editorial Team
Sharon Starr, Denny Fritz, and Mike Carano talk about the global 2018 IPC Technology Trends Report released early this year—the size of the survey, how it was conducted, the general findings, and regional differences. They also shared their takeaways and regional insights, and the industry outlook over the next five to 10 years.
07/12/2019 | Bhanu Sood, Michael Osterman, and Michael Pecht, Center for Advanced Life Cycle Engineering
Multilayer organic laminates, which make up over 90% of the interconnecting substrates in electronics (standard FR-4 represents 85% of the substrates used for laminates), can develop a loss of electrical insulation resistance between two biased conductors due to conductive filament formation.
07/09/2019 | Mark Thompson, CID, Prototron Circuits
Deciding on the class of the final product will determine what files are needed for fabrication and assembly. It is critical to note that for a product to be built to any class level, it must be designed to that class level from its inception.