Reading time ( words)
The Columbia River Gorge in the Pacific Northwest offers breathtaking views; and for a company that manufactures unmanned aircraft systems (UAS), it also offers a backdrop for growth and opportunity. Boeing subsidiary Insitu recently cemented its commitment to the River Gorge community by opening a 127,000 square foot production facility and office space in Bingen, Wash. The technology company has come a long way from its humble beginnings in a small garage in Bigen over 20 years ago. "We've grown this company into an information-based company," said Ryan Hartman, Insitu President and CEO. Hartman added, "It is a prosperous business in a town that is growing and economically healthy."
Nearly 800 employees build and support Insitu's UAS line of ScanEagles, Integrators and ground stations. Boeing's cameras captured the first images inside of Insitu's new production facility, Eagle Point. Watch the video for a peek inside and learn more about where high-tech meets mountain height.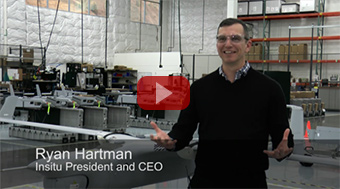 ABOUT INSITU
Since its inception in 1994, Insitu has met and exceeded customer expectations by delivering and supporting best-in-class unmanned aircraft systems (UAS) ISR solutions faster and more efficiently than any other player in the industry. Visit: insitu.com for more information.
Share
Print
Suggested Items
11/25/2019 | I-Connect007 Editorial Team
During productronica 2019, the I-Connect007 Editorial Team met with some of the industry's top executives, managers, and engineers. In this video interview, Editor Nolan Johnson and Harald Eppinger, managing director at Koh Young Europe, discuss the company's milestone of 16,000 installed systems, the Zenith Alpha, and market trends in AOI systems.
11/20/2019 | Phil Kinner, Electrolube
While the value of the electronic systems in a modern vehicle typically exceeds 20% of the total vehicle cost, many estimate that this value will exceed 35% within the next five years. With the increased adoption of electronic vehicles and the development of the internet of things (IoT)—which has brought us driverless cars like those being tested by Google in California and BMW on the roads of Bavaria—the future of this industry is starkly different from that of the 1970s when electronic fuel injection systems were first introduced to mainstream production.
10/23/2019 | Barry Matties, I-Connect007
Nico Fahrner, application engineer at Rehm Thermal Systems, talks with Barry Matties about the benefits prospective customers get from being able to fully test their systems in-line at Rehm's technology centers before purchasing.