Reading time ( words)
Uwe Hauf, VP of electronics for Atotech and I sat down at CPCA 2015 for an illuminating discussion of the global market—what's happening now, what is going to happen tomorrow, and a few things that won't happen for at least ten years, according to Hauf.
Barry Matties: Uwe, what do you do as VP at Atotech?
Uwe Hauf: Sometimes I ask this question myself! As VP of electronics at Atotech I am responsible for the electronics and semiconductor part of our business, including sales and marketing, technology, troubleshooting and the development of new products by our R&D departments.
Matties: How long have you been with Atotech, and what are some of the changes you've seen?
Hauf: I've been with Atotech for more than 28 years, and I've seen many changes, for sure. Our strategy has constantly adapted to market needs. For the past ten years we have mainly focused on the high-end application of our business—the high tech. We are offering a systems approach, consisting of special chemistry, equipment, and the know-how in between. We have a very sustainable approach, which we are strictly pursuing. Another central part is to "be local." We have local organizations everywhere, which are self-sufficient, but networked on a worldwide basis.
In China, where we have been active for about 35 years, we have a big advantage. In the beginning, it was at a very low level, but we already had the management in place that laid the groundwork for our international engagement. It was work to get a foothold in China, but it wasn't new to us. We knew how to handle it and we were wise enough to install local management. Today we still have only one or two expats on an annual basis here in China or anywhere in Asia. This is self-sufficiency.
Matties: What do you see the market doing, and do you see it changing much in terms of technology or segments?

Hauf: In terms of technology, there is no big revolution in sight, but constantly diminishing feature sizes. In the meantime, all segments, including semiconductors, have really reached the limits of existing, traditional, manufacturing procedures.
We have a kind of paralyzed situation at the moment, especially in IC substrates, where our customers have to decide soon which route to go in terms of new production methods. They are all struggling because each decision means lots of investment and a lot of new manufacturing infrastructure.
We're talking about the high-end here—Taiwan, Korea and Japan. More and more IC substrates are going to China. They are all pushing in the same direction: cost, cost, cost. China has one big problem in the meantime, and that is, it's too expensive.
Matties: I see a lot of automation coming into China.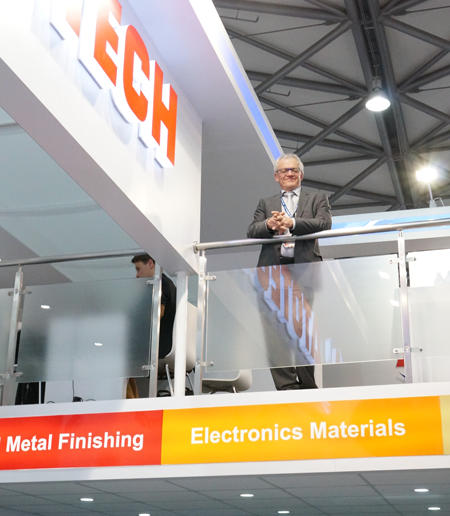 Hauf: Yes. Look at the halls of the trade shows where you have automation. They are full, while in the traditional areas, like in PCB production or the suppliers industry, it's kind of a medium-sized booking on a day-to-day basis. The automation sectors are full. This is the big challenge that we see. We are a systems supplier and we realize that the specifications do not only lean in the direction of technology, thinner boards, and smaller feature sizes, etc., but also toward full automation. The operators are only there to get the magazines full, but don't touch anything.
In America, you cannot talk about a revival yet. The big customer base in America is no longer there. You have two, at maximum three, large-sized plants in America, but there are new technologies arising. For example, in the sector of touch screens, there are new manufacturing methods.
A lot is going on in terms of development with the big OEMs, where they are now seeking really close cooperation with chemical suppliers or systems' suppliers like us.
Matties: What about the printed electronics market?
Hauf: The world is waiting for super-conductive ink.
Matties: It's close though, don't you think?
Hauf: It's probably close in terms of technology, but not in terms of being competitive on a price level. We're talking about nano-particle inks, which are still damned expensive. They are not real competition yet, in terms of conductivity or process performance.
Matties: It may be very expensive, but at some point the transition happens, don't you think? When you look at the expense of building one panel at the circuit board shop, it has to be as expensive as printing a panel.

Hauf: Printed electronics for sure has a future, and new technologies will come. Everybody is talking about 3D printing. Whatever can be printed will be printed. We'll have the combination of printing of plastics in combination with metals and metal inks. But in my opinion, no, I think printed electronics is at least a decade away. I will probably be retired when this kicks in.
Matties: What about wearable electronics? That's a huge market as well.
Hauf: From the product side and number-wise it is a huge market, but if you look at our industry, we are living on surface area. These are not large capacities that will be needed—definitely high-end, high-tech, but small features, and small printed circuit boards with more intelligent chips on them. Wearable electronics will boost it, but will not be the big booster for our industry, so to speak.
Matties: What is driving our industry?
Hauf: I think we are struggling a little bit with new, revolutionary products. Everybody is talking about the Internet of Things, or networking, etc. What we see is a big boost in the automotive industry. We have a lot of requests in the direction of high-frequency applications, like the new radar systems.
We have very promising growth rates for the automotive industry in terms of the number of cars. This is boosting or keeping us alive, as is the networking, meaning that the consumer will be forced to replace his wearable devices on a more frequent basis.
We are now at the point where we are heading for two billion smartphones being built every year; that is an unbelievable number. So more than one out of four on this planet decided last year to buy a phone, and the rest either said, "I don't want it," or "I cannot afford it." This is an ongoing story. If you look at the capacities, we're heading for replacement on an annual basis, which will require new business models for the smartphone industry.
Matties: When you look at regions, what do you see in India?
Share
Print
Suggested Items
03/05/2021 | Nolan Johnson, I-Connect007
A perennial and yet irregular category on the popular game show Jeopardy is "potpourri." My dad, as I was growing up, pronounced the word as "pot-poury." It wasn't until I was a sophomore in college that my girlfriend's mom—who had a penchant for a soupcon of French euphemism in her tête-à-têtes—pronounced the word properly: "po-pu-ree." Such are the risks of growing up just a bit rural.
02/24/2021 | Hailey Lynne McKeefy, Freelance Journalist and Supply Chain Specialist
The 2020s have not started as anyone would have wished. The COVID-19 pandemic has exposed weaknesses in supply chains and in global manufacturing, yet this could still be the most innovative decade ever.
02/19/2021 | Nolan Johnson, I-Connect007
I'm following the landing procedures for NASA's Perseverance Mars lander as I'm finishing my Top 5 list for the week. The successful landing of the lander seems a nice highlight for this week. Our global aerospace programs, both national and private enterprise, make these missions seem almost, almost routine. They are, as we all know, anything but routine. No surprise, then, that aerospace-related news percolated to the top of mind for our readers this week.