Reading time ( words)
Wafer level chip scale package (WLCSP) devices are used because they offer low cost, small footprint packages that can be directly mounted into smartphones, tablet PCs and other mobile devices. Today, this packaging technology is also used in automotive applications. The manufacturers of mobile device applications are demanding lower defective parts per million (DPPM) from their suppliers of WLCSP devices, catching up with automotive standards.
Currently, the common back-end process flow for mobile WLCSP devices is a single or dual insertion test at wafer probe. With this flow, there is no testing performed after device singulation (wafer saw). The singulated devices are then sorted and picked from the film frame ring for final packaging into reel. Since there is no final test prior to tape and reel, this equipment typically needs to provide a 5-side device inspection to identify potential device damage from sawing. The inspection efforts are quite demanding, with defect recognition requirements in the range of only 10 to only 20 microns, resulting in frequent time and cost intense human interaction and support requirements. Remaining concerns of this inspection are potential functional damages to the device that cannot be identified with a visual inspection. The reason for this flow without a final test is that there has not been a cost effective way to handle singulated WLCSP devices in a high volume manufacturing environment.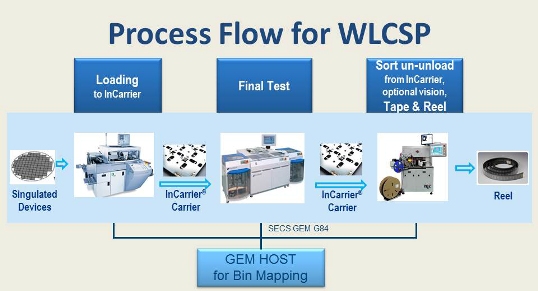 In addition to the high visual inspection cost, the cost for bad quality resulting from the escaping devices with functional defects is a burden to the mobile industry that requires new solutions to overcome the shortcomings of this flow.
What are the key attributes and technical challenges of singulated WLCSP device handling with final test?
Ultimately the final test of WLCSP must address the shortcomings of today's probe test flow.
Most critical are the brittle and touch sensitive edges and corners of the devices that could get damaged at any handling step. The reduction of handling steps is therefore mandatory for a successful solution.
The support of tri-temp final test is required to also address the needs of automotive and industrial applications beyond the ambient and hottest requirements of mobility applications.
High multi-site test capabilities of high pin count devices will require the control of high contact forces.
Device pad pitch below 0.3mm will require high accurate device to contact site alignment.
Improved touch efficiency versus wafer probe test would help to increase productivity and reduce cost.
The final test results should be capable of virtually reconstituting a wafer test map that might be used for process optimizations in the front end.
A practical approach is to hold hundreds of singulated devices in an array formatted similarly to a device strip. By placing the singulated devices in such an array, a standard strip test handler can then be used to provide true final tri-temp test of WLCSP devices.
The device pad to contact alignment is a standard requirement for a strip handler. Auto vision alignment is therefore a standard feature that supports small pitch requirements.
The strip handler can index the device matrix along the contactor matrix with 100% touch efficiency. Good strip test handlers provide, as standard, very rigid plunger architectures and docking structures to support high parallel, high pin count test requirements. To ensure the highest contact yield optional plunge force measurements monitor the nominal contact force even at the smallest structural deflections.
The remaining task is to safely mount the device to such a strip like array. The technology has to ensure that no corner of the device is getting touched and needs to be able to register the devices very precisely in a defined matrix.
Simplifying backend final test processes
Xcerra has developed InCarrier, a patented sheet metal assembly with a mechanical clamping scheme that addresses all the described requirements. It is already in high volume production and several billion devices have been tested at tri-temp, and with up to 144 devices parallel.
The loading of the sensitive WLCSP is supported by a loading machine that is picking the devices from the wafer ring and placing them into the carrier. The devices are secured in small pockets of the carrier and no handling step of the multiple temperature insertions of the final test can cause any harm to them.
The tracing information from wafer position to strip position can be stored. The strip test handler test results are stored in electronic map files similar to wafer probe. A virtual wafer test map can therefore be reconstituted and used for process quality improvements in the front end.
After final test, the devices then get picked from the InCarrier right at the final packaging equipment. Optional 5S inspections can still be provided, but visual requirements can likely be relaxed to defect sizes that will not require intense human support.
The proposed process is not theory, but is already in high volume evaluation for WLCSP and in high volume production for standard packages. It is the first, and currently the only, cost effective final test solution for WLCSP in a high volume manufacturing environment provided. It may enable the elimination of probe test and could support the automation requirements of the backend final test process.
Author Information
Andreas Nagy is Senior Director Marketing Handler & Test Cell Innovation, at Xcerra Corp.
Share
Print
Suggested Items
10/28/2020 | Graham Naisbitt, Gen3 Systems
With increasing frequency, standardising the standards, such as ISO 9201, imposes certain rules that must be met to ensure "fair play" amongst the supply chain. There will be those familiar with hearing about "false positives/negatives" and "never trust the salesman," so mitigating these is no easy task. However, there is the chance for each 5-30 Task Group to review industry requirements and set out the work program for the ensuing period. With that in mind, much of what follows is based on comments we learn about from our industry around the world, many of whom are not yet IPC members. Yes, this is a membership recruitment drive, unashamedly, as well as a search for volunteers willing to help create the standards of tomorrow.
10/21/2020 | I-Connect007 Editorial Team
Have you ever wondered what digital twin is, how it's used, and its benefits? Are you interested in learning ways to optimize and streamline how data flows from design, production planning, process engineering, and manufacturing? Then this micro webinar series is for you! Throughout this 12-part series, Jay Gorajia from Siemens Industries Software describes how to leverage the digital twin concept—from design to production planning and process engineering—through manufacturing execution and supply chain. The goal of the series is to define a blueprint for organizations seeking to digitalize and optimize their design to manufacturing processes and manufacturing operations.
10/07/2020 | Real Time with...SMTAI
The virtual SMTA International Electronics Exhibition took place on September 28–30, and I-Connect007 is here to provide you with comprehensive coverage of the event. We've assembled the full list of show-related interviews from before, during, and after SMTAI 2020 with the industry's top executives, engineers, and managers—all without leaving your office. Visit Real Time with… SMTAI 2020 to view our video series, photo gallery, and more.