Reading time ( words)
Enthone Inc. today announced that construction is underway to expand and transform the company's West Haven, CT Global Headquarters to become a premier technology and manufacturing center. The renewed location will be completed by 2016 and will be named, the Enthone Advanced Technology Center.
The Enthone Advanced Technology Center represents a total investment that will exceed USD 12.5 million and will initially encompass over 82,000 sq. ft. of research and development, technical applications engineering, quality assurance and testing laboratories, as well as state-of-the-art manufacturing facilities.
Mr. Rick Reagan, President Enthone said, "The Enthone Advanced Technology Center is part of the Alent Investment for Growth Initiative, whereas our parent is committed to investing for the future by ensuring that all technology facilities are resourced with leading edge capabilities and world class teams that will continually provide next-generation products."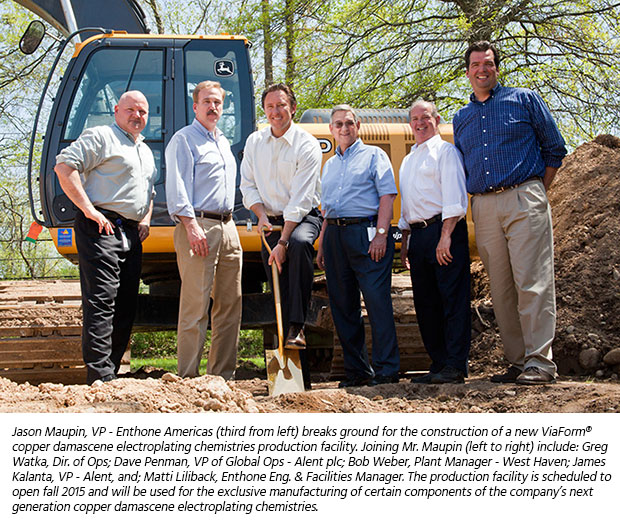 The continued development of the West Haven, CT campus includes the 2014 opening of the ViaForm® Copper Damascene Manufacturing Facility, as well as recent and on-gong upgrades made to wafer level packaging manufacturing, printed circuit board applications laboratories, and the ISO/IEC 17025:2005 certified Enthone Automotive Corrosion Applications Laboratory. The Enthone Advanced Technology Center will continue to maintain ISO certifications to the Environmental Management System ISO 14001, Occupational Health & Safety System OHSAS 18001 and ISO 9001 registration for a true Integrated Management System.
Mr. Jason Maupin, Vice President – Enthone Americas said, "The Connecticut location is being transformed to address growing market demands, while further enabling the ability to meet a more stringent set of electronics and automotive industry requirements. The synergies of housing Enthone technical applications, 'fast cycle' R&D, engineering, and manufacturing at one central location will further optimize customer value creation throughout the Americas and the world."
As part of the expansion, Enthone executive and support staffs will be relocating to Trumbull, Connecticut. The relocation will allow for future manufacturing, testing, R&D, and applications engineering expansion.
About Enthone
The Enthone Advanced Technology Center will be further supported by the company's Wafer Level Packaging Applications Laboratory in Mission Hills, California, as well as Global Development Applications Centers strategically located in Germany, Taiwan, Singapore, Shanghai (PRC), and India.
Enthone Inc., an Alent plc company, is a global and leading supplier of high performance specialty chemicals and coatings. Enthone creates customer value by providing innovative and cost-effective technology solutions to the automotive, electronics, building hardware, energy, aerospace, jewelry, industrial finishes, printed circuit board and semiconductor industries. For more information, please visit enthone.com.
Share
Print
Suggested Items
07/14/2020 | Nolan Johnson, PCB007
This issue is an exploration of the rethinking currently underway across the industry. Our conversations on rethinking manufacturing include re-imagining wet processes, additive, and subtractive processes. We also explore rethinking the tools available to your incoming CAM department in the form of best practices for landing pads, the advantages of the new VeCS technology, and more information on Elsyca's sophisticated CAM analysis software. This issue provides some insight into the Chinese industry's recovery within the global marketplace (as reported by Prismark) and takes you through a real-world example of how ransomware can be a serious threat to your business.
07/09/2020 | Nolan Johnson, PCB007
On July 8, Nolan Johnson spoke with Shaun Tibbals, sales and marketing director for Electra Polymers. Shaun discusses the Electra Polymer's business outlook responses to the ongoing COVID-19 outbreak.
07/09/2020 | Globe Newswire
Nano Dimension Ltd., a leading Additively Manufactured Electronics (AME)/PE (Printed Electronics) provider, has signed an agreement with LM Instruments, which will represent Nano Dimension in the Mid-Atlantic States by marketing its 3D-Fabrication Machines for High-Performance Electronic Devices (Hi-PEDs).