Reading time ( words)
Enthone Inc. today announced that construction is underway to expand and transform the company's West Haven, CT Global Headquarters to become a premier technology and manufacturing center. The renewed location will be completed by 2016 and will be named, the Enthone Advanced Technology Center.
The Enthone Advanced Technology Center represents a total investment that will exceed USD 12.5 million and will initially encompass over 82,000 sq. ft. of research and development, technical applications engineering, quality assurance and testing laboratories, as well as state-of-the-art manufacturing facilities.
Mr. Rick Reagan, President Enthone said, "The Enthone Advanced Technology Center is part of the Alent Investment for Growth Initiative, whereas our parent is committed to investing for the future by ensuring that all technology facilities are resourced with leading edge capabilities and world class teams that will continually provide next-generation products."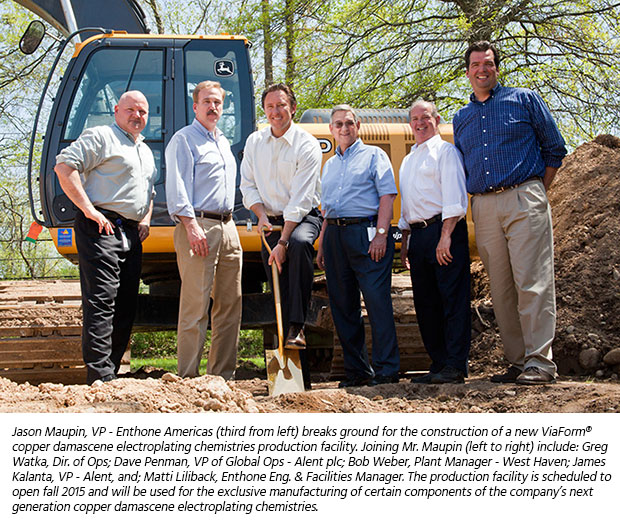 The continued development of the West Haven, CT campus includes the 2014 opening of the ViaForm® Copper Damascene Manufacturing Facility, as well as recent and on-gong upgrades made to wafer level packaging manufacturing, printed circuit board applications laboratories, and the ISO/IEC 17025:2005 certified Enthone Automotive Corrosion Applications Laboratory. The Enthone Advanced Technology Center will continue to maintain ISO certifications to the Environmental Management System ISO 14001, Occupational Health & Safety System OHSAS 18001 and ISO 9001 registration for a true Integrated Management System.
Mr. Jason Maupin, Vice President – Enthone Americas said, "The Connecticut location is being transformed to address growing market demands, while further enabling the ability to meet a more stringent set of electronics and automotive industry requirements. The synergies of housing Enthone technical applications, 'fast cycle' R&D, engineering, and manufacturing at one central location will further optimize customer value creation throughout the Americas and the world."
As part of the expansion, Enthone executive and support staffs will be relocating to Trumbull, Connecticut. The relocation will allow for future manufacturing, testing, R&D, and applications engineering expansion.
About Enthone
The Enthone Advanced Technology Center will be further supported by the company's Wafer Level Packaging Applications Laboratory in Mission Hills, California, as well as Global Development Applications Centers strategically located in Germany, Taiwan, Singapore, Shanghai (PRC), and India.
Enthone Inc., an Alent plc company, is a global and leading supplier of high performance specialty chemicals and coatings. Enthone creates customer value by providing innovative and cost-effective technology solutions to the automotive, electronics, building hardware, energy, aerospace, jewelry, industrial finishes, printed circuit board and semiconductor industries. For more information, please visit enthone.com.
Share
Print
Suggested Items
10/03/2019 | Pete Starkey, I-Connect007
Meriden has been established as a popular Midlands venue for Institute of Circuit Technology (ICT) meetings. On September 19, a multitude of Fellows, Members, and Associates gathered for the Institute's autumn seminar, which was organised and hosted by ICT Technical Director Bill Wilkie. The agenda included five informative technical presentations, describing current research and development on significant topics relevant to the industry.
08/01/2019 | Todd Kolmodin, Gardien Services
Some people think of the PCB manufacturing process as a black box: design data goes to the manufacturer (fabrication house), and magically, the finished PCB is produced. While it may have been like that in the past, in actuality, fabricating PCBs today is quite a ballet of processes.
07/24/2019 | Jeff Beauchamp, NCAB Group
Creating reliable PCBs is an outcome of considering all aspects that can affect reliability as early as possible in the design process. The further down the design process, the more expensive and risky it can be to fix. As they say, everything starts with the design. Because a good board design improves the reliability of the end product and lessens the risk of failure.