Reading time ( words)
Atotech, a global leader in specialty plating chemicals, equipment and services today announced the inauguration of its second equipment manufacturing facility in Guangzhou, China to meet the growing demand for its plating equipment. Globally this is Atotech's third facility dedicated to manufacturing production equipment for the electronics industry. The plant, built on an area of 63,000 sqm leaving space for further expansion and will generate close to 200 local jobs over the next three years. State-of-the-art machines and processes have been deployed to ensure greater precision, accuracy and efficiency in the production of next generation PCB, IC Substrate and Semiconductor manufacturing equipment.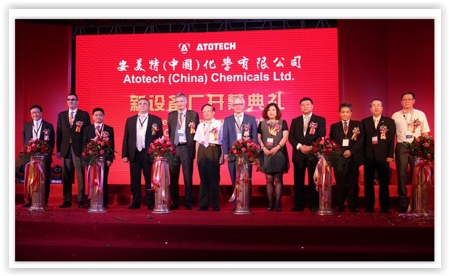 Commenting on the development, Mr. Reinhard Schneider, President of Atotech said: "The opening of this facility in Guangzhou marks a new milestone for Atotech and our commitment to China. The new plant is a direct response to our customers' trust in our pioneering technology and sharply rising demand for our manufacturing equipment. In-line with our corporate priority, the facility meets latest technology and quality standards, as well as rigorous sustainability norms." Atotech is an unrivaled supplier to the PCB and IC Substrate industries backed with over two decades of experience, a strong focus on R&D and cost-optimized manufacturing. The company's flagship brands Uniplate and Horizon are marketleading horizontal systems serving the global leaders in PCB and IC Substrate manufacturing. The Uniplate systems provide production solutions for desmear, through hole metallization and electrolytic copper processing and the Horizon systems production solutions for final finishing using immersion tin, and for surface treatment e.g. bonding enhancement and permanent non-etching adhesion processes. Both brands have been driving Atotech's success for several years now.
Phase 1 of the new investment (33 M USD) will ramp up the production capacity of Uniplate and Horizon, as well as the newly introduced local platform for manufacturing equipment. Phase 2 will further expand the production capacity of the facility to include semiconductor equipment part manufacture and assembly to serve the increasing demand for new advanced packaging production solutions.
With the new facility Atotech aims to react faster to the rapidly changing and highly demanding markets and cater to individual customers' demands.
The new facility will effectively support Atotech's customers' next generation manufacturing programs. Furthermore, it will contribute significantly to the local economy and its development within the technology industry.
About Atotech
Atotech is one of the world's leading manufacturers of specialty plating chemicals and equipment for the printed circuit board, IC-substrate and semiconductor industries, as well as for the decorative and functional surface finishing industries. Atotech has annual sales of 1.3 billion USD and is fully committed to sustainability – we develop technologies to minimize waste and to reduce environmental impact. Atotech is a division of the Total Group, and has its headquarters in Berlin, Germany. The company employs around 4,100 people in more than 40 countries.
Press Contact: Atotech Headquarters Atotech Deutschland GmbH Smriti Dave Erasmusstr. 20 D-10553 Berlin Phone +49 30-349 85-978 Fax +49 30-349 85-670 Email: smriti.dave@atotech.com
Share
Suggested Items
03/27/2023 | Nolan Johnson, PCB007
Twenty-plus years is a long time to lead a business during a long decline in the industry, but IMI President and CEO Peter Bigelow remains quite confident about the future. The company is in a strong financial position, running well, and looking at new technologies. So, what's his biggest challenge? It's not much different than any other manufacturer you talk to, and while he may not have all the answers, he's clearly got insight to share.
03/24/2023 | Nolan Johnson, I-Connect007
It's almost as if upheaval is the new normal. We often describe slow-moving but unstoppable change as moving in "geologic time." But occasionally–like an earthquake–geology shifts suddenly. Here in my office, tracking the news of the industry, things are moving faster than geologic time, but more slowly than the jolt of an earthquake. The wave seems almost surfable, where before it seemed overwhelming. In this week's list, we bring news from five different, high-vibration areas in our industry. If you read nothing else this week, these five items will keep you informed.
03/21/2023 | Christopher Bonsell, Chemcut
This year, I had the great opportunity to come to IPC APEX EXPO in San Diego as a contributing member in Chemcut's booth. Being an exhibitor is always interesting because you never know what you will learn or who you will meet. Truly, it seems that every IPC APEX EXPO is an eye-opening experience. This was the second show I attended, and last year I was amazed to see how in-depth and interconnected the electronics industry is. Seeing how many different companies contribute to manufacturing today's core technology never fails to impress me.