Reading time ( words)
In a previous column, I discussed connectors for flexible circuits and the various options that are available. One of the options is very popular because in reality it is a "connector-less" connector. The connector pins are actually fabricated as part of the flexible circuit, as opposed to being an assembled component.
This option uses sculptured flex. A sculptured flexible circuit has unsupported metal traces. These protruding traces act as the male pin part of the connector. The technology for fabricating a sculptured circuit is fairly unique in the industry. All Flex starts with thick copper (as thick as 7 ounces which can be plated up from there with copper, tin, solder, gold or other metals). The rest of the traces are etched down to achieve thicknesses that are consistent with good flexibility. Back-bared fabrication is used so that there is no need to remove the dielectric with laser ablation or routing. To fabricate a back-bared flexible circuit, the base dielectric is pre-punched or drilled to expose the metal traces that will form the connector pins.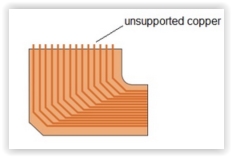 Figure 1: Sculptured flexible circuit.
Sculptured circuits have a number of advantages:
Better reliability: There is no assembly or junction point that could weaken so these connector pins hold up better to vibration testing or thermal cycling.
Less costly: The connector component is eliminated along with the labor to attach it.
Weight and space: Because a connector component is eliminated, the flexible circuit assembly weighs less and takes up less space.
Configurability: There are significant choices in terms of number of pins, density of pins and even thickness and length. They can be bent for 90-degree or 45-degree insertion.
Surface finishing: Leads can be plated with tin, tin-lead, gold or other surface finishes.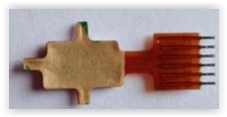 Figure 2: Actual sculptured flex circuit.
Any time you eliminate a component, hidden costs are eliminated, such as the cost of stocking, tracking and managing the supply chain for that part number. When designing an electronic package, don't assume that you need a component for every connection point. Sculptured flex will give some options that can make your electronic package, lighter, less costly, more reliable, and take up less space.
Dave Becker is vice president of sales and marketing at All Flex Flexible Circuits LLC.
Share
Print
Suggested Items
05/01/2020 | Pete Starkey, I-Connect007
In an informative and enlightening webinar, iNEMI Project Manager Steve Payne was joined by Isola Group CTO Ed Kelley to explain, review, and discuss the details of the recently published "iNEMI 2019 Roadmap for Organic PCBs." Pete Starkey provides an overview.
04/28/2020 | Pete Starkey, I-Connect007
Technical Editor Pete Starkey had the opportunity to sit in on a webinar presented by Robrecht Belis, manager of the surface finishing business unit at Elsyca—a Belgian company specialising in the simulation of electrochemical processes.
04/22/2020 | Pete Starkey, I-Connect007
Against a background of COVID-19 uncertainty and unprecedented challenges, but recognizing the vital importance of continuing to educate engineers and share the knowledge and skills required to manufacture boards and assemblies of the highest yields and reliability, the IPC Europe team hosted a technical webinar for the European electronics industry, featuring the expertise of two of I-Connect007's regular columnists: Mike Carano and Jan Pedersen. Pete Starkey provides an overview.