Reading time ( words)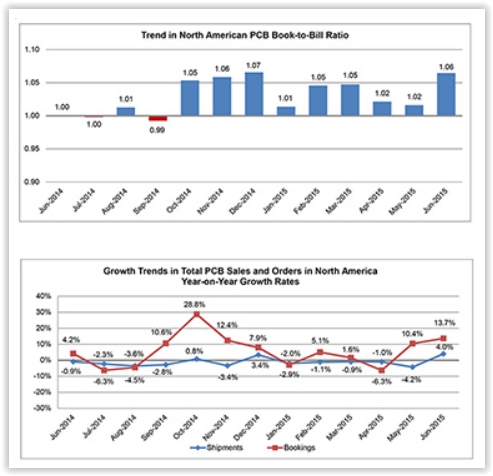 IPC — Association Connecting Electronics Industries® announced today the June findings from its monthly North American Printed Circuit Board (PCB) Statistical Program. Sales and orders were up and the book-to-bill ratio strengthened to 1.06.
Total North American PCB shipments increased 4.0 percent in June 2015 from June 2014, improving year-to-date shipment growth to -0.8 percent. Compared to the previous month, PCB shipments were up 18.7 percent.
PCB bookings grew 13.7 percent compared to June 2014, increasing year-to-date order growth to 3.6 percent. Orders were up 32.5 percent in June compared to the previous month.
"North American PCB sales exceeded last year's level in June for the first time this year, and order growth was the strongest it has been in eight months," said Sharon Starr, IPC's director of market research. "Strong orders have kept the book-to-bill ratio in positive territory for the past nine months," she added, "which is a good indicator of sales growth in the second half of this year."
Detailed Data Available
The next edition of IPC's North American PCB Market Report,containing detailed June data from IPC's PCB Statistical Program, will be available within the next week. The monthly report presents detailed findings on rigid PCB and flexible circuit sales and orders, including separate rigid and flex book-to-bill ratios, military and medical market growth, demand for prototypes, and other timely data. This report is available free to current participants in IPC's PCB Statistical Program and by subscription to others. More information about this report can be found here.
Interpreting the Data
The book-to-bill ratios are calculated by dividing the value of orders booked over the past three months by the value of sales billed during the same period from companies in IPC's survey sample. A ratio of more than 1.00 suggests that current demand is ahead of supply, which is a positive indicator for sales growth over the next three to six months. A ratio of less than 1.00 indicates the reverse.
Year-on-year and year-to-date growth rates provide the most meaningful view of industry growth. Month-to-month comparisons should be made with caution as they reflect seasonal effects and short-term volatility. Because bookings tend to be more volatile than shipments, changes in the book-to-bill ratios from month to month might not be significant unless a trend of more than three consecutive months is apparent. It is also important to consider changes in both bookings and shipments to understand what is driving changes in the book-to-bill ratio.
IPC's monthly PCB industry statistics are based on data provided by a representative sample of both rigid PCB and flexible circuit manufacturers selling in the USA and Canada. IPC publishes the PCB book-to-bill ratio at the end of each month. Statistics for the current month are available in the last week of the following month.
Share
Suggested Items
03/24/2023 | Nolan Johnson, I-Connect007
It's almost as if upheaval is the new normal. We often describe slow-moving but unstoppable change as moving in "geologic time." But occasionally–like an earthquake–geology shifts suddenly. Here in my office, tracking the news of the industry, things are moving faster than geologic time, but more slowly than the jolt of an earthquake. The wave seems almost surfable, where before it seemed overwhelming. In this week's list, we bring news from five different, high-vibration areas in our industry. If you read nothing else this week, these five items will keep you informed.
03/21/2023 | Nolan Johnson, I-Connect007
Investments, staffing, cybersecurity, and a peek into his crystal ball—John Vaughan, vice president of strategic markets at Summit Interconnect, sits down with Nolan Johnson to talk about it all. Business is good, by the way, thanks to Summit's portfolio of military contracts, and he has sound advice to offer for smaller shops in the United States, and their real ability to make a difference in PCB fabrication.
03/21/2023 | Dan Beaulieu, D.B. Management Group
I have always felt that automation has the potential to make a big difference in our PCB industry, especially domestically, where labor is at premium. For the past year, I have been looking for the story of how automation can and will make a significant difference in established PCB shops. I was fortunate enough to find that story in Multicircuits, located in Oshkosh, Wisconsin. Only a few short years ago, this company was considered a "plain vanilla" PCB fabricator holding its own in our industry; now it has suddenly assumed a true leadership position in the industry in terms of capability, technology, operations, and profitability.