Reading time ( words)
In Part 2 of this two-part article series, the authors discussed the test results for low-silver alloys using these solder paste alloy assessment protocols for BGAs and leaded components, and the impact of the alloys on printed circuit assembly process windows.
Test Results and Discussion
Manufacturing DoE Results
IMC Thickness
Measured on BGA Manufacturing DoE Test Boards (see Figure 1 in Part 1) that were reflowed 3 times with a peak reflow temperature of 250 °C and 120 seconds TAL.
Two BGA body sizes were evaluated [14 mm and 23 mm]. IMC thicknesses for alloys A and B were normally distributed with no significant difference between the large and small BGA. For alloys C and D, greater variability in the large BGA IMC thickness resulted in values significantly different than smaller BGA (as seen in Figure 1 and Table 1).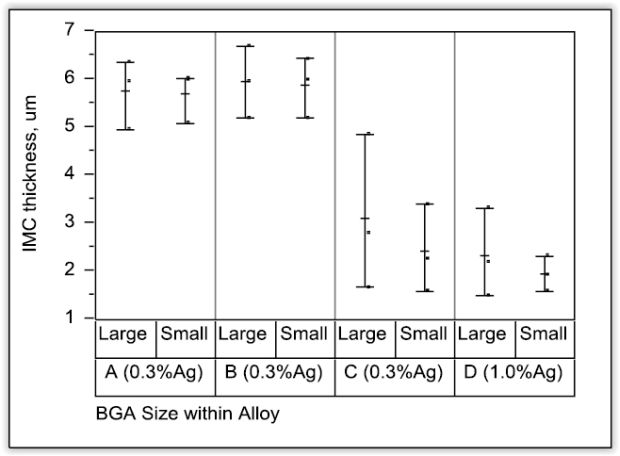 Figure 1: IMC thickness distribution by Alloy (A-D) and BGA size (large/small)
Table 1: Summary of IMC thicknesses (microns)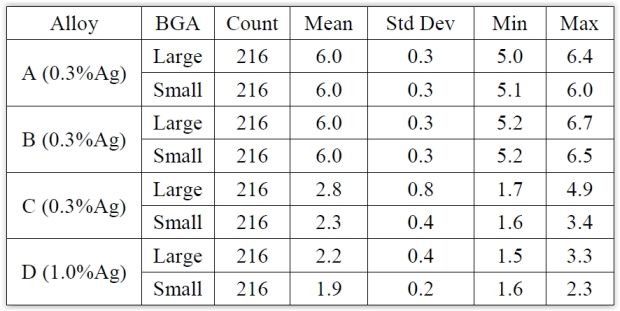 Copper Dissolution
This was measured on the BGA Manufacturing DoE Test Boards (see Figure 1 in Part 1) that were reflowed 3 times with a peak reflow temperature of 250°C and 120 seconds TAL.
Cu thickness measurements were made at each solder joint, in the middle of the joint and underneath the soldermask adjacent to the joint. Cu removed was the difference in copper thickness at these two locations. Cu dissolved was determined by subtracting Epsilon (thickness of Cu removed during soldermask etch in the PCB fab process) from the Cu removed values.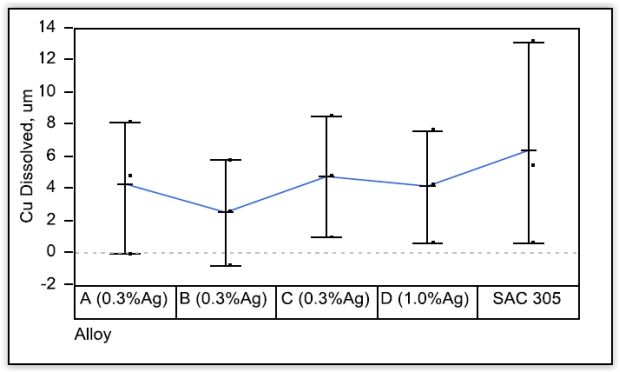 Figure 2: Cu dissolution distribution by alloy
Table 2: Summary of Cu dissolved (microns)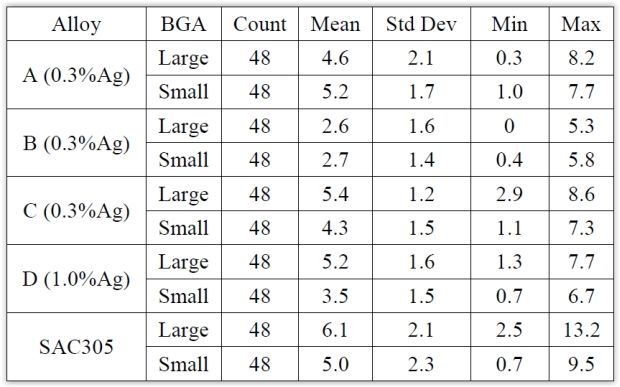 The amount of Cu dissolved after soldering was less for the low silver alloys than that for SAC305. The Cu dissolution results were normally distributed for the evaluated alloys but varied with alloy and BGA size (as seen in Figure 2 and Table 2). The Cu dissolution performance varied by BGA size, though not in a consistent fashion. While alloy B showed comparable Cu dissolved values between the 2 BGA sizes, alloy C and D both had more Cu dissolved for the larger BGA while alloy A had greater Cu dissolution values for the small BGA (this could be attributable to bare board Cu characteristics between the different vendors).
Share
Print
Suggested Items
10/27/2019 | Andy Shaughnessy, I-Connect007
At a recent open house, Managing Director Juan Arango talks about his role in the company's transition from their Arizona facility to a new headquarters located outside of Atlanta, Georgia. Juan details many of the benefits customers can expect, including brand new spaces dedicated to customer demos as well as training.
10/14/2019 | Real Time with...SMTAI
Chris Bastecki, director of global PCB assembly at Indium Corporation, discussed challenges of low-temperature solder and the company's new product, Durafuse LT, which provides novel properties and reliability.
10/09/2019 | Real Time with...SMTAI
The SMTA International Conference and Exhibition 2019, which took place September 22–26, 2019, at the Donald E. Stephens Convention Center in Rosemont, Illinois, concluded successfully. For those of you who were not able to make it to the show, catch our video interviews with the movers and shakers of the electronics industry. We've updated our video presentation for a better experience for our users, so check it out!