Reading time ( words)
IPC — Association Connecting Electronics Industries® announced today the July findings from its monthly North American Printed Circuit Board (PCB) Statistical Program. Year-over-year sales and order growth continued in July and the book-to-bill ratio strengthened to 1.09.
Total North American PCB shipments increased 2.7 percent in July 2015 from July 2014. Year-to-date shipment growth remained at -0.3, reflecting the negative growth rates seen earlier this year. Compared to the previous month, PCB shipments were down 14.3 percent.
PCB bookings grew 5.8 percent compared to July 2014, increasing year-to-date order growth to 3.9 percent. Orders were down 20.6 percent in July compared to the previous month.
"North American PCB sales and orders continued to exceed last year's levels in July," said Sharon Starr, IPC's director of market research. "The negative month-to-month growth rates in sales and orders reflect normal seasonal patterns. The best news is the 10-month run of positive book-to-bill ratios," she added, "as this is a good indicator of sales growth in the second half of this year."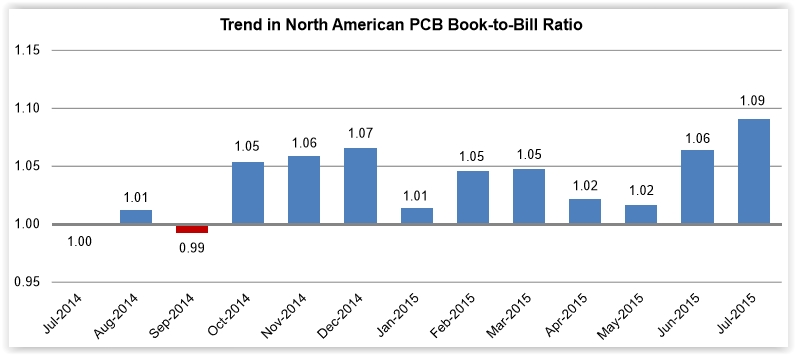 Detailed Data Available
The next edition of IPC's North American PCB Market Report, containing detailed July data from IPC's PCB Statistical Program, will be available within the next week. The monthly report presents detailed findings on rigid PCB and flexible circuit sales and orders, including separate rigid and flex book-to-bill ratios, military and medical market growth, demand for prototypes, and other timely data. This report is available free to current participants in IPC's PCB Statistical Program and by subscription to others. More information about this report can be found at www.ipc.org/market-research-reports.
Interpreting the Data
The book-to-bill ratios are calculated by dividing the value of orders booked over the past three months by the value of sales billed during the same period from companies in IPC's survey sample. A ratio of more than 1.00 suggests that current demand is ahead of supply, which is a positive indicator for sales growth over the next three to six months. A ratio of less than 1.00 indicates the reverse.
Year-on-year and year-to-date growth rates provide the most meaningful view of industry growth. Month-to-month comparisons should be made with caution as they reflect seasonal effects and short-term volatility. Because bookings tend to be more volatile than shipments, changes in the book-to-bill ratios from month to month might not be significant unless a trend of more than three consecutive months is apparent. It is also important to consider changes in both bookings and shipments to understand what is driving changes in the book-to-bill ratio.
IPC's monthly PCB industry statistics are based on data provided by a representative sample of both rigid PCB and flexible circuit manufacturers selling in the USA and Canada. IPC publishes the PCB book-to-bill ratio at the end of each month. Statistics for the current month are available in the last week of the following month.
About IPC
IPC is a global industry association based in Bannockburn, Ill., dedicated to the competitive excellence and financial success of its 3,700 member companies which represent all facets of the electronics industry, including design, printed board manufacturing, electronics assembly and test. As a member-driven organization and leading source for industry standards, training, market research and public policy advocacy, IPC supports programs to meet the needs of an estimated $2 trillion global electronics industry. IPC maintains additional offices in Taos, N.M.; Washington, D.C.; Atlanta, Ga.; Stockholm, Sweden; Moscow, Russia; Bangalore and New Delhi, India; Bangkok, Thailand; and Qingdao, Shanghai, Shenzhen, Chengdu, Suzhou and Beijing, China.
Share
Suggested Items
03/23/2023 | Pete Starkey, I-Connect007
On the Wednesday of IPC APEX EXPO week, IPC President and CEO Dr. John W. Mitchell stylishly delivered his keynote address, "Fire Your Hiring Habits!" to a packed ballroom full of round tables all immaculately laid for a sit-down lunch. Announced by IPC Hall-of-Famer Joe O'Neil with a Rolling Stones track in the background, Mitchell's presentation, subtitled "Finding and keeping the best talent is fundamental to building electronics better," offered relevant and valuable guidance on understanding human nature and how this knowledge can help you find and keep the right individuals for your organisation.
03/22/2023 | John W. Mitchell, IPC
What goes down must also come up. This is not the idiom we're used to hearing, but I'd like to apply it to IPC APEX EXPO 2023. After a few years of lower attendance numbers due to the COVID pandemic, 2023 ushered in a re-invigorated group of attendees, exhibitors, speakers, event contractors, and staff to the show floor and meeting rooms. IPC APEX EXPO 2023 was fueled by the possibilities of new advances in electronics manufacturing.
03/21/2023 | Christopher Bonsell, Chemcut
This year, I had the great opportunity to come to IPC APEX EXPO in San Diego as a contributing member in Chemcut's booth. Being an exhibitor is always interesting because you never know what you will learn or who you will meet. Truly, it seems that every IPC APEX EXPO is an eye-opening experience. This was the second show I attended, and last year I was amazed to see how in-depth and interconnected the electronics industry is. Seeing how many different companies contribute to manufacturing today's core technology never fails to impress me.