Reading time ( words)
Of the several steps in the SMT process, an effective method of increasing throughput is to reduce the cycle time of the rate-controlling process step. Depending on the type of assembly and equipment set used, the process step with the longest cycle time could potentially be printing, solder paste inspection (SPI), component placement or reflow oven conveyor speed. This article will discuss two simple experiments that may lead to increased throughput and increased profitability (assuming the selling price exceeds the marginal cost of each assembly).
Print cycle time can be the bottleneck if the electronic assembly has relatively few components or if the production line used has a well equipped set of placement devices. If this is the case, there are two simple experiments that can be carried out to evaluate if a reduction in print cycle time can increase production volumes without reducing quality. Producing bad boards fast is much worse than producing good boards slowly. The first experiment is to increase the speed of the squeegee stoke. Figure 1 shows the relationship of the squeegee speed, stroke length and the time required for the solder paste to be printed.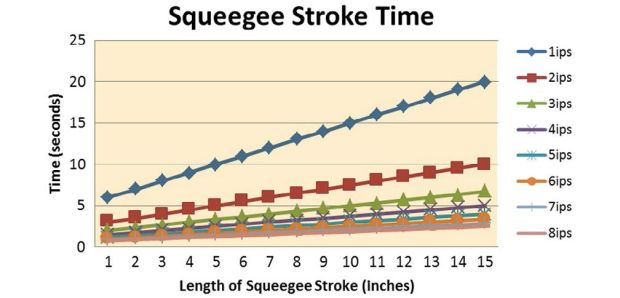 Figure 1: Stroke time versus speed (inches per second) and distance.
If a slow squeegee speed is currently being used (<2 inches/second), there is a greater opportunity for increasing throughput. When running the experiment at increasing squeegee speeds, review the CpK recorded on your SPI equipment for a gain or reduction in process capability. Some solder pastes give better print volume reproducibility at higher speeds. This results in a win-win, higher production and improved process yields.
One important thing to look for when increasing the squeegee speed is paste left on the stencil. When a higher squeegee speed is used, it is usually necessary to increase the pressure of the blade on the stencil until the residue disappears.
The second experiment to reduce print process cycle time is to examine how often you clean the bottom side of the stencil. This is commonly referred to as wipe frequency. Cleaning the stencil removes solder paste that may be building up in the apertures. It also removes any paste that may be trapped under the stencil, waiting to be transfer printed to an undesired place on the circuit card, later to be blamed as a spatter.
Editor's Note: This article originally appeared in the October 2015 issue of SMT Magazine.
Share
Print
Suggested Items
06/01/2020 | Pete Starkey, I-Connect007
iNEMI continues to publish chapters of its 2019 Roadmap and recently presented an overview of its Board Assembly Roadmap Chapter in a webinar prefaced by Grace O'Malley, vice president of global operations. The new chapter is just the latest addition to this global effort from 23 working groups contributing expert input from all aspects of the electronics industry.
05/06/2020 | Nolan Johnson, I-Connect007
Koh Young's Ray Welch and Brent Fischthal detail how engineers can work with SPI tools to verify how small they can go in component size with their solder paste application, and how the company's SPI equipment is helping not only to verify but also to help drive the development collaboration between solder paste and stencil printer manufacturers, and inspection tools and software.
04/09/2020 | Real Time with...IPC
In this video interview from the show, Pete Starkey and Tom Forsythe, executive VP of KYZEN, which celebrated its 30th anniversary, discuss the practicalities of stencil cleaning and describe the characteristics and capabilities of KYZEN's newest versatile stencil cleaning product.