Reading time ( words)
During the most recent Productronica show held in Munich, Germany, Schmoll Maschinen GmbH introduced the new Micromirror Digital Imaging System (MDI), a digital direct imaging system using Digital Micromirror Device (DMD) technology. This new technology transfers UV light images to the circuit board substrate using high resolution micromirror chips.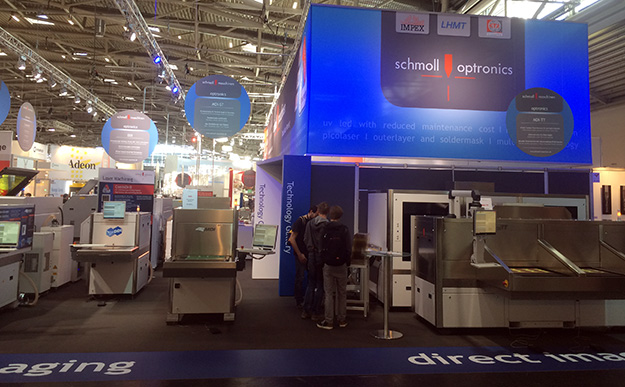 As a new technology, Schmoll brings to the industry a robust granite platform system ensuring image stability suitable for photoresist inner layer/outer layer and solder mask applications. Three systems are available including a single table system, a double table system for faster throughput and larger table surface for sizable panels. The system can be configured for one to as many as six heads for higher throughput.
The MDI-ST and the MDI-DT are assembled on a stable granite platform with a precision table based on Schmoll's extensive experience in both mechanical and laser drilling systems. The MDI Light Engine provides 2 million individually adjustable micromirrors for fine line imaging resolution. In addtion, the compact design and flexibility of these systems allow for economical use of floor space.
As the largest manufacturer of productive drilling and routing systems in the world, Schmoll Maschinen GmbH offers an economical approach with their extensive system and imaging technology to the PCB industry.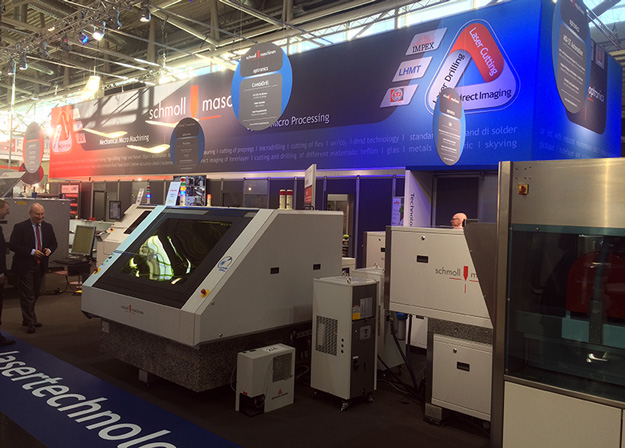 Bürkle North America has been the exclusive Schmoll distribution (parts, sales and service) partner in North America for over 10 years.
Contact Dave Howard 714-379-5090 for more information, or access www.burkleamerica.com for all up-to-date information on Schmoll product lines.
About Burkle North America - Bürkle North America, Inc. is a wholly owned division of Robert Bürkle GmbH, of Freudenstadt, Germany. Bürkle is the leading manufacturer of productive manufacturing technologies serving a variety of manufacturing industries, including surfaces / woodworking technologies, photovoltaic module lamination and coating, printed wiring board fabrication and plastic card fabrication.
Schmoll Maschinen – Schmoll Maschinen is one of the leading suppliers of machine tool and mass production solutions for electronic and micro structuring applications with more than sixty years of engineering experience. Schmoll's solution portfolio covers all performance relevant steps for mechanical and laser micro machining and is complemented by automation technology.
Share
Suggested Items
11/28/2022 | I-Connect007 Editorial Team
The more we investigate UHDI in the current market, the more advanced packaging becomes a part of the conversation. Yet there are so many questions to be answered. The I-Connect007 Editorial Team met with Calumet's Todd Brassard and Meredith LaBeau recently to get answers to these questions and find out where the UHDI market is headed.
10/25/2022 | Nolan Johnson, I-Connect007
Nolan Johnson spoke with Brian Wojtkiewicz at PCB West about Taiyo's latest developments in solder mask technology. They discussed the company's advances in flexible circuits, HDI, and much more. In particular, Brian discusses the importance of reliability in fabrication and assembly. "We're always in the fabricators' shops. I'm out in the field talking to them, helping the operators understand the process, and making things work better because then we don't have issues down the road," he says.
09/28/2022 | Dan Beaulieu, D.B. Management Group
It's always good to catch up with old friends, especially when you can start working together. I recently spoke with my friend John Johnson, who has joined American Standard Circuits as the director of business development. At ASC, John will be using the Averatek A-SAP process that he was previously involved with. He shares some of his background and provides insight on the best ways to use this semi-additive PCB fabrication process that opens the capability window for forming trace and space.