Reading time ( words)
IPC — Association Connecting Electronics Industries announced today the October findings from its monthly North American Printed Circuit Board (PCB) Statistical Program. Modest sales growth continued in October and the book-to-bill ratio retreated to 1.02.
Total North American PCB shipments increased 1.4 percent in October 2015 compared to October 2014. Year-to-date shipment growth continued positive at 0.4 percent. Compared to the previous month, PCB shipments were down 6.9 percent.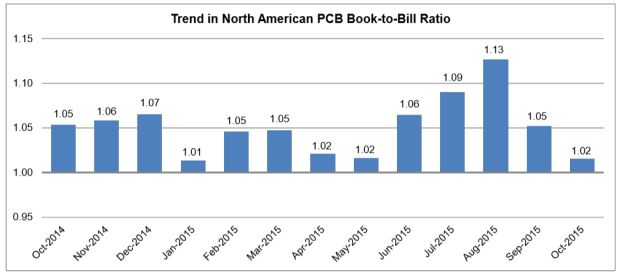 PCB bookings declined sharply to -20.5 percent compared to October 2014, reducing year-to-date order growth to 2.1 percent. Orders were down 6.0 percent in October compared to the previous month.
"Modest sales growth continued in October for the North American PCB industry, thanks to strong order growth earlier in the year," said Sharon Starr, IPC's director of market research. "A sharp decline in orders pulled down the book-to-bill ratio in October, although it remains in positive territory," she added. "Thirteen consecutive months of positive book-to-bill ratios indicates positive sales growth in the fourth quarter of this year, provided orders bounce back."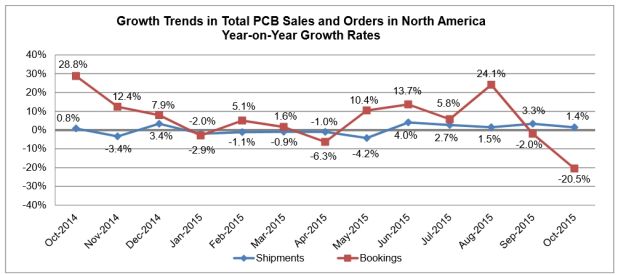 Share
Print
Suggested Items
10/26/2020 | Pete Starkey, I-Connect007
Designers attending the AltiumLive Europe 2020 Virtual Summit had the opportunity to see at first-hand how circuit boards were made to help them make informed design-for-manufacturing decisions. Pete Starkey details how Würth Electronik welcomed AltiumLive to its Niedernhall factory to take a virtual tour.
10/16/2020 | Nolan Johnson, I-Connect007
Trade shows and technical conferences haven't died; they've just moved online. The trade show season continues in virtual full force this week, and event coverage dominates the top five this week. Surprisingly, I don't see events as this week's theme. No, this week's theme is "pundits." We have Walt Custer's industry outlook, seven experts on additive electronics, a designers conference keynote, and the IPC's government relations expert. Don't get me wrong: These folks are asked to speak to the industry for a good reason. They know their subject matter, and they present it skillfully. This week's top five picks are worth reading.
10/05/2020 | I-Connect007 Editorial Team
We asked for you to send in your questions for IPC President and CEO John Mitchell, and you took us up on it! We know you all enjoyed reading these questions and answers, so we've compiled all of them into one article for easy reference. We hope you enjoy having another bite at the apple. And if you'd like to hear more from John Mitchell, view his column series "One World, One Industry."