Reading time ( words)
IPC — Association Connecting Electronics Industries announced today the October findings from its monthly North American Printed Circuit Board (PCB) Statistical Program. Modest sales growth continued in October and the book-to-bill ratio retreated to 1.02.
Total North American PCB shipments increased 1.4 percent in October 2015 compared to October 2014. Year-to-date shipment growth continued positive at 0.4 percent. Compared to the previous month, PCB shipments were down 6.9 percent.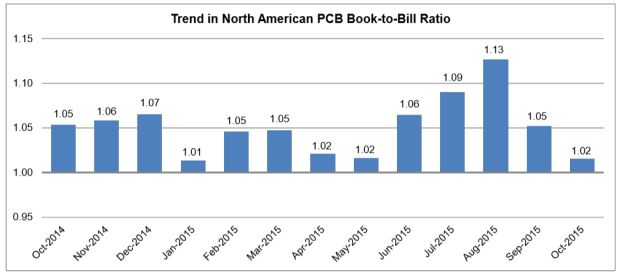 PCB bookings declined sharply to -20.5 percent compared to October 2014, reducing year-to-date order growth to 2.1 percent. Orders were down 6.0 percent in October compared to the previous month.
"Modest sales growth continued in October for the North American PCB industry, thanks to strong order growth earlier in the year," said Sharon Starr, IPC's director of market research. "A sharp decline in orders pulled down the book-to-bill ratio in October, although it remains in positive territory," she added. "Thirteen consecutive months of positive book-to-bill ratios indicates positive sales growth in the fourth quarter of this year, provided orders bounce back."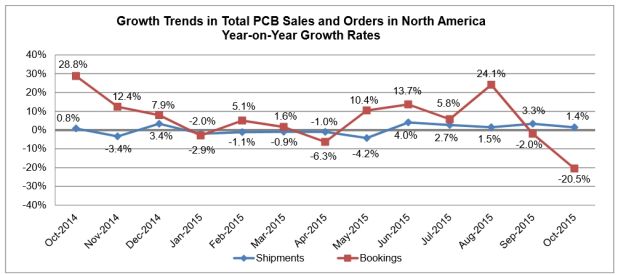 Share
Print
Suggested Items
03/27/2020 | Nolan Johnson, I-Connect007
In this audio interview, Nolan Johnson gets an update from Dan Beaulieu, a 40+ year veteran of the electronics manufacturing industry and an industry consultant for 25+ years. Dan shares an update on current business operations for D.B. Management, including how—like his clients—he may be at home, but it's still business as usual. Dan also offers his perspective on how our industry will weather and emerge from this challenging time.
03/30/2020 | Nolan Johnson, PCB007
Todd Kolmodin, VP of quality for Gardien Services USA, updates Nolan Johnson on Gardien's operations. Specifics include Gardien's certification as an essential business for U.S. Department of Defense work and an overview of the work and staffing policies in place at all of the company's facilities across the United States and the various work restrictions—all with the goal of "keeping the wheels turning" in the industry.
03/17/2020 | Dan Feinberg, Technology Editor, I-Connect007
With the cancellation of this year's E3 show, the biggest gamer conference, the event's format is shifting to a more fluid, online communication method. This may be the wave of the future. Can you imagine if the COVID-19 outbreak had occurred just three months earlier? Would there have been a Consumer Electronics Show, DesignCon, or IPC APEX EXPO? If the coronavirus is still in play in six months, will these shows take place in 2021?