Reading time ( words)
Barry Matties talks with Daniel Chan, executive director of the HKPCA, about the organization's expanded global outreach. They discuss what attendees can expect from this South China trade show that has become one of the biggest and most important shows in the PCB industry.
Barry Matties: Daniel, we were talking about the HKPCA show and how this year might be one of the biggest ever. Tell me a little bit about why that is.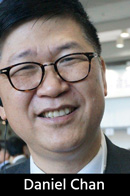 Daniel Chan: I think very simply because we are located in the Southern China region, which is also one of the biggest PCB markets for Japan. What's very interesting today is the way the region is not just popular for PCBs, but also for R&D. There is a lot of innovation and new technologies, particular in telecom, taking place in this region. That makes it very good from an infrastructure standpoint, material standpoint, and also a machine standpoint—it's all here. That's why we are also creating a global coalition. The people like it and it's become the biggest commercial PCB show ever.
I really believe that the show must always create value for the people. The value is most important to them and they trust us that the show will provide that. This is a very important element in making it so successful.
Matties: That, and also the fact that you joined up with IPC ; I think that was a big boost for the show, too.
Chan: Definitely. I think the IPC gives us a lot of opportunity to see things from a global view. It makes the show more global and people know this is where they can get the best in the world, not just in China, to make them successful.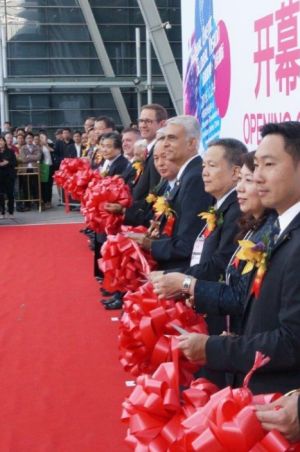 Matties: When someone comes to this show, what should their expectations be?
Chan: As I mentioned, it's a global coalition. They should come here to look at the machinery, the supply market, and to talk with people from around the world to find out what's happening globally in 2015 and then 2016 and beyond. We hope the show will help them plan for 2016 and beyond in terms of their marketing plans, investment plans, and also technological events.
Matties: There's a lot of talk about the bad economy in China. How has that impacted the show this year?
Chan: I think, as I shared to some of the people around here, that the economy coming down may not be such a bad thing because it lets the people think about what should be moving forward. When they think about what should be moving forward, coming to a show like this is very important to look for new opportunities and get information on what to plan for, and that's why this is an important platform. Particularly when the economy down a little bit, or maybe down a lot, this is a good way to build off that and move forward to a new level.
Share
Suggested Items
03/29/2023 | Pete Starkey, I-Connect007
At a recent industry conference, technical editor Pete Starkey caught some time with Ventec's Mark Goodwin and Didier Mauve. In this conversation, Mark and Didier discuss Ventec's work to curate their product offerings into functional categories based on function and target application. The pair also share their thinking on markets which they see as driving material development work. When material performance becomes an integral part of the PCB's performance specifications, the traditional way of categorizing materials may not do the job.
03/29/2023 | Andy Shaughnessy, Design007 Magazine
Andy Shaughnessy talks with John Andresakis about how the merger of resistive foil technologies from Ohmega and Ticer has evolved under the new ownership of Quantic. Andresakis also shares how these materials are finding new applications, especially in the embedded component application space, as the company reaches out to the new generation of PCB designers and design engineers.
03/21/2023 | Christopher Bonsell, Chemcut
This year, I had the great opportunity to come to IPC APEX EXPO in San Diego as a contributing member in Chemcut's booth. Being an exhibitor is always interesting because you never know what you will learn or who you will meet. Truly, it seems that every IPC APEX EXPO is an eye-opening experience. This was the second show I attended, and last year I was amazed to see how in-depth and interconnected the electronics industry is. Seeing how many different companies contribute to manufacturing today's core technology never fails to impress me.