Reading time ( words)
Barry Matties talks with Daniel Chan, executive director of the HKPCA, about the organization's expanded global outreach. They discuss what attendees can expect from this South China trade show that has become one of the biggest and most important shows in the PCB industry.
Barry Matties: Daniel, we were talking about the HKPCA show and how this year might be one of the biggest ever. Tell me a little bit about why that is.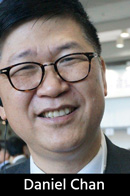 Daniel Chan: I think very simply because we are located in the Southern China region, which is also one of the biggest PCB markets for Japan. What's very interesting today is the way the region is not just popular for PCBs, but also for R&D. There is a lot of innovation and new technologies, particular in telecom, taking place in this region. That makes it very good from an infrastructure standpoint, material standpoint, and also a machine standpoint—it's all here. That's why we are also creating a global coalition. The people like it and it's become the biggest commercial PCB show ever.
I really believe that the show must always create value for the people. The value is most important to them and they trust us that the show will provide that. This is a very important element in making it so successful.
Matties: That, and also the fact that you joined up with IPC ; I think that was a big boost for the show, too.
Chan: Definitely. I think the IPC gives us a lot of opportunity to see things from a global view. It makes the show more global and people know this is where they can get the best in the world, not just in China, to make them successful.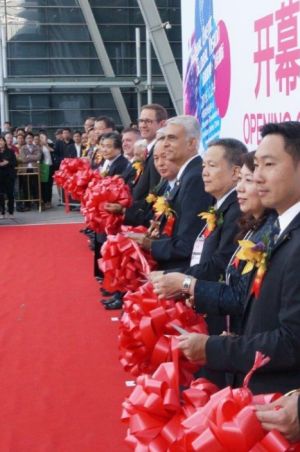 Matties: When someone comes to this show, what should their expectations be?
Chan: As I mentioned, it's a global coalition. They should come here to look at the machinery, the supply market, and to talk with people from around the world to find out what's happening globally in 2015 and then 2016 and beyond. We hope the show will help them plan for 2016 and beyond in terms of their marketing plans, investment plans, and also technological events.
Matties: There's a lot of talk about the bad economy in China. How has that impacted the show this year?
Chan: I think, as I shared to some of the people around here, that the economy coming down may not be such a bad thing because it lets the people think about what should be moving forward. When they think about what should be moving forward, coming to a show like this is very important to look for new opportunities and get information on what to plan for, and that's why this is an important platform. Particularly when the economy down a little bit, or maybe down a lot, this is a good way to build off that and move forward to a new level.
Share
Print
Suggested Items
04/11/2021 | Patty Goldman, I-Connect007
Gosh, I sure missed the live event! I listened in on several technical sessions, the awards ceremony, the keynotes, and the Hall of Fame management session. I tried a couple of professional development courses but got the frownie face on my screen and didn't go back in. I have almost 90 days(!) to browse them to my heart's content, so what the heck. There were good points and a few not so good things about this first ever virtual conference. You probably experienced some yourself.
04/09/2021 | Andy Shaughnessy, I-Connect007
In this week's roundup, we have news about a new DFM environment from Siemens EDA, a 2D field solver from Avishtech, and a milestone for the IPC-CFX-2591 QPL. We also have a great article by Calumet's Audra Thurston, who points out the many advantages of a virtual trade show. And in his latest column, Denny Fritz explains why the DoD is now thinking like many U.S. OEMs—worrying about single-source components, for instance—but the stakes are much higher.
04/08/2021 | Matt Kelly, IPC
I thought the three keynotes given by IPC President and CEO John Mitchell, Industry Week Editor-in-Chief Travis Hessman, and IPC Chief Economist Shawn DuBravac, were spot on. They all spoke to the fact that the way products are conceived, designed, manufactured, and used is changing rapidly. While the keynotes had different focus areas, I noted an important similarity—they all underscored the need for increased industry collaboration to help bring the factory and supply chain of the future to life.