Reading time ( words)
Barry Matties talks with Daniel Chan, executive director of the HKPCA, about the organization's expanded global outreach. They discuss what attendees can expect from this South China trade show that has become one of the biggest and most important shows in the PCB industry.
Barry Matties: Daniel, we were talking about the HKPCA show and how this year might be one of the biggest ever. Tell me a little bit about why that is.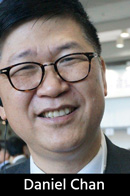 Daniel Chan: I think very simply because we are located in the Southern China region, which is also one of the biggest PCB markets for Japan. What's very interesting today is the way the region is not just popular for PCBs, but also for R&D. There is a lot of innovation and new technologies, particular in telecom, taking place in this region. That makes it very good from an infrastructure standpoint, material standpoint, and also a machine standpoint—it's all here. That's why we are also creating a global coalition. The people like it and it's become the biggest commercial PCB show ever.
I really believe that the show must always create value for the people. The value is most important to them and they trust us that the show will provide that. This is a very important element in making it so successful.
Matties: That, and also the fact that you joined up with IPC ; I think that was a big boost for the show, too.
Chan: Definitely. I think the IPC gives us a lot of opportunity to see things from a global view. It makes the show more global and people know this is where they can get the best in the world, not just in China, to make them successful.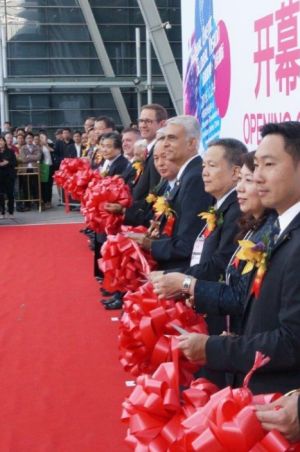 Matties: When someone comes to this show, what should their expectations be?
Chan: As I mentioned, it's a global coalition. They should come here to look at the machinery, the supply market, and to talk with people from around the world to find out what's happening globally in 2015 and then 2016 and beyond. We hope the show will help them plan for 2016 and beyond in terms of their marketing plans, investment plans, and also technological events.
Matties: There's a lot of talk about the bad economy in China. How has that impacted the show this year?
Chan: I think, as I shared to some of the people around here, that the economy coming down may not be such a bad thing because it lets the people think about what should be moving forward. When they think about what should be moving forward, coming to a show like this is very important to look for new opportunities and get information on what to plan for, and that's why this is an important platform. Particularly when the economy down a little bit, or maybe down a lot, this is a good way to build off that and move forward to a new level.
Share
Print
Suggested Items
01/24/2020 | Nolan Johnson, PCB007
IPC's Randy Cherry previews what to expect from IPC APEX EXPO 2020, including a full line on display demonstrating CFX/Hermes, further development of the Validation Services program, as well as testimonials from member companies that have been participating in IPC's new trusted supplier program to the Department of Defense (DoD).
01/23/2020 | Brook Sandy-Smith, IPC
IPC's Brook Sandy-Smith brings us a preview of the Technical Conference at IPC APEX EXPO 2020. In addition to the Sessions @ the Intersection and the Technical Conference, the Fundamentals Program is new at IPC APEX EXPO 2020. The program provides curated content for industry newcomers and anyone interested in a broader view through the many facets of electronics manufacturing. Attendees will learn important concepts, terminology, and background as preparation for the detailed content on new studies and technologies presented at the technical conference.
01/22/2020 | IPC
In this short video, Brook Sandy-Smith, IPC's technical conference program manager, explains how "the lntersection" will be a new meeting place In between this year's IPC APEX EXPO show floor and the technical conference available to attendees and the free sessions that are open to any registration type.