Reading time ( words)
At SMTAI recently, I sat down for a roundtable discussion with some key players from the materials side of the supply chain. Participants included two executives from Ventec: Mark Goodwin, COO USA and Europe for Ventec International Group, responsible for all non-agent activity and the supply, distribution and service centers in the U.S. and Europe; and Jack Pattie, president of Ventec USA and as such, manager of North American operations for the distribution of laminate and pre-preg. Also participating in the roundtable were Schoeller Electronics CEO Michael Keuthen, head of the Germany-based company that has been producing PCBs for more than 50 years and specializes in rigid-flex and flex activities, and Bob Willis, from the National Physics Laboratory (NPL), known worldwide for measuring standards. In a wide-ranging chat, we discussed the demands and challenges of the materials supply chain and where they see their industry going in the future.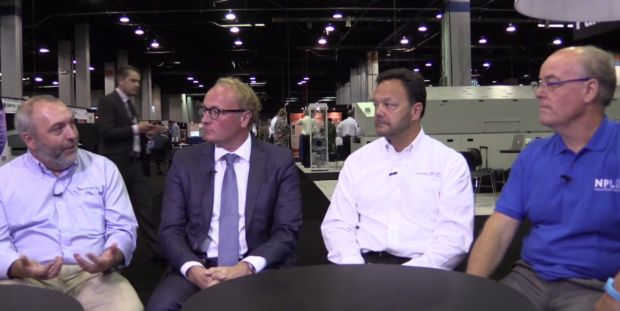 Share
Print
Suggested Items
01/21/2020 | Barry Matties, I-Connect007
Recently, Barry Matties had the chance to visit Ventec International Group's German facility in Kirchheimbolanden (KIBO), where he met Frank Lorentz, Ventec's general manager for the location. Logistics are clearly Frank's passion. He lives and breathes it. If you spend any amount of time with him, that is abundantly clear. This interview with Frank was conducted after a tour of the KIBO site.
12/16/2019 | Pete Starkey, I-Connect007
Since 2016, the Institute of Circuit Technology (ICT) has held its northern area Christmas seminar at the Majestic Hotel in Harrogate—the elegant and historic English spa town in North Yorkshire. Pete Starkey provides an overview of this popular ICT event.
11/11/2019 | Victor Lazaro Gallego, Chemplate Materials
A revolutionary concept in multilayer press technology has been developed that uses electromagnetic energy to heat the existing stainless-steel separator plates with a never-before dreamed-of accuracy and precision. The heating and cooling systems—embedded within a robust hydraulic press inside a vacuum chamber design—are controlled using a temperature feedback loop that guarantees perfect fidelity between the press recipe and the press result.