Reading time ( words)
At DesignCon, I sat down with three flex circuit specialists: Glenn Oliver of DuPont, Tom McCarthy of Taconic, and Steve Kelly of PFC Flexible Circuits. Our discussion covered a lot of territory, most notably the findings they described in the paper they were about to present later that day at DesignCon, and the future of flex, as they see it.
Barry Matties: Please start by telling me a little bit about your paper.
Glenn Oliver: One thing that is not well known is that flexible circuit technology can be applied to high-speed and high-frequency data transmission. DuPont, as well as Taconic and PFC, collaborated in this effort, because there's really no one solution provider who can provide the entire spectrum of what's needed.
For instance, one of the products that we make at DuPont is Pyralux® copper clad laminate. This product has a very good, long-standing reputation in the flex circuit world. What we found, though, is that we didn't really have a low-loss adhesive that was really tailored for high-frequency applications. Taconic actually has that piece of the puzzle and I'll let Tom talk about that.
The other thing is that fabricators are an incredibly important piece to it, and one of the fabricators leading the way is Steve Kelly at PFC, who really has a lot of understanding and expertise in the area of high frequency flex. This is actually low-frequency for Steve, because he works a lot in the optical business. It's really in his wheelhouse and so it's a natural collaboration, but I'm going to defer to Tom to tell us a little bit about the adhesive technology and how that enables what we're doing.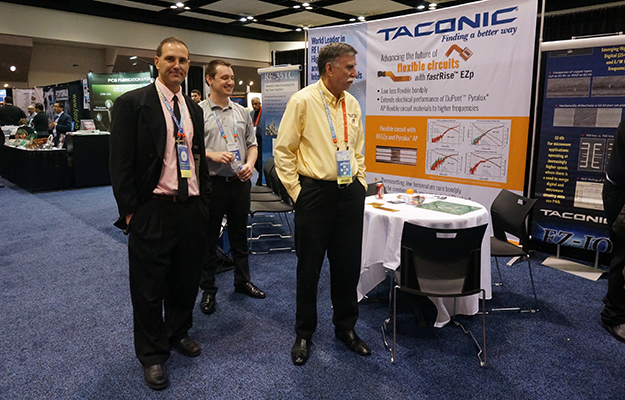 Tom McCarthy: Taconic specializes in RF and microwave frequencies. We sell products out to 77 GHz, so most of our core competency historically has been rigid boards or multilayers or microstrip, double-sided boards. In 2008, we developed a product called FastRise™, which is a non-reinforced pre-preg. This was developed for the rigid marketplace, but it looks a lot like DuPont's offerings in the flex market space, in the sense that it's based on film technology. At some point we decided to try to make a flexible version of our FastRise™ prepreg that could be used in the flex industry. Again, it looks a lot like the approaches that DuPont takes with thermoplastic films in the flexible marketplace.
The frequencies have been going up incredibly in the rigid marketplace. The frequency has been going from 28 Gbps to 56 Gbps in the digital world, but in the automotive world, collision avoidance radar is 77 GHz, so we're used to tackling these kinds of frequencies. Now it's just been more taking a closer look at what the flex world needs, because the same demands for higher speeds are taking place in the flex world. So it puts a lot of pressure on all the material vendors and the fabricators to create structures that can meet higher frequencies.
Matties: Steve, as a fabricator, what are the challenges that you're faced with?
Steve Kelly: Primarily, we've been working in the high-speed market since around 2000 and at that time we started working with various companies to build 10 GHz circuits. That was pretty standard technology back then. DuPont had the materials, other people had the materials, but DuPont had the best stuff. We made that for quite a while and then in the last two to three years people started to move into primarily 18 GHz up to 50 GHz. These are test equipment manufacturers and what I call the optical companies—people who are making the network systems for 4G−5G and so on. We started to look into these new materials. DuPont came up with a material called TK three or four years ago. We started to build with that. We are happy with that, but then eventually you go from "Now I want a multilayer" to "Then I want a rigid-flex," and then you've got to start bonding it all together. We needed the Taconic bondplys and DuPont TK, or AP material and some kind of cover-lay to put it all together. We've been working back and forth now for, what, two years, Tom?
McCarthy: Yes, a couple of years.
Kelly: He's made a couple of different products, and the new stuff seems to be working pretty well. It's not the easiest stuff in the world to work with, but as life goes on you get better and better at it. It's not normal fabrication.
Oliver: The ultimate would be encapsulating your circuit in Teflon®, like in a high frequency cable. But the things that make Teflon® great from a signal integrity standpoint also make it really challenging from a processing standpoint. A huge advantage of Teflon® is that it is inert to most chemistry. That's great, but how do you remove Teflon® from where you don't want it after lamination? The real enabling part and why this collaboration is so noteworthy is that DuPont obviously has the expertise with Kapton® and Teflon®, but Taconic has a missing piece of the puzzle in that they have a really good low-loss adhesive. This adhesive doesn't require the high temperature processing that's required for fusion-bonded Teflon® fabrication. It's not the "magic bullet" for every circuit design, but it's a great solution when you need high-frequency and you need the flexibility for a printed circuit.
Matties: Where is the limit before it just becomes an optical solution?
Share
Print
Suggested Items
11/22/2019 | I-Connect007 Editorial Team
The annual HKPCA Show, which has been renamed the 2019 International Electronics Circuit Exhibition (Shenzhen), will be held from December 4–6 at the Shenzhen Convention and Exhibition Center. This year's exhibition will be jointly organized by the Hong Kong Printed Circuit Association (HKPCA) and the China Printed Circuit Association (CPCA) and will provide a more efficient business platform for all visitors. The PCB007 China Team interviewed a representative from the HKPCA about the exhibition, the industry's current situation, and future developments.
10/23/2019 | I-Connect007
Imran Valiani has been in the industry and with Rush PCB for over five years as an account manager. During that time, he has developed a keen and unique understanding of the importance of time to market. Imran has worked with a number of key customers, helping them develop systems and programs to ensure that most productive and fastest time to market possible.
09/04/2019 | Barry Matties, I-Connect007
Mike Wood, technical director with Cerambus Asia Pacific, discusses the acid copper product from Cerambus Technology Inc. that doesn't generate sludge during the plating process and operates at higher production output by using higher current density. He talks about why this is important for the state of the vertical continuous plating (VCP) market in Asia, and the trends he's seeing in that space.