Reading time ( words)
IPC — Association Connecting Electronics Industries announced today the January 2016 findings from its monthly North American Printed Circuit Board (PCB) Statistical Program. Sales and orders slumped in January, but orders continued to outpace sales, bringing the book-to-bill ratio up to 1.04.
Total North American PCB shipments declined 1.6 percent in January 2016 compared to January 2015. Compared to December 2015, January 2015 shipments were down 19.2 percent.
PCB bookings fell 3.4 percent below the level of January 2015. Orders in January 2016 were down 14.3 percent from the previous month.
"Historically, January is a slow month for the PCB industry," said Sharon Starr, IPC's director of market research. "Although sales and orders in January were slightly below last year's levels, orders continued to outpace sales, which brought the book-to-bill ratio back into positive territory. The ratio's brief decline into negative territory near the end of last year is consistent with the current weak start to the new year," she added, "but the return to positive ratios indicates the likelihood that slow growth will resume in 2016."
Detailed Data Available
The next edition of IPC's North American PCB Market Report, containing detailed January data from IPC's PCB Statistical Program, will be available the first week in March. The monthly report presents detailed findings on rigid PCB and flexible circuit sales and orders, including separate rigid and flex book-to-bill ratios, military and medical market growth, demand for prototypes, and other timely data. This report is available free to current participants in IPC's PCB Statistical Program and by subscription to others. More information about this report can be found here.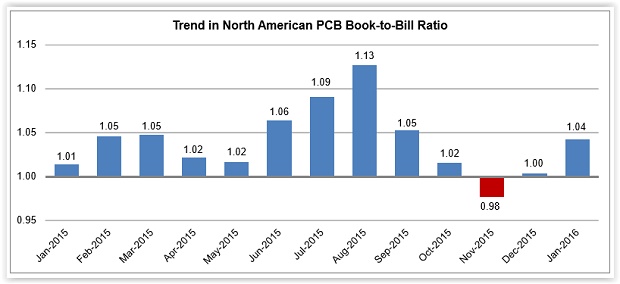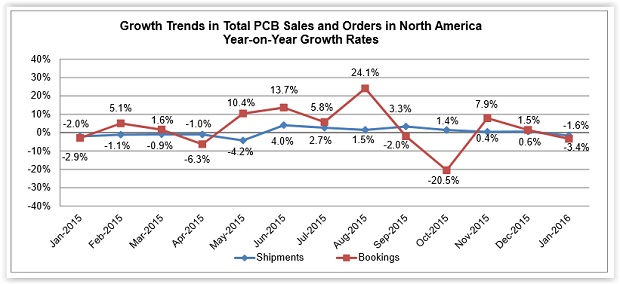 Share
Print
Suggested Items
08/14/2019 | I-Connect007
Chris Mitchell is vice president for global government affairs at IPC—Association Connecting Electronics Industries—where he is responsible for development and implementation of the organization's global advocacy efforts and public policy agenda with a focus on electronics industry business improvement, environment, health and safety, and defense initiatives.
07/24/2019 | Chris Mitchell, IPC VP, Global Government Relations
More than five months remain in 2019, but U.S. congressional leaders are already running out of time as they face a long list of must-pass bills before year's end. Although some of these bills do not affect the electronics industry, some of them do, and the overall agenda does affect the opportunities and risks we face.
06/21/2019 | Gen3
In this interview, Emma Hudson, CTO of Gen3, and Gayle Paterson, founder of Female Leaders in Tech, Everywhere (FLITE), discuss careers and the electronics industry.