Reading time ( words)
IPC — Association Connecting Electronics Industries announced today the January 2016 findings from its monthly North American Printed Circuit Board (PCB) Statistical Program. Sales and orders slumped in January, but orders continued to outpace sales, bringing the book-to-bill ratio up to 1.04.
Total North American PCB shipments declined 1.6 percent in January 2016 compared to January 2015. Compared to December 2015, January 2015 shipments were down 19.2 percent.
PCB bookings fell 3.4 percent below the level of January 2015. Orders in January 2016 were down 14.3 percent from the previous month.
"Historically, January is a slow month for the PCB industry," said Sharon Starr, IPC's director of market research. "Although sales and orders in January were slightly below last year's levels, orders continued to outpace sales, which brought the book-to-bill ratio back into positive territory. The ratio's brief decline into negative territory near the end of last year is consistent with the current weak start to the new year," she added, "but the return to positive ratios indicates the likelihood that slow growth will resume in 2016."
Detailed Data Available
The next edition of IPC's North American PCB Market Report, containing detailed January data from IPC's PCB Statistical Program, will be available the first week in March. The monthly report presents detailed findings on rigid PCB and flexible circuit sales and orders, including separate rigid and flex book-to-bill ratios, military and medical market growth, demand for prototypes, and other timely data. This report is available free to current participants in IPC's PCB Statistical Program and by subscription to others. More information about this report can be found here.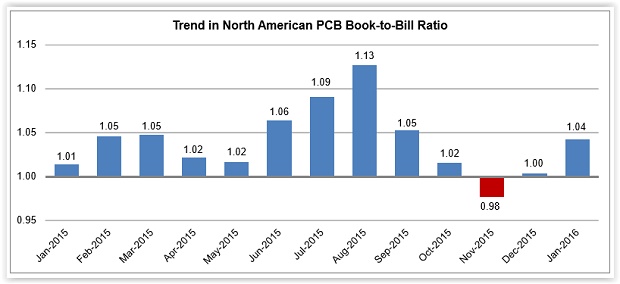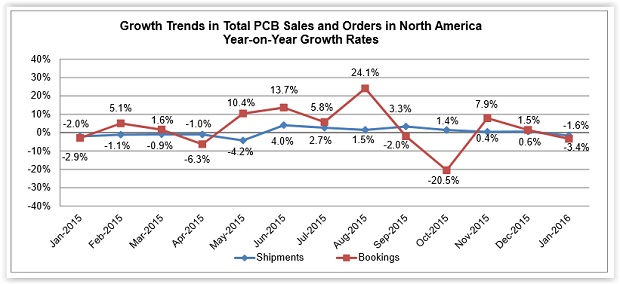 Share
Print
Suggested Items
12/11/2019 | Wang Longji, CPCA
Wang Longji is the honorary secretary-general of the China Printed Circuit Association. He is a senior engineer and an industry leader and used to be the production manager of the first imported PCB manufacturing line in China. Mr. Wang is also a well-known child actor and a "national treasure;" one of his most famous characters was San Mao in "The Winter of Three Hairs."
12/09/2019 | Nolan Johnson, PCB007
Nolan Johnson sits down with Zach Peterson, owner of Northwest Engineering Solutions, who predicts two things that would challenge the current status quo for the PCB manufacturing industry: true 3D printing and additive, including discretes as well as the substrates and traces, and a completely different approach with photonics.
11/25/2019 | Andy Shaughnessy, I-Connect007
I recently spoke with Kirsten Smit-Westenberg, executive director of EIPC, who is planning the EIPC winter conference set for February 2020 in Rotterdam, Netherlands. Kirsten discusses the conference topics, which are based around the needs of the next-generation electronic devices, and changes in fabrication solutions for PCBs, PCBAs, materials, and technologies.