Reading time ( words)
IPC APEX EXPO 2016 has come and gone, and this year, Walt Custer's annual presentation forecasting the upcoming year for the industry was much anticipated, as always. I met up with Walt at the show to learn about his presentation and dig deeper into his findings.
Barry Matties: Walt, we are here at IPC APEX EXPO 2016 and you've just given another talk about what we can expect in the upcoming year. Why don't you start by sharing a little about what you discussed?
Walt Custer: Sure. As most people know, we follow the entire global electronics supply chain. We try to track the economy, electronic equipment demand, the active and passive components, EMS and ODM companies, materials and process equipment. Starting 2016 the U.S. economy is in a very modest growth mode. Europe is the same way.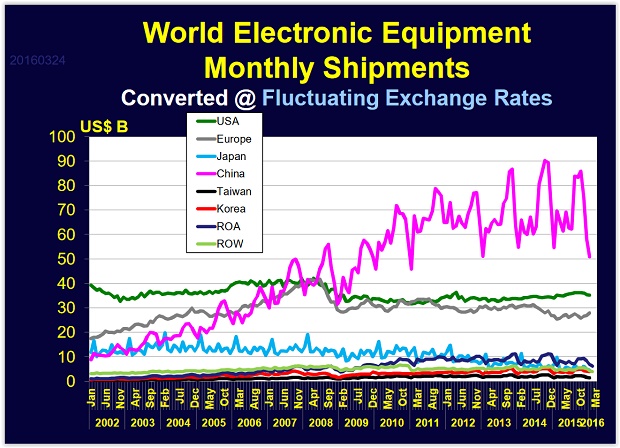 Asia, especially China, S. Korea, Taiwan, and now Japan, are flat or shrinking. These Asian countries are large producers of electronic goods, so their downturn has greatly impacted the whole industry.
Looking forward we use leading indicators to predict what's going to happen and these indicators say that, globally, we're at zero growth right now, with North America and Europe expanding a little bit and much of Asia contracting.
Leading indicators predict business conditions two months to six months in advance and they currently suggest that early to mid-2016 will not be very robust. Hopefully demand will accelerate in the second half of this year but that is not clear right now. We monitor the leading indicators every month to see likely changes in business conditions.
Matties: I think you and I spoke last in Germany at productronica, and at that time you said that this was most likely the trend that was going to happen. It looks like it's really coming to fruition.
Custer: I don't believe we've been too far off. The leading indicators are always going to be a three- to six-month guide, and so I always look at those.
Another key factor is currency exchange rates. The U.S. dollar is currently very strong versus other currencies, which means that our exports are more expensive and imports are cheaper. But of equal importance are exchange rates and their impact on global growth rate calculations. When weaker non-dollar currencies are consolidated to stronger U.S. dollars, effectively the dollar totals are effectively weaker. This exchange rate loss impact has been substantial lately for multinational companies that report their financial results in dollars. Last year this impact was negative, about -5%.
For the first quarter 2016 vs. 2015 this exchange rate impact may have degraded dollar growth rates by as much as 8%.
In addition to exchange rate effects, overall demand has weakened, especially in China. Normal post-Christmas holiday slowing of consumer good demand is one factor. In addition there was the Chinese New Year shutdown in February coupled with Apple cutting back orders for iPhones. So the first quarter in Southeast Asia started slowly, especially for high-volume consumer electronics.
Turning to the U.S. market, the major electronic equipment sectors are instruments & control, medical, defense and aerospace. Domestically we are not very dependent upon computers or cellphones. Because of the U.S. product mix, we're in better shape than places like China where volume market growth really weakened.
I think, as you look at the global end markets right now, there's no big driver. Last year smartphone growth was very robust and before that it was media tablets and PCs. This year, smartphone growth has slowed, media tablets have gone flat and PC growth is negative.
We're waiting for the next big market driver.
Automotive is still key with electronic content constantly rising and self-driving cars on the horizon. Other "next volume market" prospects include wearables, robots, virtual reality and the Internet of Things. You can make a list of them. They are emerging… but are still in their infancy.
Share
Print
Suggested Items
06/11/2020 | Pete Starkey, I-Connect007
In normal circumstances, it would have been the time of year for the EIPC Summer Conference, and Walt Custer would have opened the proceedings with his business outlook for the global electronics industry. However, circumstances were far from normal. Pete Starkey discusses some of the takeaways from Custer's global business outlook webinar, organized by EIPC.
04/22/2020 | Pete Starkey, I-Connect007
Against a background of COVID-19 uncertainty and unprecedented challenges, but recognizing the vital importance of continuing to educate engineers and share the knowledge and skills required to manufacture boards and assemblies of the highest yields and reliability, the IPC Europe team hosted a technical webinar for the European electronics industry, featuring the expertise of two of I-Connect007's regular columnists: Mike Carano and Jan Pedersen. Pete Starkey provides an overview.
03/16/2020 | Patty Goldman, I-Connect007
Patty Goldman speaks with Dr. Bhanu Sood of NASA, Dieter Bergman IPC Fellowship Award recipient, about his extensive involvement with IPC on many committees developing standards to his work teaching professional development courses and mentoring young engineers.