Reading time ( words)
I-Connect007 recently conducted a survey on the military/defense and aerospace markets. Respondents were asked about the greatest challenges when it comes to PCB design, fabrication, and assembly; their customers' demands; whether lead-free components are still an issue; and compliance challenges.
Overall, the biggest issues include reliability, outdated drawing/specifications, component obsolescence, complicated paperwork and documentation, counterfeit components, quality, and compliance to standards.
On lead-free components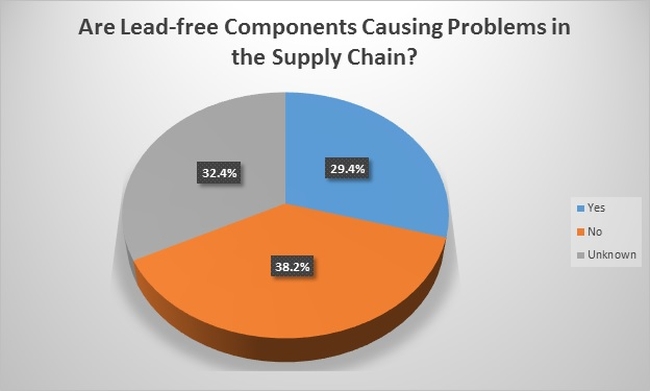 Source: I-Connect007
One of the issues encountered in the high-reliability electronics sector when the industry moved to adhere to the Restriction of Hazardous Substance (RoHS) directive is the use of lead-free components in manufacturing. Using lead-free solder, for one, has put a squeeze on military and aerospace systems designers because of the problem of tin whiskers.
However, that was ages ago, and the industry has moved to adapt lead-free alternatives and solutions. In fact, according to our survey, most companies no longer have any issues on lead-free components. They said that right now, the supply chain consists of lead-free components, so companies have figured out what to do to work with them. However, the only problem is cost, as they are more expensive.
Some issues, on the other hand, include controlling phosphate levels in lead plating; reflow temperature compatibility, and still for others, connection reliability.
On ITAR compliance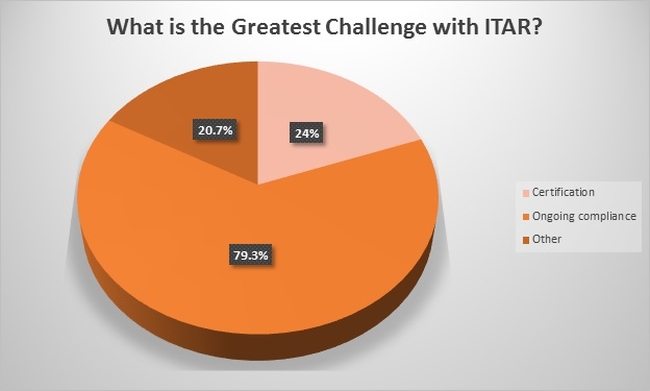 Source: I-Connect007
The International Traffic in Arms Regulations (ITAR) is a set of United States Government regulations on the export and import of defense-related articles, related technical data and defense services. EMS providers creating electronics subassemblies for military/defense applications are required to register with the Directorate of Defense Trade Controls (DDTC) in order to be ITAR compliant.
In our survey, the majority of respondents say ongoing compliance is the biggest issue when it comes to ITAR, especially when their companies are global enterprises with many businesses outside of the United States.
According to the respondents, the classifications are not based on an understanding of the technology; rather they are political, and as such subject to intense lobbying efforts—and that they are changing frequently, which leaves companies scrambling to re-classify parts of their designs on the fly.
Share
Print
Suggested Items
08/14/2019 | Ken Schramko, IPC Senior Director, North American Government Relations
When major news occurs in the U.S. Congress, you usually hear the names of top congressional leaders such as House Speaker Nancy Pelosi (D-CA) or Senate Majority Leader Mitch McConnell (R-KY).
07/16/2019 | Adam Murling, Miloš Lazić, and Don Wood, Indium Corporation; and Martin Anselm, Rochester Institute of Technology
Since 2006 and the implementation of the RoHS directive, the interest in bismuth-tin solder alloys—whose melting point around 140°C is very desirable because it allows for the use of lower temperature laminate materials and reduces thermal stress on sensitive components—has only increased as the industry has searched for Pb-free alternatives to the chosen standard, SAC305, which melts at considerably higher temperatures than the incumbent tin-lead alloys.
07/09/2019 | Michael Gouldsmith and Zen Lee, Thermaltronics
The definition of failure is "the lack of success in doing or achieving something, especially in relation to a particular activity." If the activity is concerning a soldering process, such a failure can have a downstream impact far beyond the actual solder joint. In this regard, it is first necessary to understand what constitutes a good solder joint because appearance is too often deemed a success.