Reading time ( words)
IPC announced the May 2022 findings from its North American Electronics Manufacturing Services (EMS) Statistical Program. The book-to-bill ratio stands at 1.35.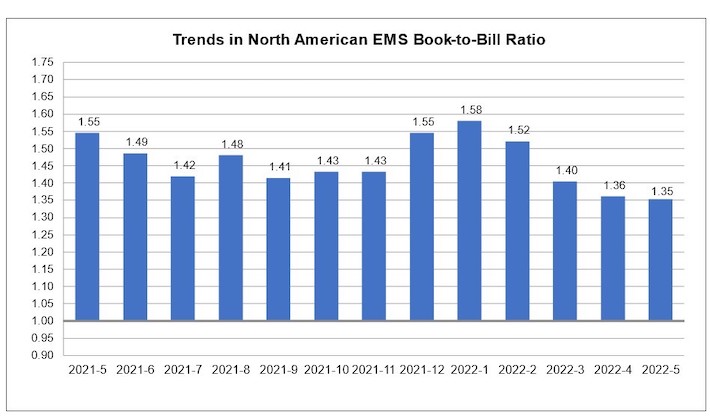 Total North American EMS shipments in May 2022 were up 9.4 percent compared to the same month last year. Compared to the preceding month, May shipments rose 0.6 percent.
EMS bookings in May increased 7.0 percent year-over-year and decreased 6.8 percent from the previous month.
"Recent results for the EMS industry continue to suggest strained supply chains. Orders have grown 11.2 percent, outpacing shipment growth of 7 percent," said Shawn DuBravac, IPC's chief economist. "The book-to-bill has moderated from last year's highs but remains elevated as businesses continue to work on key components."
Detailed Data Available
Companies that participate in IPC's North American EMS Statistical Program have access to detailed findings on EMS sales growth by type of production and company size tier, order growth and backlogs by company size tier, vertical market growth, the EMS book-to-bill ratio, 3-month and 12-month sales outlooks, and other timely data.
Interpreting the Data
The book-to-bill ratios are calculated by dividing the value of orders booked over the past three months by the value of sales billed during the same period from companies in IPC's survey sample. A ratio of more than 1.00 suggests that current demand is ahead of supply, which is a positive indicator for sales growth over the next three to twelve months. A ratio of less than 1.00 indicates the reverse.
Year-on-year and year-to-date growth rates provide the most meaningful view of industry growth. Month-to-month comparisons should be made with caution as they reflect seasonal effects and short-term volatility. Because bookings tend to be more volatile than shipments, changes in the book-to-bill ratios from month to month might not be significant unless a trend of more than three consecutive months is apparent. It is also important to consider changes in both bookings and shipments to understand what is driving changes in the book-to-bill ratio.
IPC's monthly EMS industry statistics are based on data provided by a representative sample of assembly equipment manufacturers selling in the USA and Canada. IPC publishes the EMS book-to-bill ratio by the end of each month.
Share
Suggested Items
01/26/2023 | I-Connect007 Editorial Team
The San Diego sun was warm and bright on Wednesday afternoon, but it didn't stop the crowds from filling the aisles at IPC APEX EXPO 2023 for the trade show's second official day. Technical conferences, professional development courses, and a keynote from IPC President and CEO John W. Mitchell kept attendees busy. But the real highlight of the day was upstairs where approximately 300 high school students from the local San Diego area rode buses to the San Diego Convention Center for a day full of activities meant especially for them.
01/19/2023 | Julia Gumminger, IPC
IPC APEX EXPO 2023 will offer a refreshed Professional Development Course program. This year's conference includes something for everyone, including informative courses catering to technical managers ready to level up their careers. Thirty-six courses will be offered on Sunday, Jan. 22 and Monday, Jan. 23. Attendees will find both updated content from veteran instructors and innovative courses from new instructors.
01/17/2023 | I-Connect007 Editorial Team
Standards committee work is where much of the heavy lifting takes place for industry standards. To the inexperienced eye, the committee process can also seem as perplexing as it is crucial. In this conversation, Teresa Rowe, IPC's senior director of assembly and standards technology, highlights what to expect from standards committee sessions at IPC APEX EXPO 2023. New committees, revisions, leadership, awards, and thoughtful pauses to celebrate achieving milestones are all part of the IPC APEX EXPO standards committee experience.