Reading time ( words)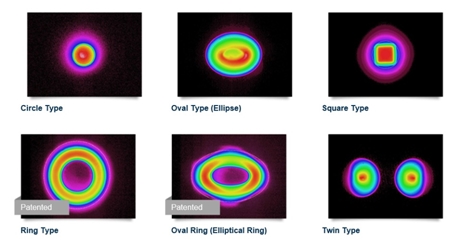 Japan Unix, a solutions provider for manual and soldering automation, introduces laser shape rings. Choosing the best laser spot shape to fit components and land shapes can reduce circuit board problems.
Laser shapes are available in more than just the well-known circle. It is important to choose the optimal shape to fit the components and shapes. Inadvertent burning of circuit boards or other troubles can be prevented by adjusting appropriate laser shapes such as an oval (ellipse) or a ring-shape. In addition, a beam-splitting technology provides "twin-spot laser," which enables the simultaneous soldering of two joints. In addition to oval, ring and twin-spot, Japan Unix offers laser beam spot shapes of circle, square, ring and oval ring. (The ring and oval ring shapes are patented by Japan Unix.)
Japan Unix can help customers choose the laser type most suitable to their board patterns and components. For example, if the pad has an ellipse shape, customers should expose it with the oval type. Also, if the through-hole has black resin or other components on the back, Japan Unix suggests that customers use the ring type to prevent the laser burning it.
About Japan Unix Co. Ltd.
Japan Unix was established in 1974 in Tokyo and has specialized in the soldering automation industry since its startup. A manufacturer and integrator of robotic soldering, Japan Unix offers production systems with advanced soldering methods that provide a high-speed quality soldering solution for automotive, medical, aerospace and electronics manufacturers. The company offers a wide range of soldering robots with a strong competency in precision soldering and factory automation.
Share
Suggested Items
02/27/2023 | Charlene Gunter du Plessis, IPC Education Foundation
The IPC Education Foundation (IPCEF) hosted its annual STEM Outreach Event over the course of two days at IPC APEX EXPO 2023 in San Diego, accommodating more than 550 students on Wednesday, Jan. 25 and Thursday, Jan. 26. This was IPCEF's largest event to date. The event created awareness of the many careers available in the electronics manufacturing industry and helped future talent engage and connect with industry professionals.
02/08/2023 | Real Time with...IPC APEX EXPO
Nolan Johnson talks with Senior Product Manager Chris Nash of Indium Corporation, who discusses Durafuse LT, a novel solder paste mixed alloy system with highly versatile characteristics that enable energy savings, high-reliability, low-temperature, step soldering, and assemblies with large temperature gradients. It also provides superior drop shock performance to conventional low-temperature solders, outclassing BiSn or BiSnAg alloys, and performing better than SAC305 with optimum process setup.
01/26/2023 | I-Connect007 Editorial Team
The San Diego sun was warm and bright on Wednesday afternoon, but it didn't stop the crowds from filling the aisles at IPC APEX EXPO 2023 for the trade show's second official day. Technical conferences, professional development courses, and a keynote from IPC President and CEO John W. Mitchell kept attendees busy. But the real highlight of the day was upstairs where approximately 300 high school students from the local San Diego area rode buses to the San Diego Convention Center for a day full of activities meant especially for them.