Reading time ( words)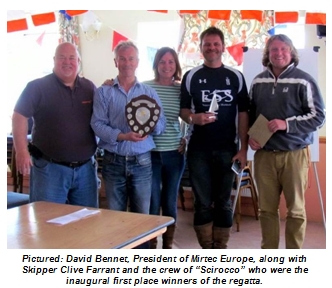 MIRTEC, the Global Leader in Inspection Technology, announced today that it has launched an annual charity event for the Tamar River Sailing Club (TRSC). The overall winner of the annual regatta is awarded a Challenge Shield and trophy, along with a donation to their charity of choice. Trophies also are awarded to the second and third place crews.
"We are proud to sponsor an event so important to this great club and city," commented David Bennett, President of Mirtec Europe. "Many of our customers and business colleagues have had the pleasure of sailing in the beautiful Plymouth Sound on my own boat 'Dawn Cloud' and when it came to choosing a charitable event to support the two went together so well."
The Mirtec Europe Challenge Shield will be awarded annually as a small token of appreciation to this renowned sailing club based in the famous seafaring city of Plymouth, which is the home of Mirtec's European headquarters.
Mirtec is a technology leader in many areas of automated optical inspection, covering the Electronics, LED, and Semiconductor manufacturing industries. They combine world leading optics, 3D measurement and process control technologies to most of the world's leading electronics manufacturers. With the company headquarters and manufacturing in South Korea, supported by four global HQ's and 12 support offices, Mirtec has the largest sales and support network in their segment of the industry.
For more information about Mirtec, please visit www.mirtec.com.
Share
Print
Suggested Items
10/21/2020 | I-Connect007 Editorial Team
Have you ever wondered what digital twin is, how it's used, and its benefits? Are you interested in learning ways to optimize and streamline how data flows from design, production planning, process engineering, and manufacturing? Then this micro webinar series is for you! Throughout this 12-part series, Jay Gorajia from Siemens Industries Software describes how to leverage the digital twin concept—from design to production planning and process engineering—through manufacturing execution and supply chain. The goal of the series is to define a blueprint for organizations seeking to digitalize and optimize their design to manufacturing processes and manufacturing operations.
10/14/2020 | I-Connect007 Editorial Team
I-007e Micro Webinars recently released a free, on-demand series titled "Implementing Digital Twin Best Practices From Design Through Manufacturing" with Siemens' Jay Gorajia. In part 6, Gorajia discusses a "Single CAM Solution for All Process Engineering Tasks."
10/07/2020 | I-Connect007 Editorial Team
I-007e Micro Webinars recently released a free, on-demand series titled "Implementing Digital Twin Best Practices From Design Through Manufacturing" with Siemens' Jay Gorajia. In part 5, Gorajia discusses "Managing the Digital Thread From Design to PCB Assembly Engineering."