Reading time ( words)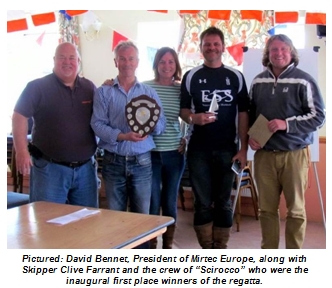 MIRTEC, the Global Leader in Inspection Technology, announced today that it has launched an annual charity event for the Tamar River Sailing Club (TRSC). The overall winner of the annual regatta is awarded a Challenge Shield and trophy, along with a donation to their charity of choice. Trophies also are awarded to the second and third place crews.
"We are proud to sponsor an event so important to this great club and city," commented David Bennett, President of Mirtec Europe. "Many of our customers and business colleagues have had the pleasure of sailing in the beautiful Plymouth Sound on my own boat 'Dawn Cloud' and when it came to choosing a charitable event to support the two went together so well."
The Mirtec Europe Challenge Shield will be awarded annually as a small token of appreciation to this renowned sailing club based in the famous seafaring city of Plymouth, which is the home of Mirtec's European headquarters.
Mirtec is a technology leader in many areas of automated optical inspection, covering the Electronics, LED, and Semiconductor manufacturing industries. They combine world leading optics, 3D measurement and process control technologies to most of the world's leading electronics manufacturers. With the company headquarters and manufacturing in South Korea, supported by four global HQ's and 12 support offices, Mirtec has the largest sales and support network in their segment of the industry.
For more information about Mirtec, please visit www.mirtec.com.
Share
Print
Suggested Items
08/14/2019 | Neil Sharp, JJS Manufacturing
Choosing to outsource your electronics manufacturing to an EMS provider requires careful planning and consideration. And even once you've made your decision, there may still be things that test you or that don't go quite to plan. An experienced EMS partner has been there before; they understand the challenges, and they'll be able to support you through the process to ensure you achieve your goals.
08/09/2019 | Neil Sharp, JJS Manufacturing
The primary objective for any OEM is to design, manufacture, and deliver high-quality products in the most cost-effective way possible. When demand patterns change, or there is an increase in competition, it can be easy to rely on the calculation of unit cost to relieve the price pressure. But, as many manufacturers are discovering, choosing to base their outsourcing decisions purely on unit cost may not always reap the expected benefits in the long term.
07/31/2019 | Michael Ford, Aegis Software Corp.
The introduction of the CFX standard is the critical trigger that enables smart, flexible factory operation in line with business needs. The technology is simple to adopt, which creates a true "plug-and-play" environment on which advanced production AI software technologies can be developed.